This post brought to you by Funds2Orgs. All opinions remain my own.
Help the Planet With a Shoe Drive Fundraiser
By: Wayne Elsey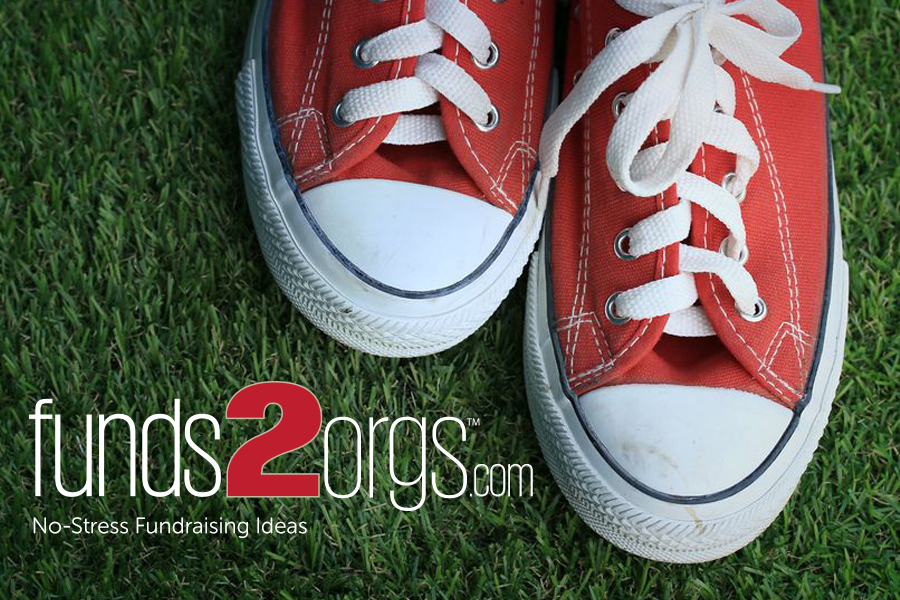 There's an awesome giveaway at the end of this post. But first I want to tell you about some fundraising ideas for schools, parent groups, athletic teams, nonprofits and churches. I've been in your shoes fundraising for my kid's school, church or sports team.
Did you know that every year in our country there are over 600 million shoes thrown into landfills? This hurts the environment, and it's also harmful to health. I've been in the shoe business for many years. I know shoes are made up of dozens of parts that are stitched and glued together. Some of those parts become toxic when they begin to disintegrate. That toxicity is emitted into the air and contributes to respiratory disease.
I'm sure you'll agree that we want to do better for our planet, our kids and future generations. I mentioned I was in the footwear business. Shoes have become an incredible part of my life and I've been able to translate my passion for shoes into a social enterprise for good.
You see, when my daughter was young, I remember when I was asked by her school to sell candy and cookie dough. I don't know about you, but I didn't like it. Eventually, I wrote a big check to the school for boxes of calories I didn't want or need for my family. It became a ritual and every year, I would give away candy to friends, family and co-workers.
It was the years in the shoe business and as a dad talking with other parents about selling candy that helped me develop the idea for Funds2Orgs. I founded it with a team of people who were just as motivated as I am to help organizations raise money and do social good.  We've become the leading shoe drive fundraising business in North America.
Our shoe drive partners raise money without selling anything – or asking anyone for money. Additionally, with our social enterprise, people can do so much for so many around the world. There's a reason we have an A+ rating with the Better Business Bureau and schools, organizations and groups give us favorable reviews. It's because we have a commitment to excellence and our shoe drive partners. But, you don't have to take our word for it.
When you partner with Funds2Orgs on a shoe drive, we provide you a team of fundraising coaches to work with you closely throughout the campaign.
You receive the shoe collection material, including the bags and rubber bands.
We give you the promotion and marketing material that you can customize to your fundraiser.
A driving team member from our company picks up the shoes from your storage space.
We issue a Funds2Orgs check within 2 business days of the shoes being received at our warehouse.
And, because we know that the majority of organizations operate with small budgets, we give you all of the above with no out-of-pocket costs.
Our shoe drive fundraisers are a unique, easy and fun way to raise money and make a social impact. When you join our Funds2Orgs shoe drive movement, this is what happens:
Your organization gets a proven method, done by thousands, for creative fundraising ideas with shoe fundraisers.
The gently worn, used and new shoes you collect during your shoe drive helps our planet and human health.
The shoes you collected are consolidated by us and shipped to micro-entrepreneurs (small business owners) around the world who seek a hand-up and not a hand-out.

Perhaps it's time to explore another fun and easy way to raise money with a Funds2Orgs shoe drive fundraiser.
To help you get started, I'm happy to give you this give-away opportunity.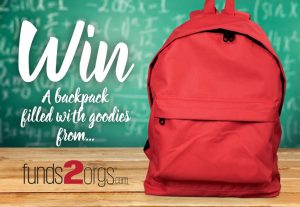 First Place:
Win a backpack that includes a $50 Amazon gift card

All of Wayne Elsey's printed books from the Not Your Father's Charity book series. This includes his school fundraising book, "Dominate in Your School Fundraising For Success, As Easy As ABC."

Funds2Orgs freebies.
Second Place:
Win a backpack.

Wayne Elsey's school fundraising book, "Dominate in Your School Fundraising For Success, As Easy As ABC."

Funds2Orgs freebies.
Third Place:
Win Funds2Orgs freebies, including coasters and magnets for your next fundraising meeting!
To enter… visit the Funds2Orgs site and follow the directions!