September is Menopause Awareness Month
Disclosure: This is a sponsored post. All opinions are my own.
Did you know that September was menopause Awareness Month?
Chances are if you aren't in menopause you probably know someone that is. Menopause has been one of those taboo subjects that just isn't spoken about much, but really should be.
Last summer Estroven asked me to participate in a 3 month "Good Sleep Challenge".  Although I am not in menopause, I would categorize myself in perimenopause and I had been experiencing difficult sleeping. Because this stage can last a few months up to around 10 years I gladly accepted. At that point I would have done anything to manage my symptoms and feel normal again. If you have the time, there are 24 posts there about my experiences as well as two other bloggers! It's a good read.
My experience was fabulous and I became a firm believer in Estroven!  Only Estroven has a full line of products that safely and effectively provides multi-symptom menopause relief so you can feel like you again. Each product contains naturally-sourced ingredients that go beyond reducing hot flashes and night sweats to relieve your most bothersome menopause symptoms.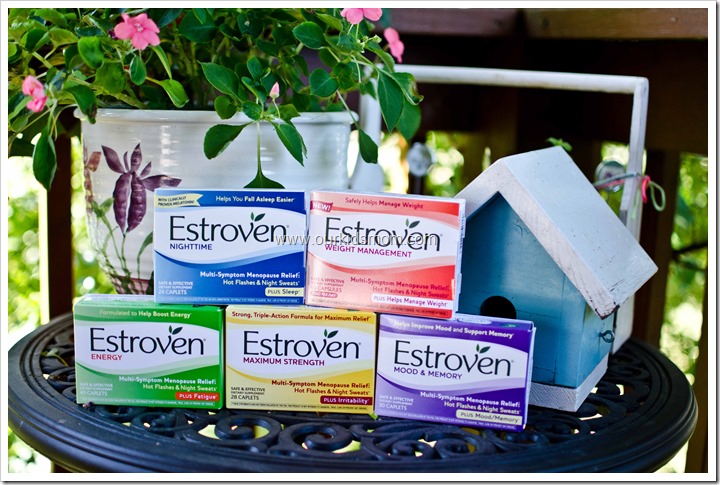 Depending on the symptoms you want to control, Estroven has a product for you. These include Estroven Maximum Strength, Estroven Weight Management, Estroven Nighttime, Estroven Mood & Memory and Estroven Energy.
ESTROVEN products are:
SAFE & EFFECTIVE INGREDIENTS | Naturally-Sourced
Estroven's portfolio of products has been developed with many ingredients that reside in nature or are naturally-sourced

64% of perimenopausal and menopausal women would choose a natural solution vs. medication, even if the results were not as effective

These women are looking for products that are made with pure, naturally occurring or derived ingredients

Estroven does not contain synthetic estrogen, and therefore is considered a safe alternative to Hormone Replacement Therapy (HRT), which has been known to have significant side effects
Proven Results
Many of the ingredients used in Estroven have been around for centuries and have a long-standing history of providing menopausal relief with demonstrated efficacy
Other ingredients have been recently discovered as a result of research on the bioavailable nutrients that are most beneficial in reducing menopausal symptoms
The ingredients in Estroven have been studied carefully based on the best scientific information available, with many of them having clinically proven results, i.e., soy isoflavones
MULTI-SYMPTOM MENOPAUSE RELIEF: Both Functional and Emotional
Functional Relief: each product relieves hot flashes and night sweats, plus another bothersome menopause symptom, including sleep, memory and concentration issues, irritability, low energy and weight management issues

Emotional Relief: helps women get back to feeling like themselves again

One out of three women in the U.S. suffers from perimenopause and menopause symptoms, however nearly 60% of these women do not seek treatment because they are unaware of the solutions available to them
CHOICE: Estroven has a full line of products that allows women to choose which best addresses their most bothersome symptom
No two women experience menopause the same way

The multitude and severity of symptoms associated with menopause takes many women by surprise, with one out of four women experiencing as many as six to eight symptoms

Portfolio of products to allow women to best address their specific needs:
·       NEW Weight Management: provides safe, multi-symptom menopause relief, plus helps safely manage weight
·       Maximum Strength: reduces hot flashes and night sweats, plus helps manage irritability
·       Nighttime: reduces hot flashes and night sweats, plus occasional sleeplessness
·       Energy: reduces hot flashes and night sweats, plus helps manage fatigue
·       Mood & Memory: reduces hot flashes and night sweats, plus improves mood and supports memory
No matter what stage of menopause you, or your loved one, is in… Estroven has a product that can manage your most bothersome symptoms.
Connect with Estroven:
September is Menopause Awareness Month. To help prepare for menopause, check out Estroven's website to browse their product suite as well as tips and tricks for managing the good, the bad, and the sweaty!
This is a sponsored conversation written by me on behalf of Estroven. The opinions and text are all mine.