Send Cheer to Military Families with Cheerios this holiday season…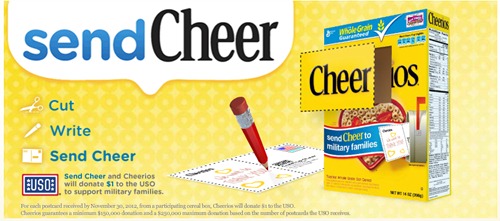 It's such a difficult job to take care of my family of six, and my spouse comes home from work every night. I could only imagine how millions of military families do it with their loved ones serving overseas. When military men and women are called to serve, it's not just their lives that are effected. Their families must rise to the challenges of service as well. Sometimes a small gesture of appreciation and cheer is very welcome.
To show how much they (we) appreciate and care, Cheerios and the USO have launched "Cheer," a postcard campaign that spreads cheer directly to these honorable military families and supports USO programs. During the months of October and November, 2011, specially-marked boxes of Cheerios cereal will feature Cheer postcards on the front of the box. You and your kids can simply cut out the postcard, write a message of thanks (and a drawing if inspired!) on the back, add a stamp, and mail the pre-addressed card to the USO. The USO will then deliver the Cheer card to military families across the country. These specially marked boxes will be sold through November, 2011, but you have an entire year to mail the cards for delivery to military families.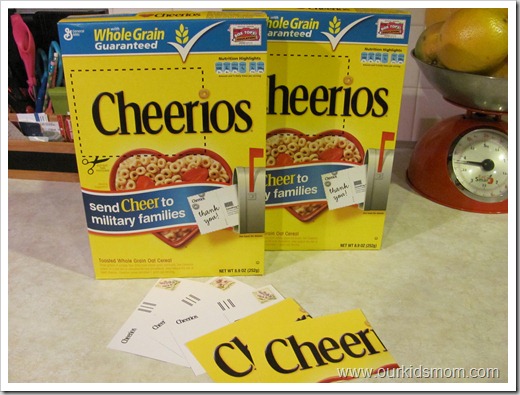 OurKidsMom loves companies that give back

Need more reason to fill out the card and mail it in? Cheerios will donate $1 to the USO for each Cheer postcard from specially marked packages received by November 30, 2012. As part of the Cheer Program, Cheerios has already donated $150,000 to the USO, and will donate up to an additional $100,000 based upon the number of postcards received. So, personal participation plays a big role in helping the program reach its goal. It only takes a few minutes to cut, write on and stamp these cards. That is nothing in comparison to the sacrifices these men, women and their families are doing for us. Help Cheerios financially help the USO and bring a little extra cheer to well deserving families sacrificing for our freedom.
I wrote this review while participating in a campaign by Mom Central Consulting on behalf of Cheerios and received product samples to facilitate my review and a promotional item to thank me for taking the time to post.