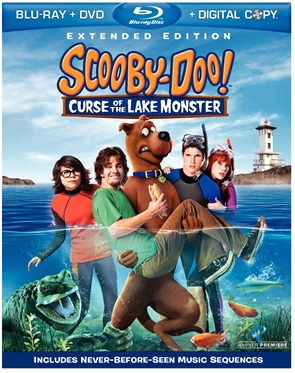 MYSTERY INC. IS BACK IN ACTION!
SCOOBY-DOO! CURSE OF THE LAKE MONSTER
NEW LIVE-ACTION FILM SCARES UP SOME FUN ON BLU-RAY™ COMBO PACK AND DVD MARCH 1st
FROM WARNER HOME VIDEO
Scooby-Doo! The Mystery Begins sequel returns popular cast along with special appearances by Ted McGinley, Nichelle Nichols, Marion Ross and more!
New release features the extended film version with never-before-seen music sequences.
Mystical moonstones, creepy creatures and unlikely romances are on the docket for Mystery Inc. in Scooby-Doo! Curse of the Lake Monster, an all-new, live action movie featuring an exclusive extended cut of the film with never-before-seen music sequences coming to Blu-Ray™ and DVD March 1, 2011 from Warner Premiere and Cartoon Network. A follow-up to its smash-hit predecessor Scooby-Doo! The Mystery Begins, Scooby-Doo! Curse of the Lake Monster will be available from Warner Home Video as a Blu-Ray™ Combo Pack and single disc DVD. Order due date is January 25, 2011. The film will also be available On Demand and for Download.
Scooby-Doo! Curse of the Lake Monster finds the Mystery Inc. gang heading toward summer jobs at a country club owned by Daphne's uncle, only to stumble onto strange happenings around the local lake – including an enormous Frog Monster terrorizing the locals.  There's mystery afoot and romance in the air that only the fearful foursome-plus-one can solve. Group leader Fred, drama queen Daphne, brainiac Velma, fun-loving Shaggy and the cowardly Scooby-Doo are on the case!
Scooby-Doo! Curse of the Lake Monster will include approximately 2 hours of entertaining bonus features, most notably:
Featurette: "Jeepers! Jinkies! Zoinks – A Tribute to the Classic Gags of Scooby-Doo" – From Scooby snacks to the unmasked villain's iconic line, "I would've gotten away with it if it wasn't for you meddling kids and your dog!", Scooby-Doo mysteries are filled with familiar moments. Director Brian Levant ups the ante in this new film utilizing these and other signature Scooby-Doo devices to pay tribute to the very best of the franchise. This fun and nostalgic piece uses clips from classic episodes, celebrates the hallmarks of the franchise and showcases the current cast's modern spin on these beloved characters.
Featurette: "Scooby-Doo: Rock, Rap and Rollerskates" – Get your groove on with Scooby-Doo and the gang as you go behind the scenes of the many musical moments in Scooby-Doo! Curse of the Lake Monster.  Decked out in over-the-top costumes on lavish sets, the Mystery Inc. gang bounces from a vaudeville soft shoe song and dance and a groovy 60's frolic in a field to a Ramones-esque punk rock group and a fly 70's funk-jam band – as well as a hilarious rap featuring the gang in their original iconic costumes from the cartoon (complete with a blonde Fred!). Toss in a roller disco spectacular set to Discovery Zone's "I Can Be Scared With You" and fans will delight in this exclusive, behind-the-scenes look at the making of these entertaining sequences.
Gag Reel: Ruh-roh! Behind the Scenes Hilarity – Catch all the off-camera silliness, often shot by the cast on their own Flip cameras, in this side-splitting gag reel.
Blu-Ray™ Combo Pack includes a digital copy of the feature film.
Originally aired in October as a made for tv movie on Cartoon Network, Warner Bros. has another Scooby-Doo! hit on their hands as Scooby, Shaggy and the gang take on the Curse of the Lake Monster. Our family giggled and laughed at Scooby and Shaggy… still their typical silly selves. With a few (not too) scary scenes the mystery builds and the gang is on the track… will they figure out who the Lake Monster is?? Watch it to see!
The blu-ray/dvd combo has a ton of fun extras to keep your Scooby fans busy for quite a while, too. Definitely a fun family movie that can be viewed time and again for a few silly laughs.
BUY IT:
Purchase the DVD copy for $16.99 or the Blu-Ray copy for $24.99
WIN IT!
ONE OurKidsMom reader is going to win a copy of Scooby-Doo! Curse of the Lake Monster Blu-Ray/DVD combo!
This giveaway ended at 11:59PM EST on March 28, 2011.
Disclosure:
This post was written me and was not edited by anyone. I received product for review purposes only. The opinions expressed in this post are entirely my own and have not been influenced in any way. The sponsor is responsible for prize fulfillment and will be shipping the winner(s) their prize(s). For more information please read my disclosure policy.