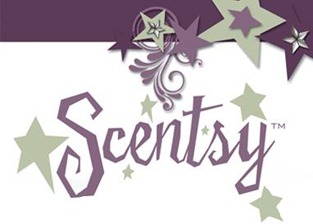 I am in love with Scentsy, a company that offers a variety of scented products, from wickless candles to their new stuffed animals. I have always enjoyed filling my home with inviting scents. As a mom, I know that children are curious and a burning candle is a very inviting visual. I worried about the flames, soot and the like that are associated with candles. That is no longer an issue thanks to Scentsy's wickless, flameless scented wax warmers.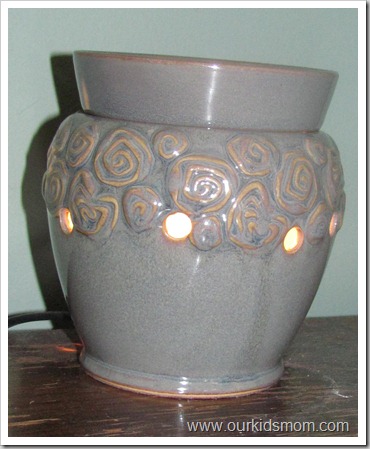 As a safe alternative to a traditional candle, Scentsy is a way for you to enjoy scent in your home without worrying about the risks associated with fire or flame. Have you purchased your gift yet for Mother's Day? Scentsy also has options for all moms:
· Whether she is trendy or traditional, Scentsy has more than 50 decorative warmer styles and 80 scented wickless candles to choose from – there's a fit for any personality and style.
· As Moms-to-be are prepping the baby's room, they can keep it smelling fresh with a wickless candle from Scentsy's Nursery collection or a Scentsy Buddy, a scented stuffed animal that is great nursery décor! 
· Military moms can show their red-white-and-blue pride with Scentsy's Patriot collection, which has warmers representing all five branches of the military.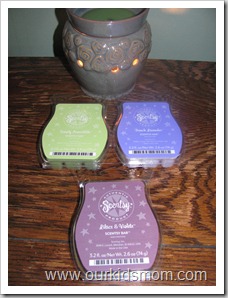 I was sent the mid size warmer Enchanted and 3 scents to try.   I prefer certain types of scents in certain areas of my home. Because this was going in my living room, I focused on floral.
The green scent is "simply irresistible": Lavender with a strong, woody background of amber, moss, and musk. The blue is Luna: White florals—jasmine, sweet pea, and freesia—juicy berries, and sandalwood shimmer like moonlight and the purple is Lilacs and Violets: Perfect combination of lilacs and violets—the smell of spring. Please don't ask me to pick a favorite, because I adore every single one they sent.
Do you remember years ago when potpourri burners were the trend? I had one and loved it. The warmers remind me of those. One thing I really love about the warmers is that I don't worry about them when I leave the room. The warmer works by turning on a light bulb… that's it. Think of it like a night light.
The wax itself will not evaporate, so you don't have to worry about the well burning dry (like I did oh so many times with my potpourri burners). I only use one little brick to scent the entire room. When the wax loses the strength of scent you desire, simply pour it out and add another.
Overall, I love the aethetics of the Scentsy warmers. They are so much more visually pleasing than a jar candle and there is something for everyone's personality. The "in person" warmer was just as stunning as the one in the catalog. The ease of use is fantastic. Even my 4 year old can turn it on for me with the flick of a switch. There is a wide variety of scents to choose from to suit your mood and the quality of everything is beyond words.
Want to hear a little more about Scentsy's quality products? Watch this…
BUY IT:
You can find a consultant to purchase Scentsy Here.
WIN IT!
One OurKidsMom reader is going to win a warmer and 1 scent of their choice!
This giveaway ended at 11:59PM EST on May 13, 2011.
Disclosure:
This post was written me and was not edited by anyone. The opinions expressed in this post are entirely my own and have not been influenced in any way. I received a sample for review purposes only. I was not compensated for this post. The sponsor is responsible for prize fulfillment and will be shipping the winner(s) their prize(s). For more information please read my disclosure policy.