I received an all-expenses paid trip in exchange for my coverage. All thoughts are my own.
As part of our day at the Walt Disney Studios, we were given an exclusive access to a self-guided walking tour inside the actual building where Walt Disney worked each day. His actual office is currently occupied by an employee of ABC, so the Disney Archives set up the tour in another section of the building.
The tour was created around the release of  Saving Mr. Banks (available on Blu-ray now) and was made available exclusively for Cast Members. It was also open for a limited number of guests during a special D23 screening of Saving Mr. Banks last year.
The tour took us through various rooms, all containing sets and props from Saving Mr. Banks. My favorite, however was Walt Disney's office. Walt had two offices: his formal office where he would greet guests and conduct official business. It also had a piano where he'd invite the Sherman Brothers (played in the film by Jason Shwartzman and B.J. Novak) to play "Feed the Birds" on Friday afternoons.  He also had a "working" office which housed his drawing desk and where he'd meet with writers from the studio.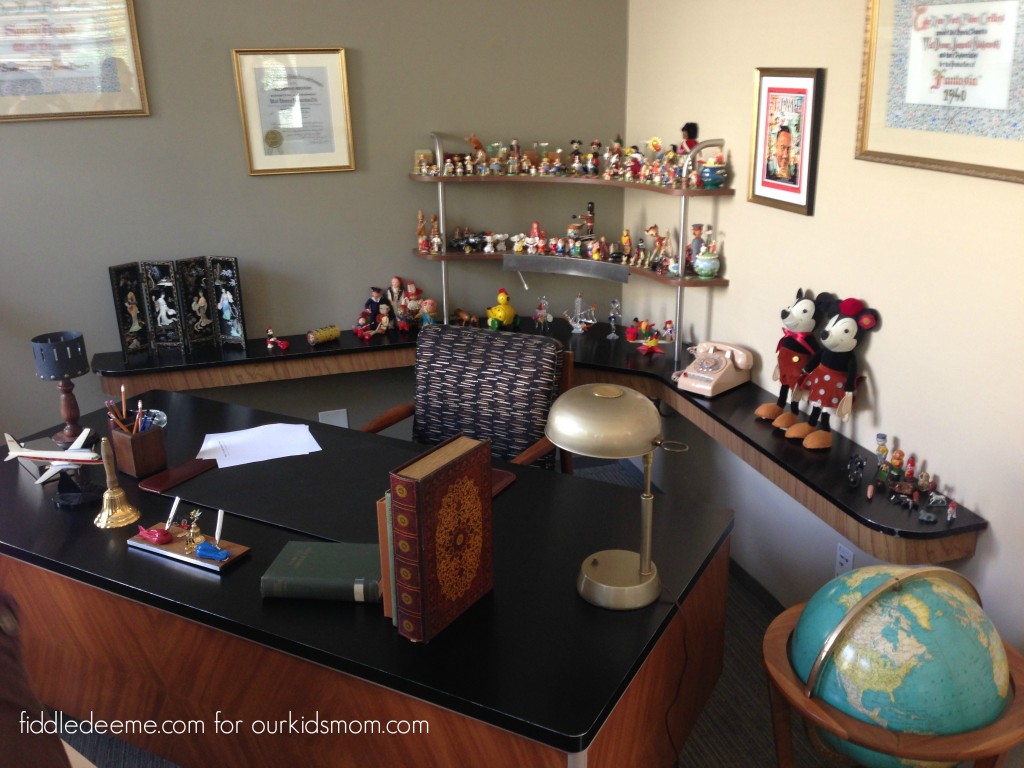 This desk was recreated from photos of Walt's original desk. His offices were locked and sealed at the time of his death and were not opened again until Dave Smith, a former librarian from UCLA unlocked the door and began documenting and archiving the contents. This would be the beginning of the Walt Disney Archives. The painstakingly detailed process allows historians to recreate Walt's offices down to the finest details. Of course, some liberties were taken, but the filmmakers really tried to stay as true to the original as possible.
Our tour continued with Jeffrey Epstein, Marketing Manager of D23, the Official Walt Disney Fan Club. D23 celebrates the past, present, and future of Disney, both theme parks and movies. Jeffery walked us around the Studios lot, giving us lots of great little trivia tidbits. For example, if you ever happen to find yourself on the Studios lot, don't use this sign pole to find your way around.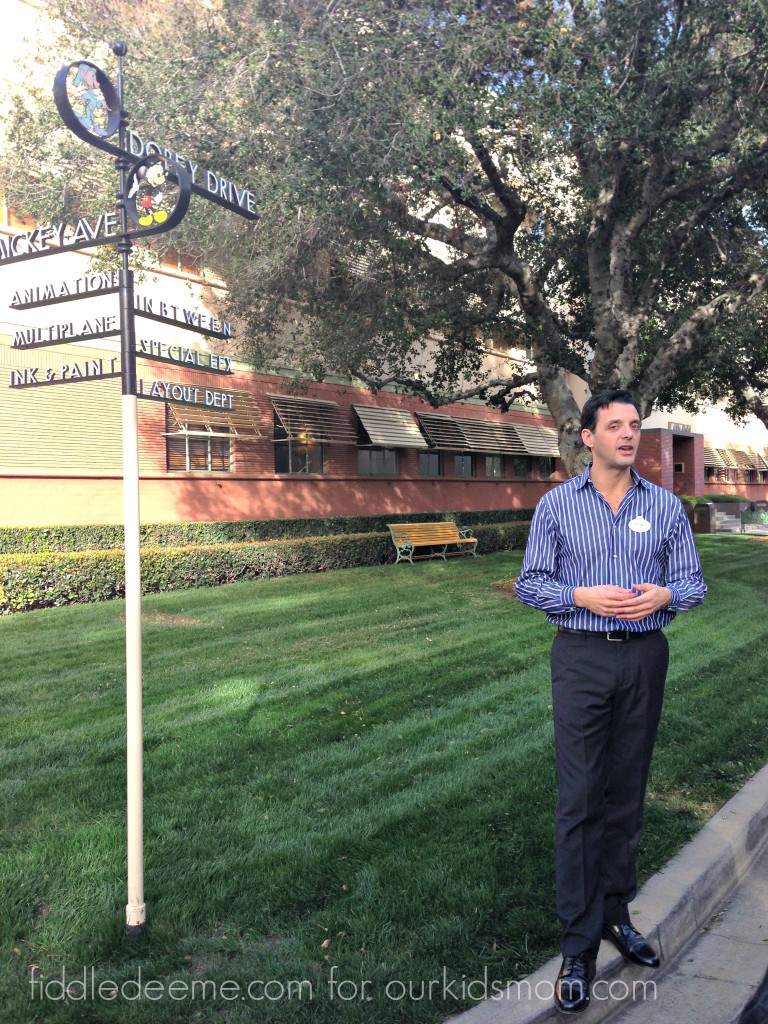 While those buildings do exist on the Lot, you won't find them in those directions. The pole is, in fact, a prop from the film "The Reluctant Dragon."  But, it's still fun to say "Meet me at the corner of Dopey Drive and Mickey Avenue!" We also stood right under the window to Walt's former office and next to the tree P.L. Travers (and Emma Thompson) built her house of sticks. It was a little surreal knowing we stood where scenes in Saving Mr. Banks took place on screen and in real life.
You can join D23 for free, or as a paid member. D23 members receive exclusive benefits and discounts as well as "twenty-three" quarterly magazine available to gold-level members. If you're a Disney fan, joining D23 is a must!
Our day at the Walt Disney Studios Lot was incredible and I'll always be able to say I walked where Walt (and Tom Hank's version of Walt) walked. For me, it added a whole new level of appreciation for Saving Mr. Banks!