Laundry…
Not the most popular subject in the world, but it's a necessity in life.
*******************
My curiosity has been peaked quite some time when it comes to homemade laundry soap. Up until recently I had been a hard core super couponer and I never really felt the need to look into it further. Combining coupons and sales I was able to fill my laundry shelf with multiple jugs of detergent for pennies on the dollar. My last score was for Seventh Generation Baby Detergent (the photo is from one trip… I ended up with four times this amount!).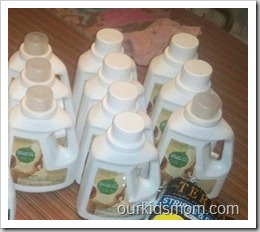 My supply is dwindling and I haven't been keeping up with coupons/sales in several months (hmmm, any idea where I am spending my extra time now? lol). I have decided I like using eco-friendly products. Not only are there environmental benefits, but the sensitive skin issues (like itching and breaking out) have been fewer and fewer since we started using Seventh Generation. Let's not forget it saves you money, too! There are many benefits of homemade products.
So… I was on a mission. I have seen several "recipes" for laundry soap but they were for liquid. Although I prefer liquid, I didn't look forward to brewing and trying to find a way to store it. I actually accidentally stumbled on this recipe for powdered and I was excited! Three ingredients and the author of the post said that it took him less than 5 minutes to make…. really? Can it be that easy?
SIMPLE & NATURAL INGREDIENTS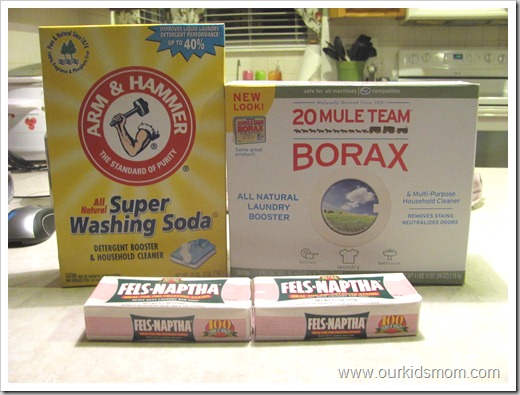 I found washing soda at Wal-Mart, but ended up purchasing all these ingredients at my local grocery store in the laundry aisle (I am linking to Amazon, but if you can find it locally it is SO much cheaper):
RECIPE
Each batch yields approximately 32 ounces (between 32-64 loads based on how many Tbsp used per load).
LET'S MAKE LAUNDRY SOAP!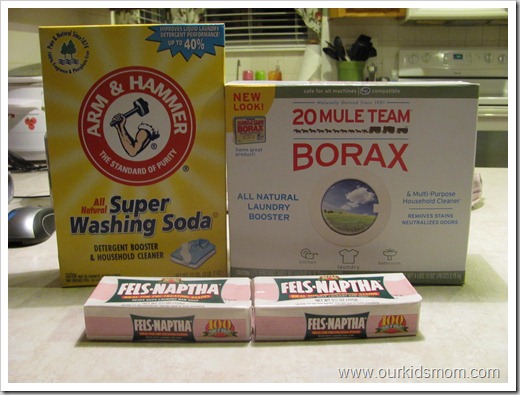 Start with these ingredients (I made a double batch so I used 2 bars of Fels-Naptha).
I will be using a food processor. If you do not have one a simple cheese grater will work just as well!
You will also need a spoon, a bowl and a 1 cup measuring device.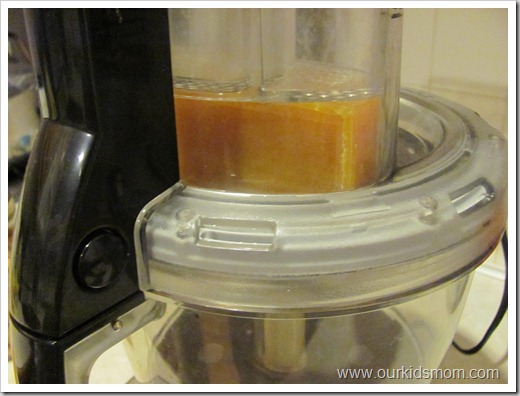 Shave the bar of soap.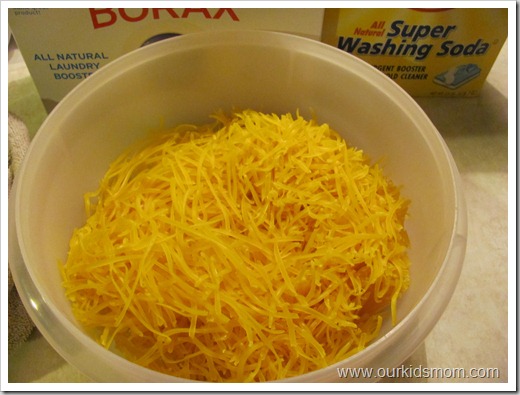 This is what mine looked like when finished.
If you use a cheese grater your pieces will be smaller and probably finer.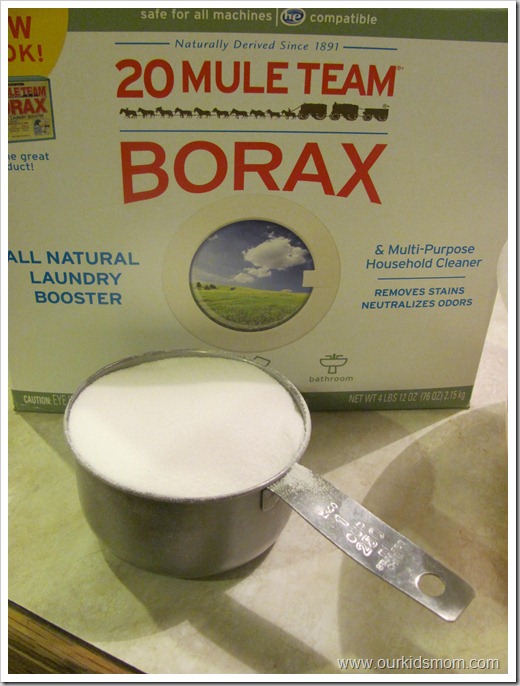 Add 1 cup Borax.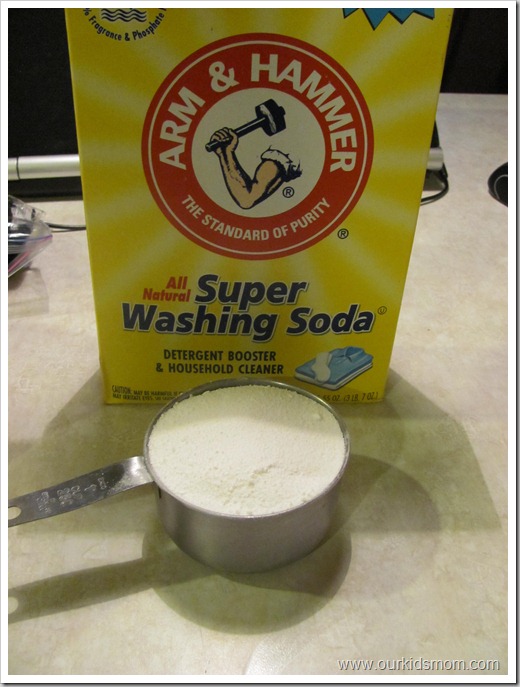 Add 1 cup Super Washing Soda.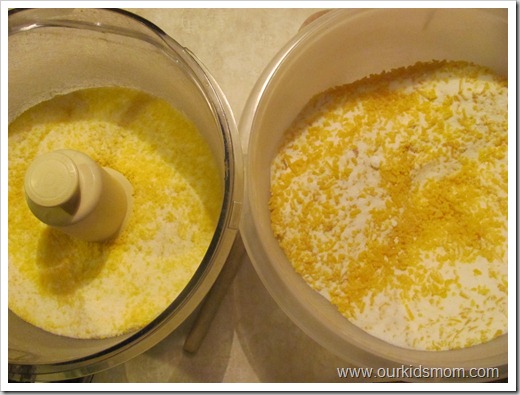 At this point I put it back into the food processor and put the chopping blade in. I let the machine whirl for a minute or two until I was happy with the size of the soap pieces. My end product looked more like what is in the left bowl.
If you used a cheese grater your pieces may be a bit more chunky like the right bowl. That is okay! Just be sure to stir thoroughly.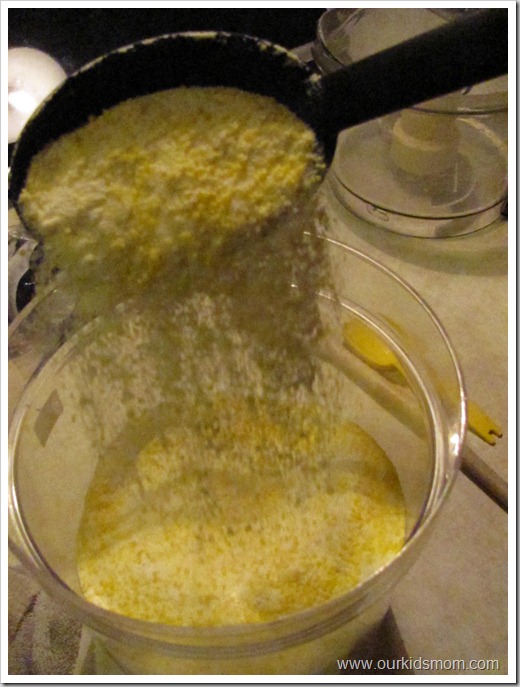 Here is the consistency of my final product.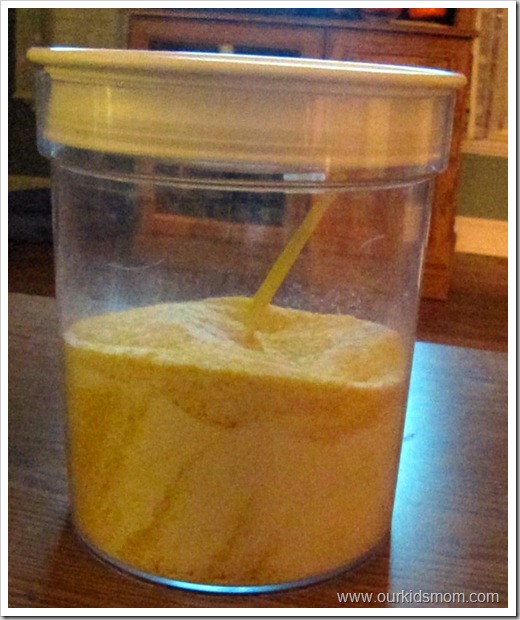 My double batch will last several months as you only use 1 tablespoon per load (up to 2 scoops for heavily soiled loads)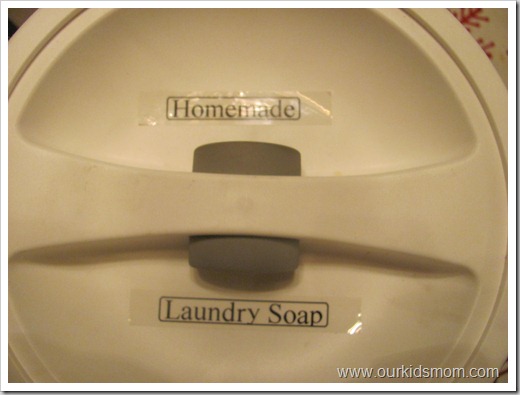 I chose to re-purpose an older container I had around the house. A single load will yield approximately 32 ounces and you can put that in a yogurt container etc. 
*************************
I have enough Washing Soda and Borax left to make another double batch. Just think… around $10 and I have enough laundry soap for 256 loads… that's months on end!
SOME INFO ON High Efficiency (HE) Front-Load Washers
This laundry soap is perfect to use in your HE Front-Load washers. No need for a "special soap". Why? HE machines require low sudsing detergent because they use less water. This laundry soap is perfect for HE machines because the homemade detergent in this recipe is VERY low suds. Just make sure you use the recommended amount of detergent.
Don't get sucked in. The HE label is just another way for the industry to trick us into buying "special soap" and to suck more money out of the consumers.
********************
Edited to answer a few questions!
I've been asked my thoughts on this laundry soap as far as cleaning ability etc. I have been using it a week now. I adore the smell of the Fels-Naptha as it spreads down the hallway when the container is opened. You can smell it during the first part of the wash cycle, but by the end the smell has gone. The end product (dry clothes) do not have a scent.
Someone asked about adding essential oil to the laundry water to have scented clothes. I have not done this, but I don't see how a drop or two would hurt?
I am still using scented Snuggle in the dryer for the "smell". That being said… when that (huge) supply runs out I will probably turn to a more natural method.
READER TIPS:
* I have read that this particular laundry soap will not fade your clothes as quickly as store bought. A reader did mention that her clothes seemed a little dingy after several washings. Her tip is to add 1/2 cup white vinegar when you would normally add fabric softener. It helps keep the dingies away AND she mentioned that it helped soften the clothes.
Recipe was taken from  DIYNatural.com