Save Your Hair at a Great Price
We all want a fabulous head of hair.
Long/short, flowing, shiny, frizz free, bouncy and healthy.
Heck, I check mine for split ends almost every morning while I'm styling it.
But let's face it, not all of us can afford $15, $20 or more for just one bottle of shampoo.
I know I can't.
Fortunately, when your hair needs help from split ends,  Suave® is there to come to the rescue.
Suave® Professionals Split End Rescue transforms split ends into healthy-looking, strong hair after just three uses.*
It is salon-proven to work just as well as Paul Mitchell® SuperStrong® Daily shampoo and conditioner.**
That's some serious help!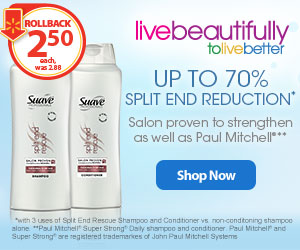 Best of all, you won't have to pay salon prices for this great hair fix.
Walmart is currently featuring a Rollback in-store on Suave® Professionals Split End Rescue, now $2.50 (from $2.88).
$2.50 a bottle… that's a fabulous price for some serious hair help!
It can't get any better than that, right?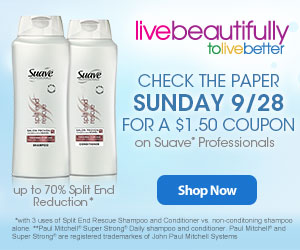 But wait, there's more!
SAVE even more $$
This Sunday, 9/28, check your Sunday paper for a coupon to get $1.50 off any Suave® Professionals product at Walmart.
You can use this coupon in-store for continued beauty savings making your shampoo/conditioner only $1 a bottle!
I may buy multiple papers this week!
*with 3 uses of Split End Rescue Shampoo and Conditioner vs. non-conditioning shampoo alone.
**PAUL MITCHELL® and SuperStrong® are registered trademarks of John Paul Mitchell Systems.
Have you tried Suave Professionals? Tell me about it in the comments section below!