In an effort to save a little money and to actually "know" what ingredients I am putting in my family's food… we have switched from pre-packaged chili seasoning mix to this recipe. Make some ahead of time and store in an air-tight jar!
Chili Seasoning Mix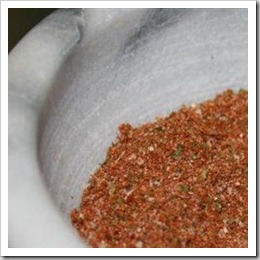 4 teaspoons – 2 Tbsp chili powder
1 tablespoon crushed red pepper
1 tablespoon dried minced onion
1 tablespoon dried, minced garlic
2 teaspoons white sugar
2 teaspoons ground cumin
2 teaspoons dried parsley
2 teaspoons salt
1 teaspoon dried basil
1/4 teaspoon ground black pepper
Directions
In a bowl, stir together chili powder, red pepper, onion, garlic, sugar, cumin, parsley, salt, basil and pepper. Store in an airtight container.
Use as follows: Use approx. 2T of seasoning per 1 pound of meat (small batch of chili). Also, if you prefer just a "warm" flavor, decrease the red pepper flakes to 1 tsp.
This recipe is very forgiving. The range for the chili powder is preference only. 4 tsp is what I use, but have read others say they add up to 2 Tbsp. If you prefer to thicken your chili, the original recipe called for 1/4 cup flour. I prefer to add 1/4 cup of refried beans at a time to the chili until desired consistency as I felt the flour overpowered the recipe.
This recipe was adapted from Allrecipes.com