Samsung Dual Door Electric Range #masteryourhome
The reviewer has been compensated in the form of a Best Buy Gift Card and/or received the product/service at a reduced price or for free.
I have been in love (from afar) with dual door ranges for quite some time. Just the thought of the convenience of being able to cook two separate things at once made me sigh.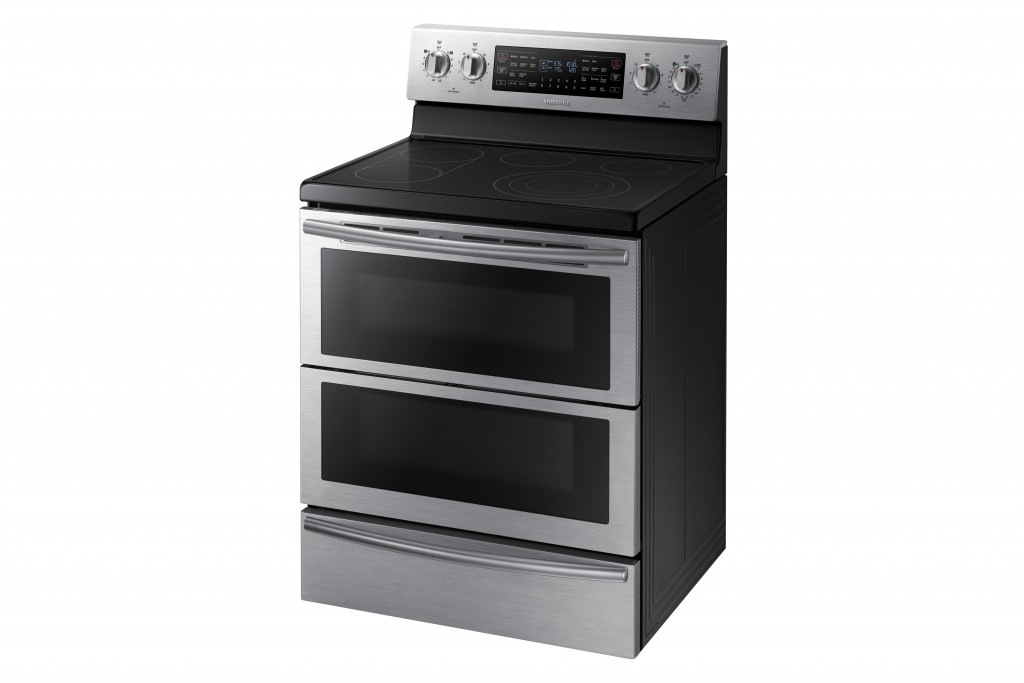 So when I was offered the chance to try out the Samsung Dual Door Electric Convection Range, I knew I had to say "YES!".
Check Out These Product Features:
Dual Door with Smart Divider: Opens either separately or as one door for versatile cooking options.
FlexDuo technology: Enables you to cook at 2 different temperatures at once.
5.9 cu. ft. oven capacity: Provides enough space to cook large dishes.
5 cooktop elements: Generate between 1200W and 3000W of power.
Warming center burner: Keeps sauces and side dishes hot until they're ready to be served.
Warming drawer: Offers 3 settings to accommodate different dishes.
Ceramic cooktop surface: Makes cleanup easy.
SteamQuick function: Releases steam to clean the oven in 20 minutes.
Easy-to-use touch controls: Let you program timers and set options like delay start.
Window and auto oven light: Allow you to check on dishes without opening the doors.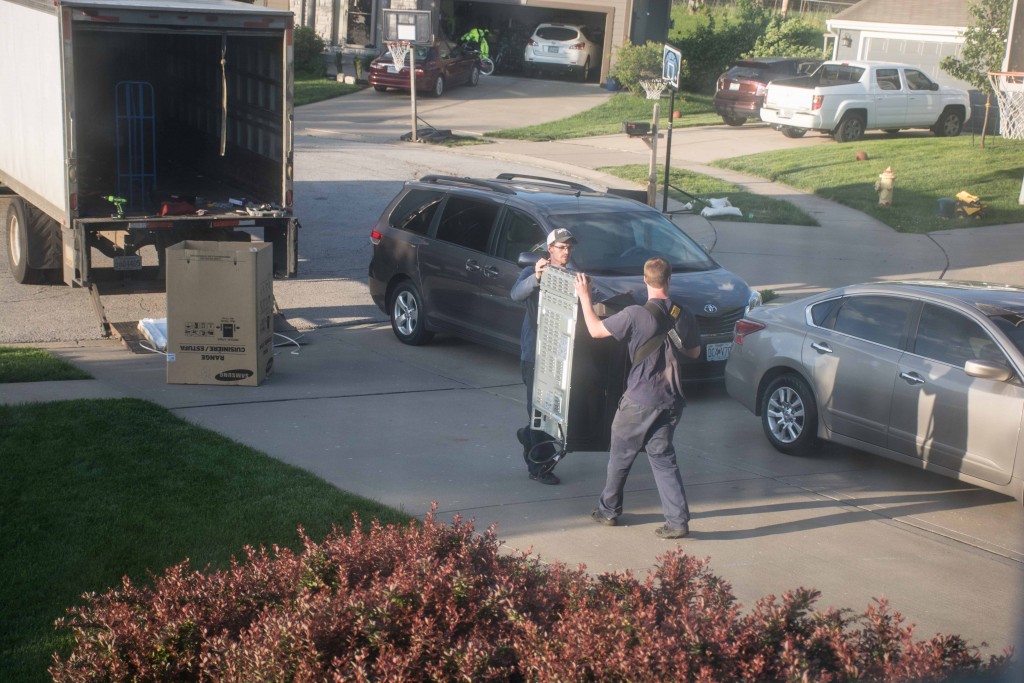 After a lot of squealing, jumping and just pure trembling from excitement I began the waiting game. It didn't take long, actually, and my new range was being delivered!
The delivery men were very efficient and made quick work of unboxing and bringing it in. I am amazed at how easy they made carrying a range look, actually!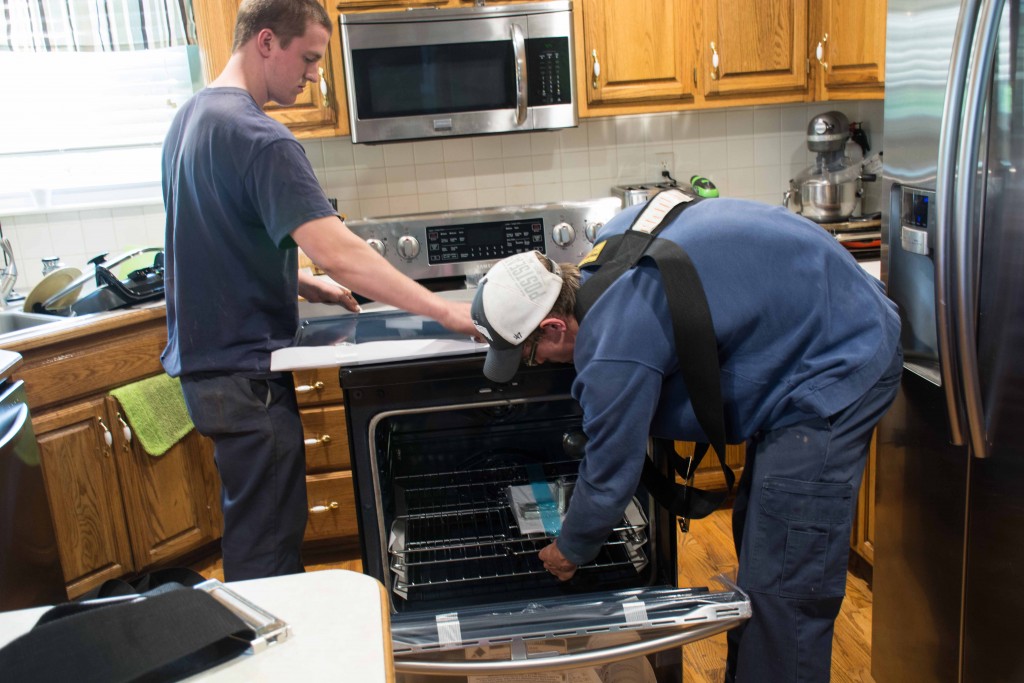 It seemed like everything was protected or wrapped in plastic, but within a few minutes they had it ready to slide into place.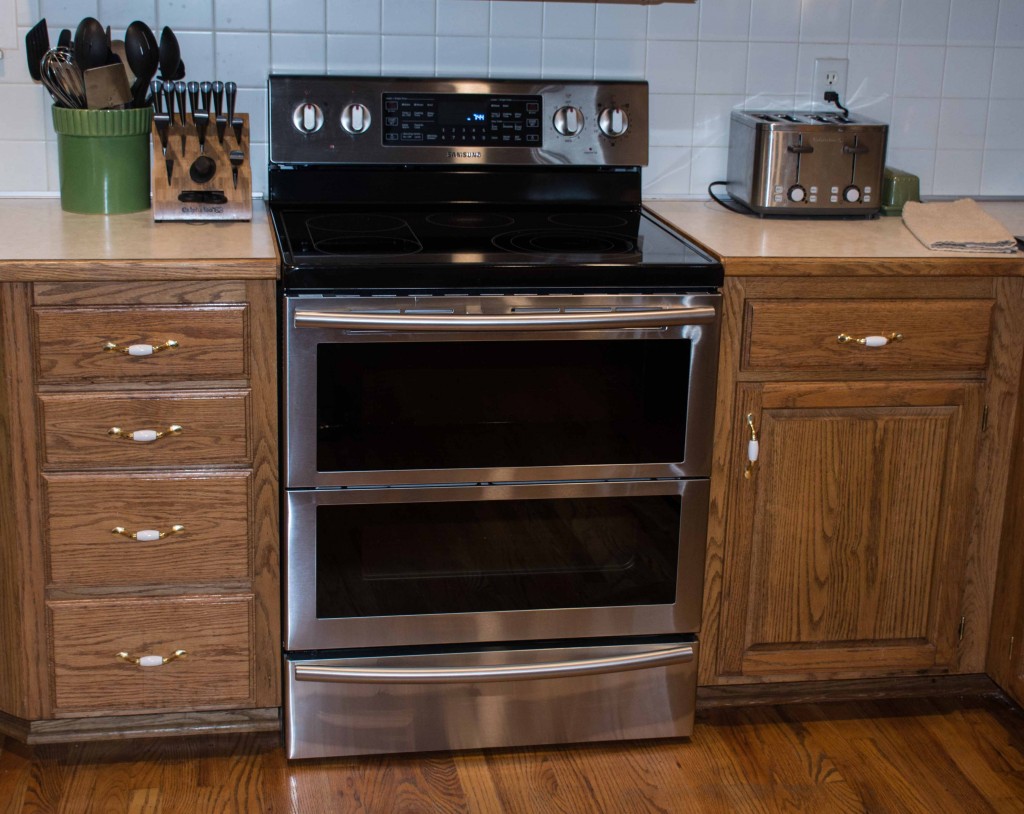 I had to admit it was beautiful, but was it really going to make my life easier?
I was trying to explain to a friend how the doors function … how it was different from regular dual door ranges on the market.
With this particular range you can use the entire oven cavity by removing the divider, or use one or both cavities by leaving the divider in. The divider accessory-slides in horizontally, splitting the oven cavity in half. This creates two mini ovens that users can heat and control independent of one another.
It doesn't stop there, though. If you want access to just the top cavity, press the button while pulling the door open and just the top portion of the door will open. To access both you simply pull the door open and it opens as a single door.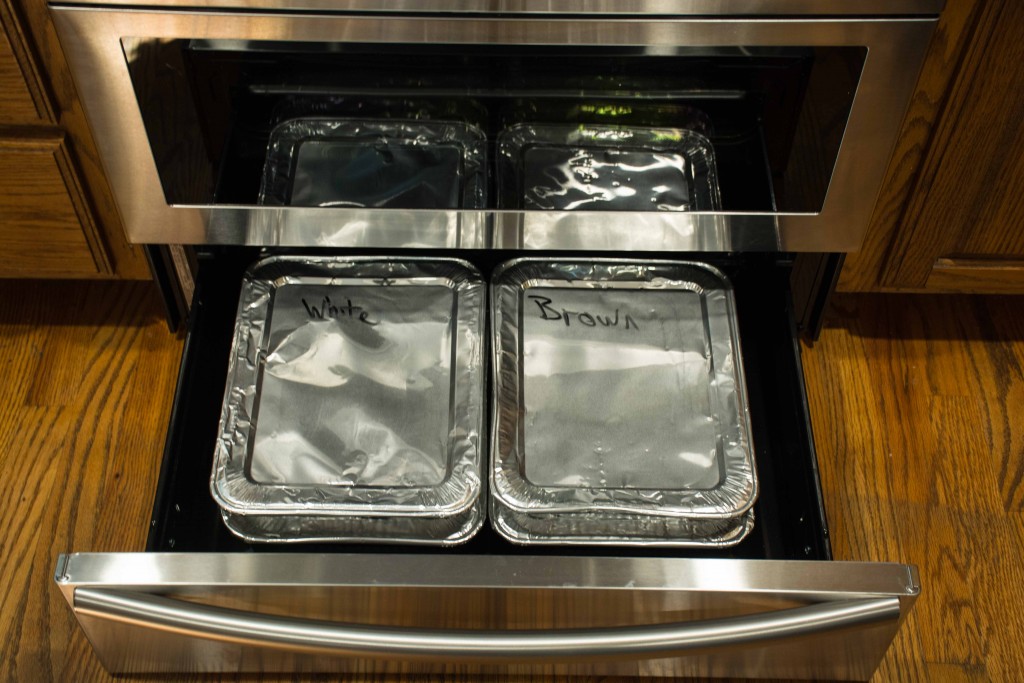 Another feature that is unique to this range is the bottom warming oven. This is no longer just a place to store my cookie sheets because it actually warms! With warming temps of low, medium and high I was able to keep our excess catering food warm during our graduation party!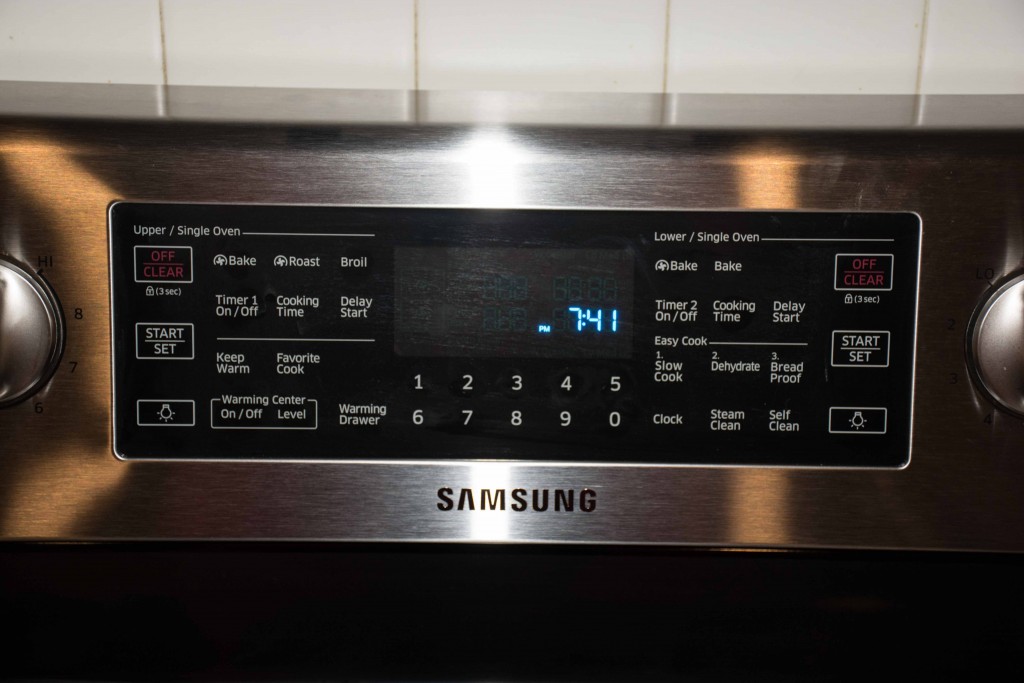 The controls are pretty easy to figure out without reading the manual (although they are even easier when you do). There is a specific section for each part of the oven.
I tend to use the convection portion of the oven more often than a regular heat (it's the bake button with a fan) because it has a faster pre-heat time and better energy efficiency. That paired with a slightly faster cooking time and it's a no-brainer. Having the option of just the top or the bottom compartment or the entire cavity is a huge plus, though. I know that at holiday time I will be utilizing this feature with a turkey in one and green bean casserole and rolls in the other.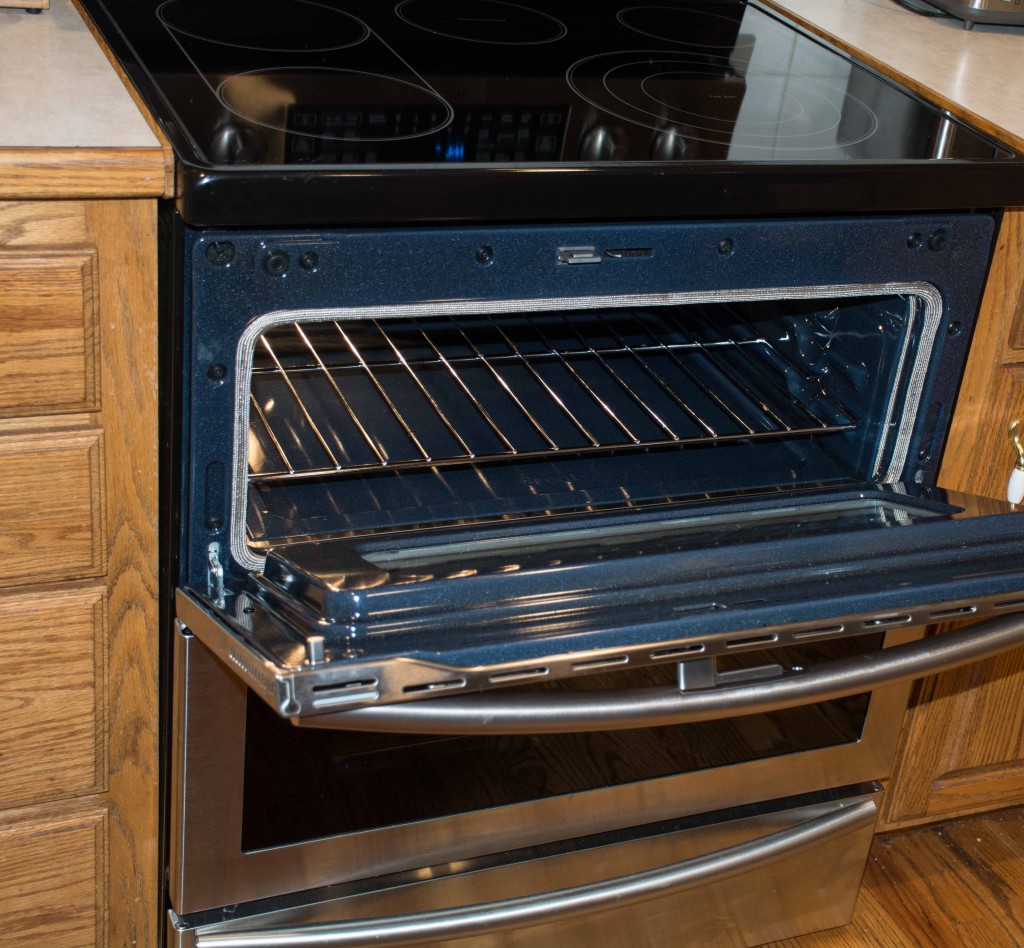 My oldest son and his girlfriend were the first to use the range with 2 compartments. They made pizza rolls in one and french fries in the other. Because they both cooked at different temperatures he liked how he didn't have to either (1) take turns cooking them separately (therefore one is cold by the time the second is done) or (2) guess and overcook or undercook one by cooking them both together.
I used it the other night for frozen pizza. It just so happened that everyone picked a different brand and they had different cooking times. NO PROBLEM! I set each section of the oven at the appropriate heat setting and everyone had perfectly cooked pizza.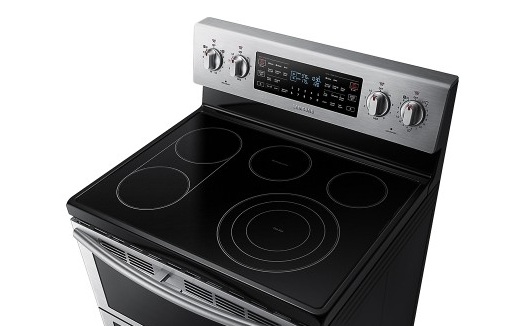 Having multiple cooking sections on the cooktop has been amazing as well. The burner in the front right is the main one we use and it has elements for a small, medium or large pan/pot. This is also where your quick boil is located.
I hope to utilize the burners to the left with a griddle soon. The griddle is next on my wish list!
Check out this quick walk through of the Samsung Dual Door Electric Range at CES this year.
Read more about the Samsung Dual Door Electric Range here!