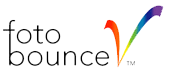 I know I can't be the only Mommy with photos of my kids scattered everywhere… right? They are on my cell phone, digital camera, Facebook etc. Wouldn't it be nice to have a central place to store them all, keep them safe and share with only the people I allow?
There is such a place! Fotobounce!
What is Fotobounce?
•People oriented photo organizer using face detection and face recognition. Benefit: Speeds up tagging of people in photos and also searching for people across thousands of photos.

• Secure and private photo sharing with friends and family. Benefit: Most people do NOT upload all of their photos to a website and are concerned with privacy and security of photos on the Internet.  Fotobounce offers a safe, secure and private alternative.

• Easy photo sharing to/from Facebook + Flickr. Benefit: Users can still share a subset of their photos with these popular web-based sites.
Set up your account and then invite your friends and family to share you photo library. This puts you in control of who views your photos. To make the inviting easier, Fotobounce can import your contacts from Gmail and Yahoo and then you can organize your contacts into groups. Do your friends grow tired of daily photos of the kids, but the grandparents don't? Make a daily group, etc..
Here is a super cool feature I am excited about. There have been several times that I have needed a photo of Joshua, but I've had to sift through months of pictures to find a good one. Fotobounce has a facial recognition feature. You can "teach" Fotobounce by tagging your pictures with names. The software learns the facial features and will start to arrange photos by person and tag them for you. When you share the photos (through Fotobounce, Flickr or Facebook) the tags remain in tact saving you time and energy!
So now Fotobounce knows who is in the picture, how does that help you? The software will allow you to arrange photos in several ways: event, place, collection and keywords. This helps you find that particular photo quickly. One photo can also be contained in multiple albums for even easier search and finds.
There are so many cool features… like directly load your photos from Flickr to Facebook (instead of the old "two step" process) and no re-tagging (tags transfer with the photo), view and post photos from Facebook in Fotobounce for easier viewing and commenting, and send a full resolution photo via email from your portable device directly to your Fotobounce system on your desktop. Did your sister take photos at your child's birthday and she wants to send them to you? She can email them directly to your Fotomail address for your use.
There is so much more… but a few of the most exciting features are:
Organize photos with facial recognition.
Easy to use drag and drop interface.
Facebook and Flickr integration.
Browse photos from your mobile device.
You can connect with Fotobounce on Facebook.  The software is free to download and use but will contain ads on the top (not overly bothersome).  If you prefer to work in an ad-free space, then you can upgrade for $49.99. 
[tweetbox width=500 height=50 label=Retweet! content ="Easy Photo Storage, Organization, Sharing and SAFETY with Fotobounce! @fotobounce @ourkidsmom #photosharing"]
This is a sponsored post. All opinions are 100% my own.