Rocking Monsters Shark
Sample received. All opinions are my own.
Ever since I can remember, I have always imagined my kids owning a rocking horse… but I could never find one that I really liked. My son is a toddler, so I wanted to find something that didn't feel like it would fall apart after some rough play. The Rocking Monsters Shark that I received is definitely a piece that will last for years to come!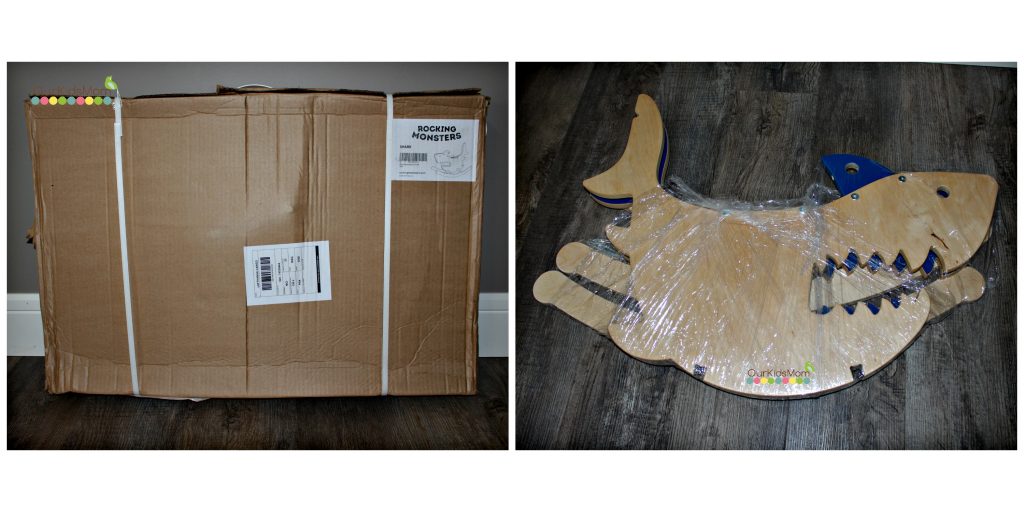 The Rocking Monsters creators chose to test their product using a 150-pound man, which makes me feel very comfortable to let my son use this as he grows. I also found comfort in the fact that edges are all rounded and sanded, which means that my son won't get any slivers.
I felt over every piece and there were only a couple rough areas that I found on the bottom of the skis, but nothing that would cause scratching or splinters. The rest of the shark was very smooth just as they claim it would be. The oil and paint that is used on the Rocking Monsters is food grade mineral oil and acrylic paint, which means that it is economically friendly, and safe for children. I thought that the blue paint on the fin and middle of the shark was a very nice touch. It wasn't overwhelming with color, but gave it some character.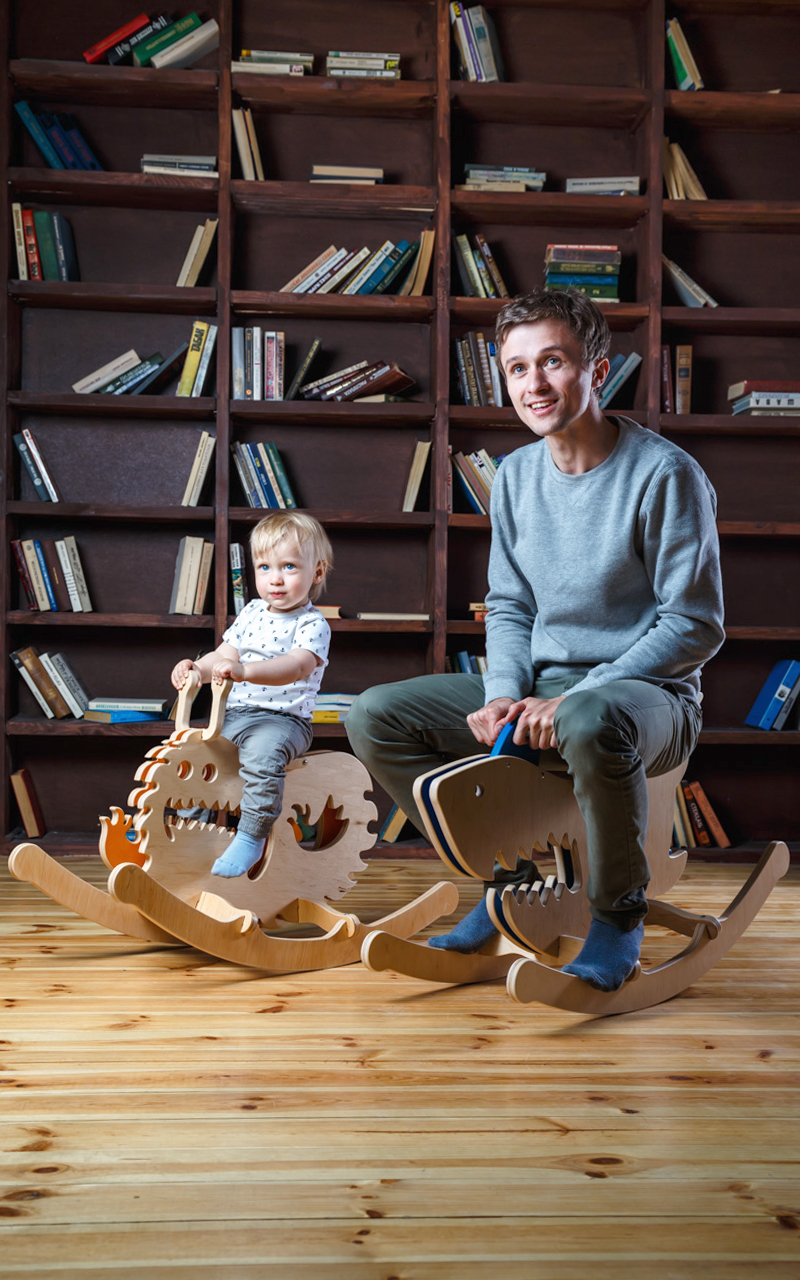 The Shark came in 6 pieces, plus 9 screws, and a hex key for assembly. I was very impressed with the quality of the pieces. It is made of solid birch plywood and feels very durable, and weighs only 15 pounds. Putting the 6 pieces together took no time at all, but tightening the screws within 5 minutes unfortunately did not happen. The screws are not pointed, and I found the drilled holes were slightly small for the screws. I used the hex key and attempted to tighten the screws, and the only one that I had success in tightening all the way was the one that held the handle in.
Getting the handle aligned in the right spot for the screw to pass through was a guessing game. It took a few minutes of trial and error, but I was able to get it in the right spot eventually and the screw went in without too much effort. I was only able to half tighten the other eight screws that held the skis to the shark. I tried very hard, but had to wait for my husband to come home to help. He was only able to tighten them slightly more than I already had. He decided to get out the drill to finish tightening the screws the rest of the way, and in the process, a screw broke right at the end of tightening. The majority of that screw remained in the wood, just the end broke off so it is very sturdy still but I will not be able to disassemble the skis from the shark body. Overall the assembly of the Rocking Monsters Shark was more tedious than I had expected. It is supposed to take 5 minutes to assemble, but it took me 2 hours to get it all together and tightened.
That being said… I am very impressed with this company. Once they found out the difficulty I was having, they promised to solve the problem so that it does not happen again. Thumbs up to the creators!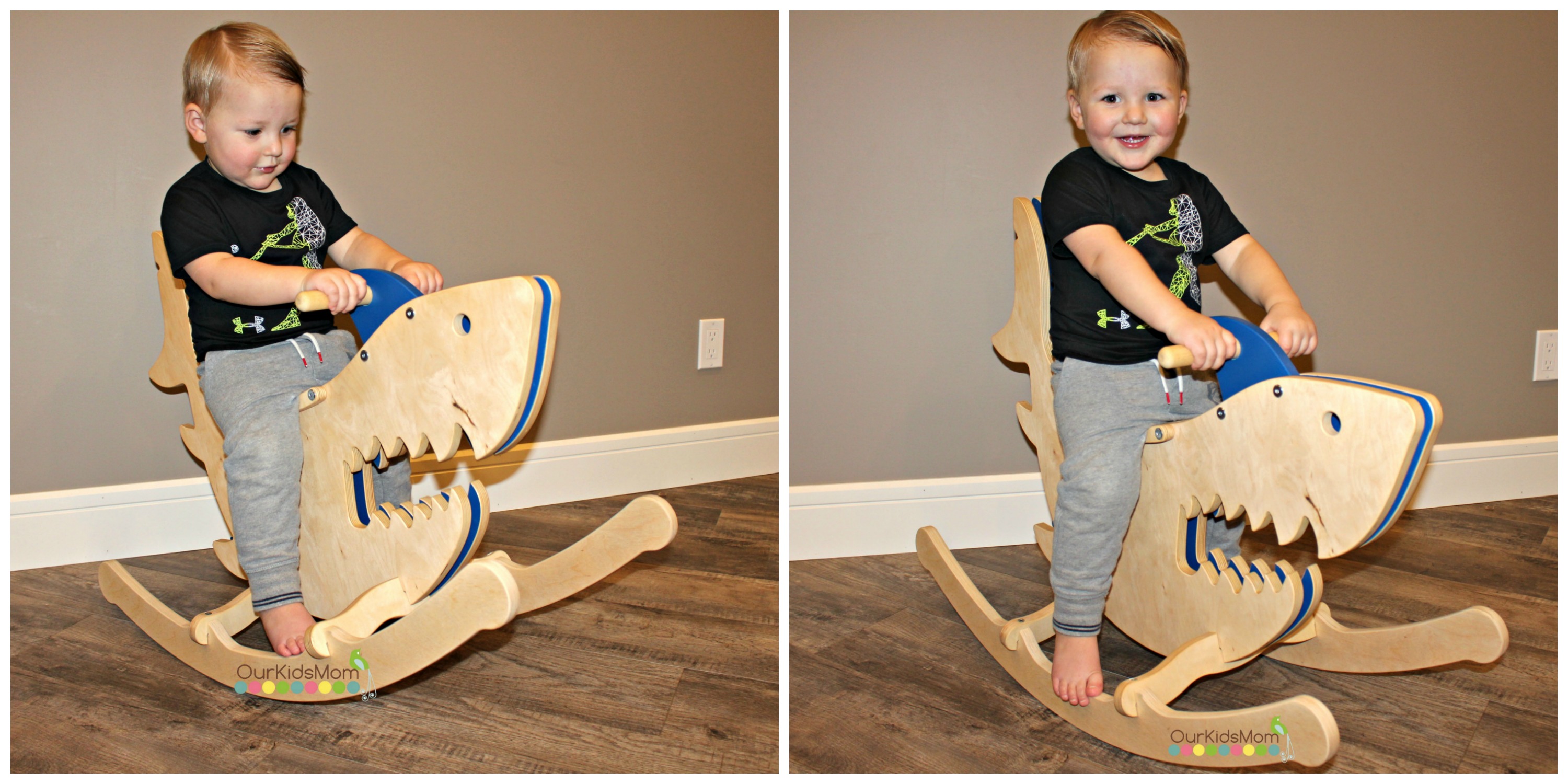 My son was so excited to see this shark set up when he woke up from his nap and he wanted to climb onto it right away. He is not quite 3 feet, and optimal height for the Rocking Monsters is 3 feet, so I assisted him slightly to get onto the saddle of the shark and off he went rocking. He wasn't sure what to expect, but once he got the hang of it, he loved it. The saddle seemed to be comfortable for him, and he was able to rest his feet on the skis. He rocked on the shark for quite some time and seemed to have a lot of fun. This is going to be such a fun toy for him to have as he grows. I definitely recommend this excellent toy.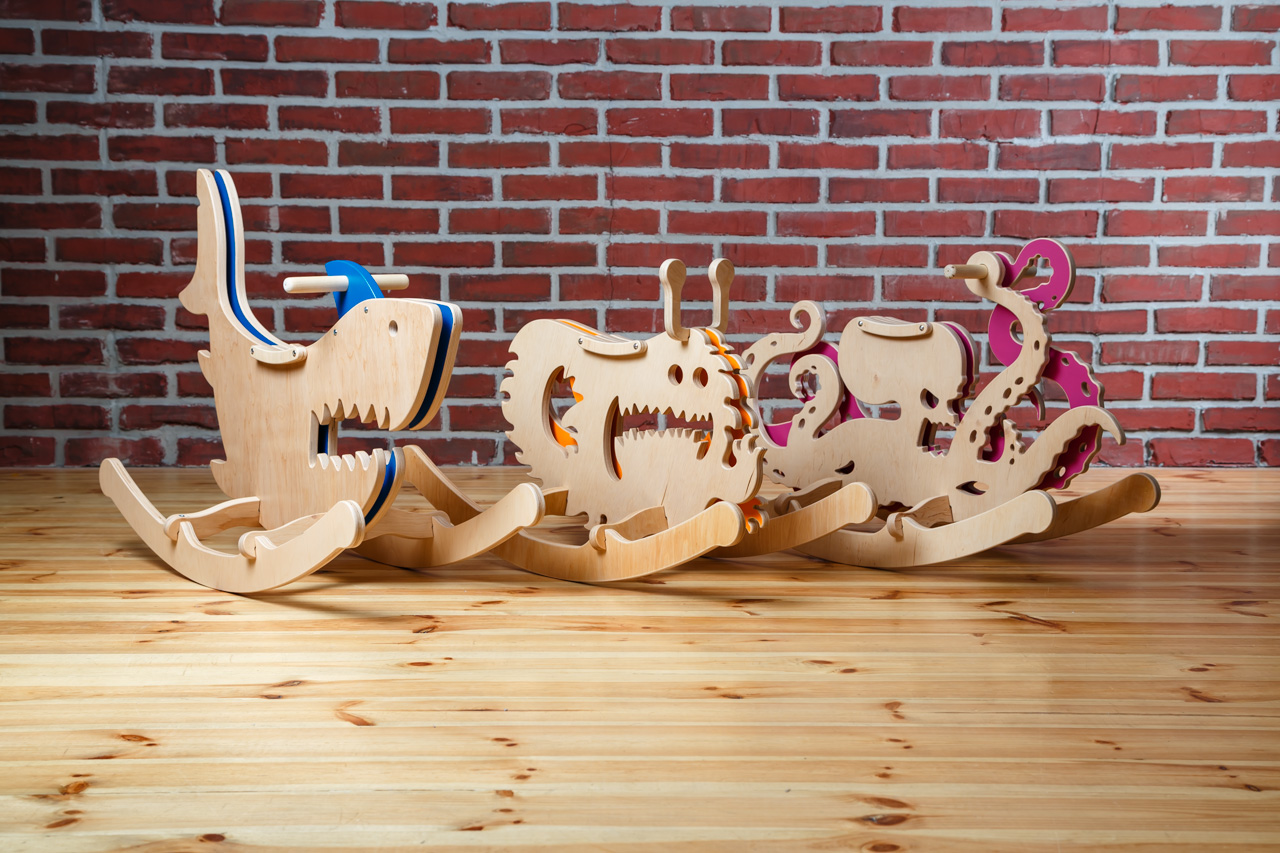 There are three Rocking Monsters to choose from: An Octopus, Shark and Ghost. The name might make one think that they are scary, but they aren't at all… in fact I find them quite cute.
Rocking Monsters just started their Kickstarter campaign and they have a great deal going on for the early bird backers, and if you decide to buy any two or three Rocking Monsters, you save even more! Head over to their Kickstarter campaign and consider backing these great toys. You can also check out their website, Facebook, Twitter, and Instagram account.