Rita Hazan Root Concealer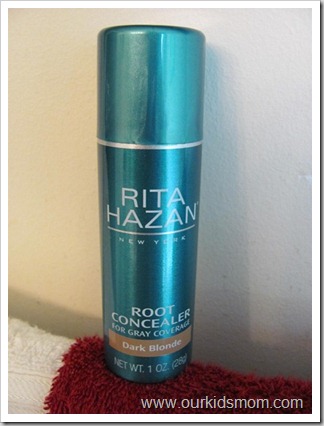 I have been coloring my hair for several years now. At first I started with at home colors, but would occasionally end up orange and have to pay to fix it. Now I pay a professional to do it right the first time. Really… it's the way to go with hair that tends to pick up red very easily. But I digress.
I would love to visit my cosmetologist more often than I do, but with my crazy life with four kids and my husband on a rotating schedule, it just doesn't happen. What does happen is big. ugly. ROOTS. For the cherry on top, I've started getting more and more gray hair. When it starts to grow out I get self conscious and try various things like zig zag parts, but by the end of the day they are there loud and clear.
I was excited to hear there was a new product on the market to help tide me over between salon visits.
Rita Hazan Root Concealer will cover anyone's roots with just one quick spray in seconds.
·       CONVENIENT: The color is temporary, resistant to water and perspiration but can be easily washed out with shampoo. Can be used anytime and anywhere, and does not contain any dye.
·       EASY: With a pinpoint actuator, color goes exactly where it's needed and nowhere else.  Color stays in place and won't stain face, clothing  or linens.
·       FAST: In a matter of seconds, roots and grays become non-existent.  Simply spray 6 inches from the hairline in one continuous motion and it dries almost instantly after application.
·       REVOLUTIONARY: This is the very first root concealer spray to ever go on the market.
I consulted my professional before using the product and we agreed that it should be safe for me to try. It doesn't contain alcohol, it is safe for pregnant women as it's made from natural pigments (Iron Oxides, Titanium Dioxides and Mica), it is formulated without parabens or sulfates and it doesn't affect Brazilian blowouts or other keratin treatments.
I was sent the Rita Hazan Root Concealer in dark blonde. My roots needed a touchup desperately so off I went to the bathroom. I styled my hair as instructed on the can and then sprayed. I noticed that my hesitant quick pass didn't quite do the job, so I sprayed once more. To be honest, I felt like I was on a Hair Club For Men commercial, but it worked! It didn't cover my roots entirely, but I was afraid to spray anymore… I didn't have time to wash my hair again before I left. I was quite satisfied with the results and I didn't feel near as self conscious about my dark root line (and those pesky gray hairs)!
It did wash out easily and didn't come off on my fingers throughout the day as I played with my hair (nervous habit).
Rita Hazan Root Concealer comes in a variety of colors:
·       Dark Brown/Black – Covers the darkest shades including ebony, raven and deep-dark espresso.
·       Light Brown – Covers the lighter brown shades including chocolate, chestnut, amber, and sable.
·       Red – Covers all the basic red tones including auburn, copper, strawberry, bronze and ginger
·       Blonde – Covers a full range including honey, golden blonde, beige, champagne and sandy shades.
·       **Dark Blonde—Covers roots for honey blondes, darker blondes, ash blondes, and caramel blondes. **NEW SHADE LAUNCHING MARCH 2012
BUY IT:
Ready to try it for yourself?
You can purchase Rita Hazan Root Concealer on the Sephora's website or in store for $24. One can should last through many applications as it only took a pass or two to make me happy.
Connect with Rita Hazan:
I wrote this review while participating in a blog tour campaign by Mom Central Consulting on behalf of Rita Hazan and received a Rita Hazan Root Concealer product and a promotional item to thank me for taking the time to participate."