This post brought to you by Rhapsody. All opinions are my own.
My husband, oldest daughter, oldest son and myself have all been using streaming music subscriptions for quite some time. I was just saying the other day that I couldn't imagine living without it now.
Up until this point, though, my two youngest have just had to listen to what the grown ups chose… or at least put in a request hoping we'll play their song in between ours.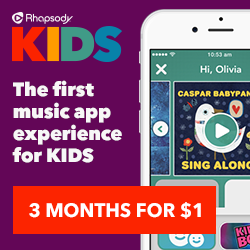 Now… they can use Rhapsody KIDS and listen to what THEY want. Rhapsody Kids is the first music subscription service to offer a fun, safe, and easy music experience created just for kids. Rhapsody KIDS lets you play the newest and most popular kids music available including hand-picked playlists.
Feel safe knowing what your kids are listening to with parent-approved playlists and add your own music whenever you want. Each kid's favorite tunes are automatically downloaded for easy listening wherever you go, even offline. Kids can play their favorite music in an easy, and colorful interface designed specifically for young children.
Finally my kids can control the music and be their own DJs!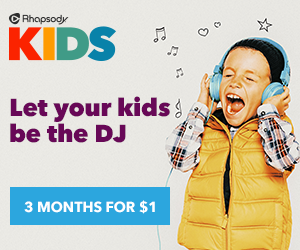 Open to U.S. Residents 18 years and older.
Share this with your friends!
[tweet_box inject="@Rhapsody #RhapsodyKids" design="box_12_at" pic_url="https://www.ourkidsmom.com/wp-content/uploads/2015/10/10710411_10152466067658100_2156008730745959359_o.jpg" author="via @ourkidsmom"]Now You Can Let YOUR Kids Be Their own DJ |  Get 3 months of Rhapsody KIDS for $1[/tweet_box]