Reusable Birthday Decorations | Fun Ways to Decorate for Birthdays Time and Again
With my son Joshua's 16th birthday coming up, I have been looking around for some fun ways to decorate that (1) won't break the bank and (2) can be reused for my younger children's birthdays for several more years. I like to dress the house up for all of my kids, young or old(er), just so they feel extra special on their birthday. Like every other parent, I don't like to drop a bunch of money for each birthday. I ran across Signazon.com during my search and was excited at what I found.
Here are my two favorite ideas I had for reusable decorations:
*  Magic Reusable Decals : These  window signs  will cling to glass, wood, the car, or on the wall. It is made of an adhesive fabric that won't leave residue, is weatherproof, waterproof and ultra durable. This would give me more bang for my buck because I can use it in multiple ways on different birthdays.
* Window Clings : Signazon also offers window clings that are reusable, adhere with static to glass and are easy to apply and reposition. Depending on whether you would like it viewable from outside you can choose a white background or a clear.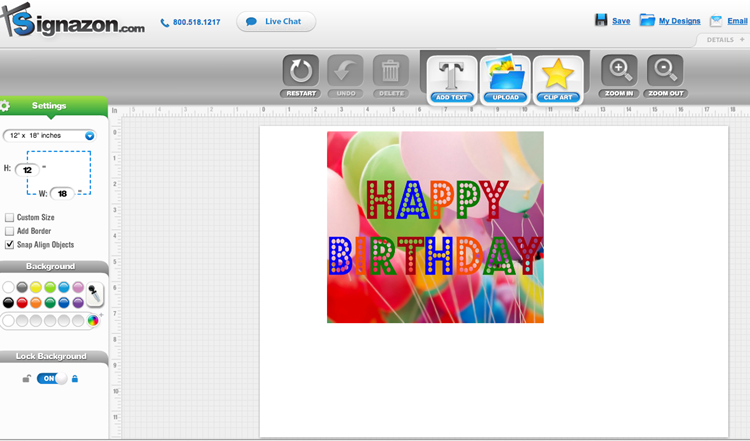 Once you've chosen your type of sign you can choose from a nice list of templates, or upload your own. I went on a Google search for balloons, found one I liked, uploaded to PicMonkey, added my words and I was done! Once saved, I went back to Signazon, uploaded my graphic and chose whether I wanted to add more to it or accept. I clicked on add more so you could see that there is a nice editor that will allow you to create just the sign you want!
So now my dilemma is should I create the generic one I can use four times a year (four kids), or create one special one for each of them with their name on it. This could be fun… time to make signage for our front yard, front door, front window … heck any place I can put one to celebrate (and embarrass) them!
This post brought to you by Signazon.