Refresh Your Bedroom | Choosing the Right Pillow
One of the most important items in your bedroom in regards to getting a good nights sleep, is oftentimes overlooked.The pillows you lay your head on at night are almost as important as the proper mattress. DownLinens knows that pillows can make a huge impact on the quality and comfort of sleep, that's why they offered to let me review a set of pillows.
DownLinens sells high quality down, comforters, featherbeds and alternative fill bedding products online, at great prices. The company procures its own down and manufactures all its own products, so DownLinens is able to provide luxurious products at the quality you would likely find in a major department store or specialty bedding boutique – but at lower prices.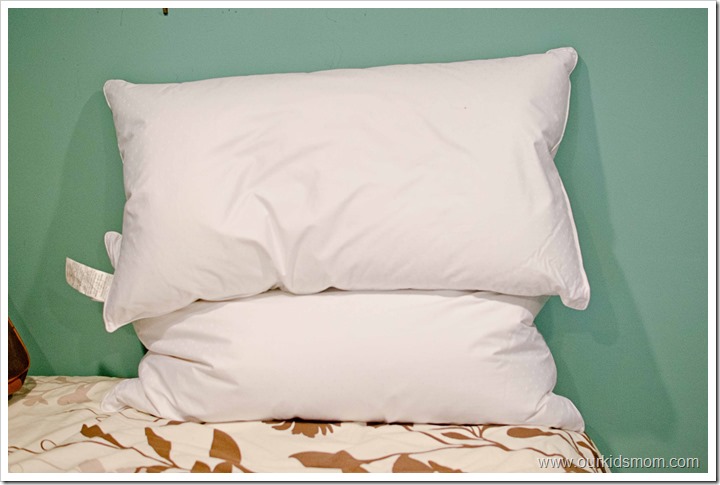 Choosing the perfect pillow can be confusing. There are so many factors to take into consideration, here are a few that should be taken into account:
Pillow Fill. The most common fills for pillows are down, feather and synthetic/polyester fibers. Natural goose down pillows are soft, durable, and very comfortable for sleeping, really the height of luxury.  You can buy down, or synthetic fiber pillows for that matter, with different "fill powers" or firmness. Fill power (or loft) is the ability of down to regain its original volume after being compressed during shipping, storage or use. You might like to have a softer pillow for sleeping and a firmer one when you want more support for sitting up. The softest pillows contain just down, while if you want that extra firmness, look for a pillow containing both down and feathers.
Another option would be synthetic/polyester fiber pillows, many of which are less expensive to buy and machine washable. Several alternate fills are available, to suit different price points. Gel pillows are rather new to the market, and deliver a feeling much like down. One caution, alternate fills do not last as long as down.
Fluffiness. A fluffier pillow provides better cushioning for either sleep or sitting up and is longer lasting. A fluffy pillow also means that fresh air is able to travel through it. Contrastingly, a lifeless pillow that is deflated and flat can no longer trap air, rendering it not ideal for significant support.
To test the fluffiness of pillows you currently own, fold the pillow in half and see if it unfolds on its own or squeeze it and see if it fluffs back up. If not, you might be time to look for a new pillow.
Pillow Cover. When you buy new pillows, purchase a pillow cover with a zipper to immediately go on the pillow, under the pillow case. This will protect the pillow from body oils that naturally accumulate over time as well as adding an extra level of protection from dust, helping anyone in the family who has allergies. For down pillows, a down-proof pillow cover is ideal in order to minimize leakage.
Pillow Case. Simply put, the higher the thread count in a pillow case, the softer the material will feel and the more durable it will be in protecting your pillow. The minimum recommended to ensure you get a comfortable sleeping experience is a 233 thread count. Alternatively, if you're looking for something more luxurious, go with a pillow case with a 500-800 thread count.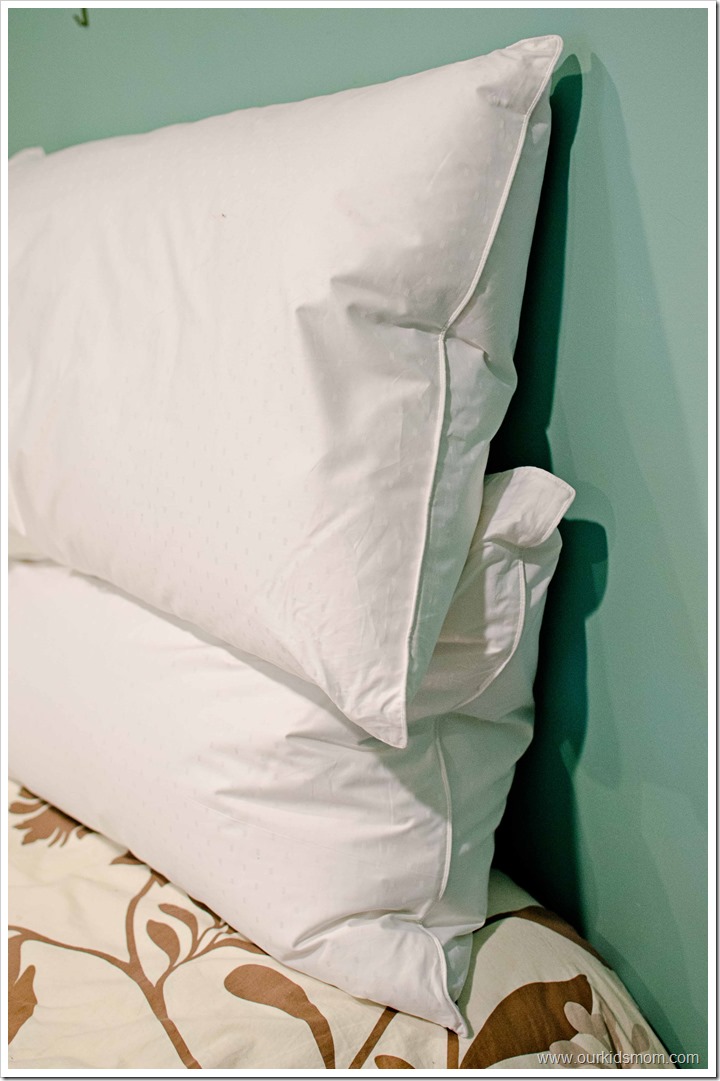 DownLinens offers a chart to help consumers buy the pillows that will be right for their family. No two sleepers are alike, and DownLinens' meter system is designed to help choose the product that will best accommodate individual sleeping needs. This chart can be found here.
How to Determine the Best Pillows for Each Member of the Family:
Identify the Normal Sleeping Position. How a person positions themselves in bed determines the type of pillow that will be best for the sleeper. For example, if a member of your family sleeps on his or her back, buy a fluffier pillow that will lift the head and chin off the mattress. A fluffier pillow will also help with breathing and is a great aid to reduce snoring.
If a different family member sleeps on his or her side, choose a thick pillow for them, one that can be bunched up under the neck, but is also soft, so as not to elevate the head to an uncomfortable level.
Children should not be given a pillow until the move from the flat surface of baby beds into their own normal bed. Choose soft, lower fill products that will support the head but not into an unnatural, elevated position.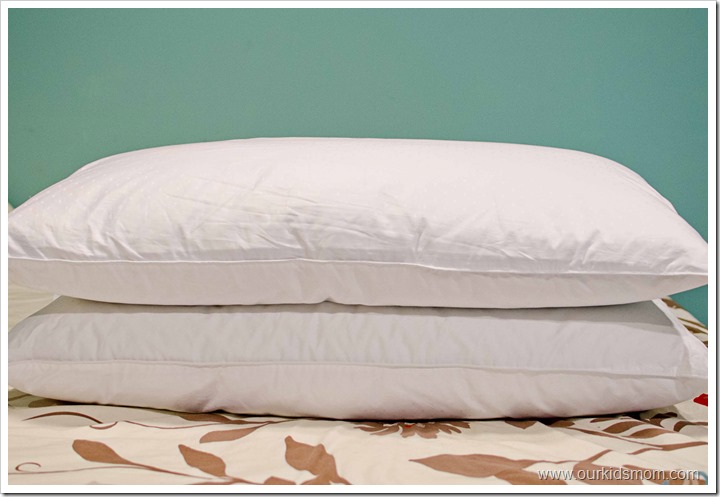 I am a side sleeper and have determined several years ago that down pillows work best for me. Firm fiber filled pillows left me with a crick in my neck, memory foam pillows gave me a headache and if I can't squish my pillow, forget it. Unfortunately the pillows I had were worn out and lost most of their loft. I was excited to try DownLinens Deluxe Down Pillows.
The Deluxe Down Pillows provide the softest feel under your head whether you're sleeping or propped up reading your favorite book. Unlike other pillows that seem to flatten a little more each day, the Deluxe Down Pillow is built to always seem to have the fullness you see in a brand new pillow. The unique design of the Deluxe Down Pillow offers you a separate pillow cover in a high 330-Thread count,which includes a zipper for easy removal. The Deluxe Down Pillow allows you to easily remove the cover periodically for cleaning, which will add to the life of these already long-lasting pillows.
When I removed the pillows from their boxes, I could immediately tell that they were extra squishy and had a great loft to them. Two important factors for my comfort. They respond well to a quick fluff and plump and I couldn't wait to sleep on them.
I sometimes equate my sleep routine to that of a dog. I don't walk around in circles before laying down, but I do have a set routine with my pillows. I have a couple that I use to prop me up (I don't sleep well flat), I have one for between my knees, another that I hug and one that I squish & squoosh under my head. I decided to try the new pillows (1) behind my head/neck and (2) hugging. The pillows are easy to manipulate and form to just the right contour for my neck. They are just squishy enough to give a little resistance while I am hugging them but not so squishy that I feel like I need a second one to hug. I slept well on them and was incredibly pleased with how well they bounced back the next morning with a quick pumping. I'm hoping to get another set for my husband so that we have matching sides of the bed… but until then, these are mine

. 
BUY IT:
Use discount code  PILLOWS4ALL25 to receive 25% off your DownLinens.com order valid July 15 – 29, 2013!
Connect with DownLinens:
Disclosure: The product(s) reviewed and the content for this post was sourced from DownLinens, online resources and family traditions. All opinions are 100% my own.