Our family has become more active over the past year. My husband began training for a half marathon, my son runs track and plays competitive soccer, my older daughter is training for a 5k and the kids and I are trying to get outside more often. Emma at 5 and Ethan at 3 both have shown an interest in running. I try not to hinder them so when we are out on walks, I let them take off for short jogs as long as I can see them. I know that some day they both will probably be running half marathons and maybe marathons with their Daddy.
Having the proper shoe for your chosen activity is a must. Reebok has so many types it can make your head spin. That's why I was happy they offered to chose our shoes with a little information from me about our activities and desires from a shoe.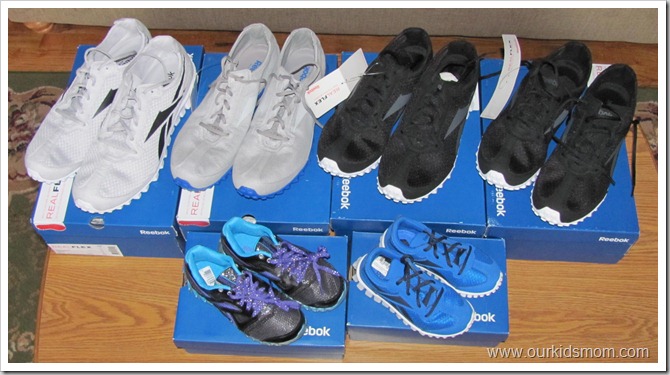 Our box was overflowing with a variety of shoes. All of the adult shoes were from the RealFlex line. These shoes are flexible and breathable making them great for running. 
RealFlex is all about natural movement. Engineered with 76 individual flex-friendly sensors, these shoes are designed to help your feet move and flex as you run, jump and stretch. Through the footstrike, through the pushoff – you have 76 new running buddies to help you along. It's natural movement – perfected.

Mesh upper for support, comfort and breathability; offers

ultimate in softness, pliability, durability

RealFlex™ sole design – 76 individual sensors that allow for multi-directional flexibility and optimal foot feel through entire footstrike
Low-profile, minimalist silhouette for low-to-ground feel and added mobility; form-fitting design and sock-like feel keeps shoe in contact with your foot
3D Ultralite outsole provides lightweight support while encouraging natural footstrike; PU sockliner for added cushioning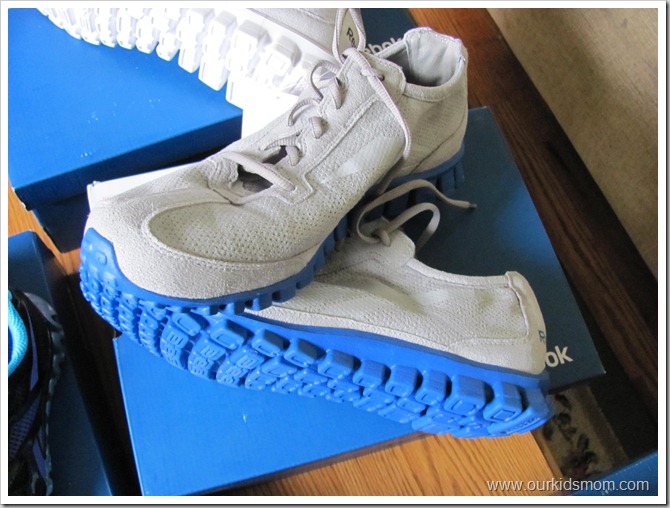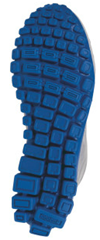 My husband received a pair of RealFlex Run Suede which retail for 89.99. He has been wearing these for a couple of months now and loves them. He is able to "feel the road" and has run up to 10 miles in them at a stretch. He had the desire to try minimalist running but found that his feet felt it for days after his run. With the RealFlex Run, he has the minimalist feel with a little added support.
He has come to love them enough that they have replaced his everyday shoes and loves how he almost can't feel them on. His only complaint with them is that they don't have a lace loop on the tongue to keep the tongue in place.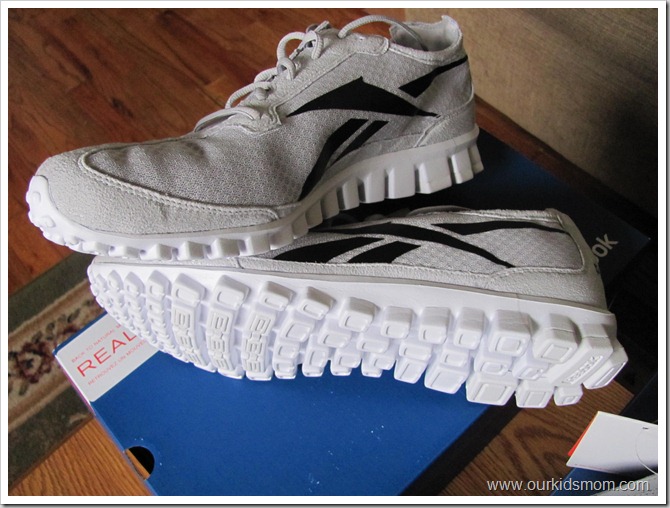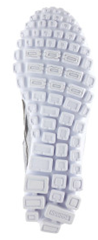 Joshua received a pair of RealFlex Run Men's – Mesh which retail for 89.99 but are on sale for 79.99 right now. Has has been wearing these every day to school as well to track practice for a couple of months now. They have worn well, but the Rebook emblem did start peeling off almost right away. I'm not certain why, as this hasn't happened on the other five pair of shoes.
Joshua also loves the minimalist feel but added support feature of these shoes. They are not a bold attention getting shoe like some on the market, which makes them perfect for any time use. Joshua actually has done some minimalist running (in his stocking feet I might add) and says that these have a great middle of the road feel to them. Not a true minimalist shoe, but not a heavy duty road shoe either.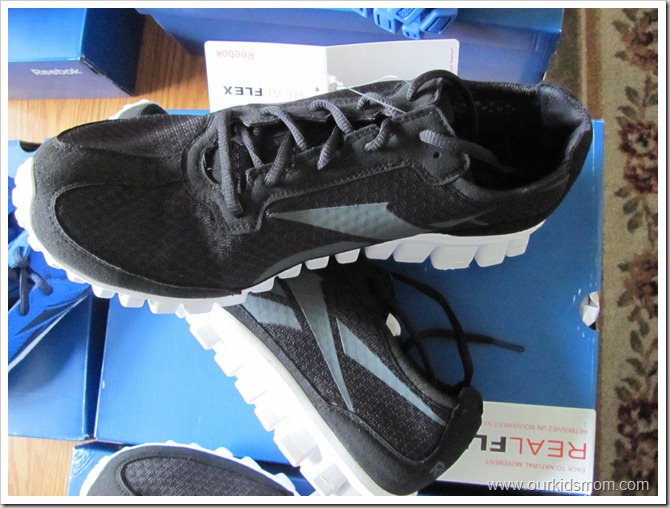 Kaytlin and I both received a pair of RealFlex Transition that retail for $99.98. We both noticed immediately that our feet felt very light. Kaytlin has a problem with her other shoes while running… her toes fall asleep. With the RealFlex Transition she doesn't have that problem! We are both enjoying them and actually wear them for casual use as well. Our only issue we ran across was that they are mesh and we found out quickly that walking through wet grass produced soggy wet socks.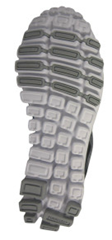 Train light on your feet with added control. Exclusive RealFlex technology helps promote natural movement of the foot. Individual flex-friendly "nodes" are designed to help your feet move and flex as you work out. The RealFlex Transition adds reinforcements in the front and back to enhance stability through your workout. The single layer polyester mesh upper has a hotmelt appliqué to add strength with minimal weight. The thin micro suede tongue won't crowd your foot.

Single layer poylester mesh upper
Multi-direction flex nodes for natural motion
Full collar lining and added heel counter for extra comfort that lasts throughout your workout
Molded sock liner for cushioning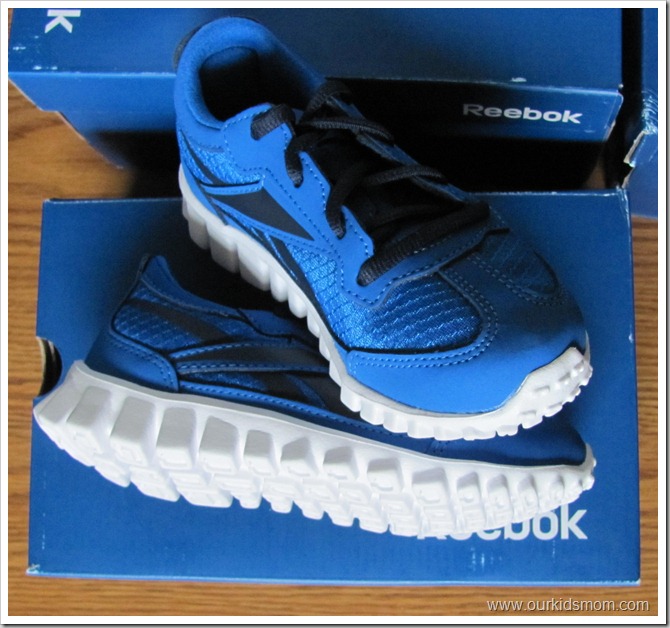 Ethan received a pair of Mini RealFlex Run (Toddler) which retail for $41.99 but are on sale right now for $29.99. His first impression of them was "Blue is my favorite color!". With Ethan being an on the go boy he appreciates the flexibility of these shoe., I appreciate the support, breathability and durability for his growing feet.
The Mini RealFlex Run offers kids a mix of lightweight materials, cushioning and fun colors while promoting natural motion with its flexible sole sensors. This standout style provides the ultimate in flexibility, support and cushioning for growing feet.

Leather/mesh upper for lightweight comfort, added support, breathability and durability
RealFlex sole design – individual sensors that allow for multi-directional flexibility and optimal foot feel
IMEVA midsole for added cushioning and support
Low-cut design for mobility and responsiveness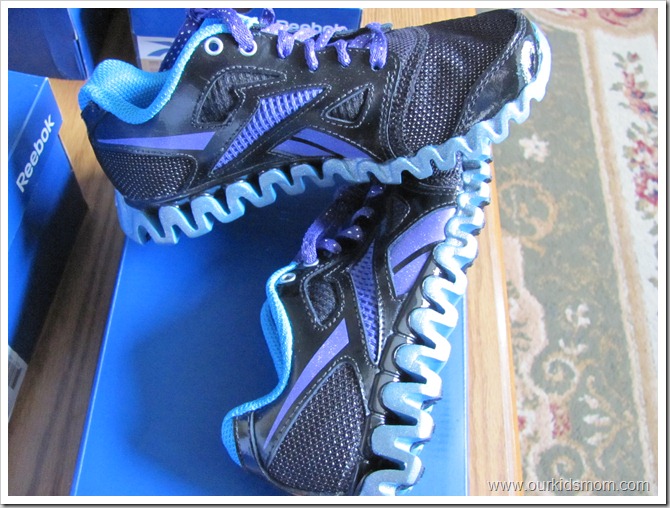 Emma received a pair of ZigNano Fly 2 pre school which retail for 64.99. I have to be honest and say that my first impression of these shoes was not very favorable. My Emma is a pink girly girl. The purple sparkle just doesn't fit her personality. There is nothing wrong with these shoes… just not the color I would have chosen for her.  That being said… on the website on the same page there is a pink girly girl pair that are incredibly adorable. SO… there are options for every style.
The ZigNano has a unique sole that is eye catching and fun for little kids. With the zig zags comes great traction. The upper is mainly mesh and offer great breathability. With the extra cushioning and the durability of a Reebok they would be a good choice for play or school.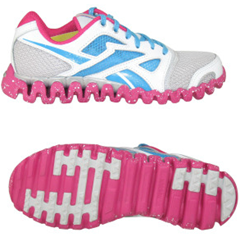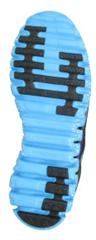 Snag a pair of ZigNano Fly 2 shoes with the unique zig zag sole and the cool colors that pop. Play boldly. Be a Zig kid.
Synthetic/mesh upper for comfort, fit and durability; carbon rubber heel strike for durable traction

Unique low profile, zig-zag shaped sole looks just like an adult Zig midsole

PU sockliner for extraordinary cushioning

Low-cut design for added mobility
Connect with Reebok:
Disclosure of Material Connection: I received one or more of the products or services mentioned above for free in the hope that I would mention it on my blog. I only recommend products or services I use personally and believe will be good for my readers. I am disclosing this in accordance with the Federal Trade Commission's 16 CFR, Part 255: "Guides Concerning the Use of Endorsements and Testimonials in Advertising." The opinions expressed in this post are entirely my own. Your experience with the product may differ from mine. The sponsor is responsible for prize fulfillment and will be shipping the winner(s) their prize(s). For more information read my disclosure policy.