Disclosure: I am covering this all-expenses paid trip on behalf of Disney.  All opinions are my own, even when talking points are suggested.
Our trip to Disney Animation Studios would not have been complete without a trip to the voiceover department. There, we met Gabriel Guy, Original Dialogue Mixer for Frozen. Gabe walked us through the recording and mixing process.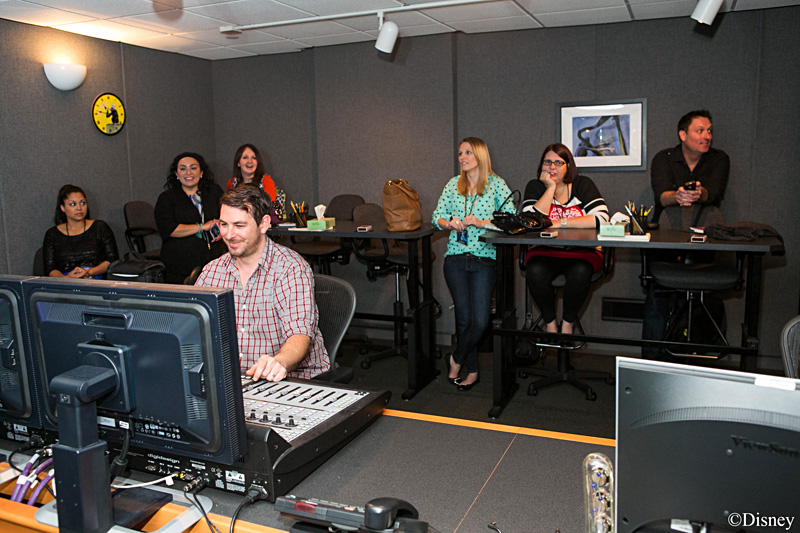 The actors are recorded prior to animation. This does two things 1) it keeps the animators from spending time and money animating lines that may never be used and 2) by filming the actors as they record lines, animators can get a sense of movement and facial expression to use during the animation process. You'll see a little bit of the actor's mannerisms in their on-screen counterparts.
The majority of lines are recorded with just one actor in the booth, but the directors will try to work out recording sessions so key scenes can be recorded with characters together.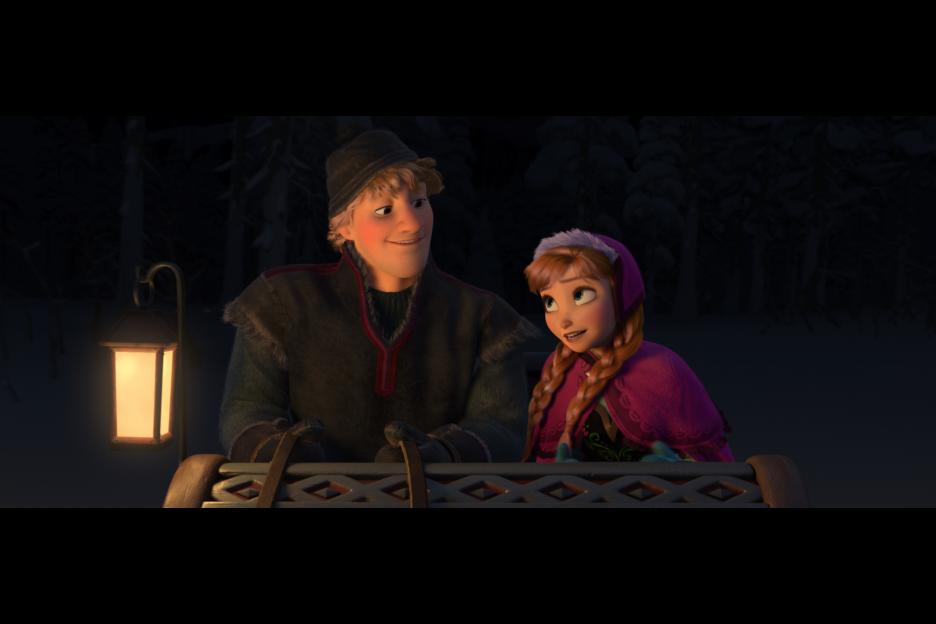 One scene you may be surprised to know was recorded separately was the sled scene with Kristoff and Anna. They weren't able to get Kristen Bell and Jonathan Groff's schedules to align, so the scene was first recorded with Kristen improvising a lot of the dialogue and Jonathan responding. Thanks to the amazing mixing team, you would never know!
 The vast majority of Frozen was recorded in the booth we visited. Do you remember the amazing "Frozen in 25 Languages" clip? Each country recorded its own version of "Let it Go" in their own studios and then it was combined together by a mixing artist in London. Can you imagine how much work it must have been to transform 25 songs into one, flawless song?
We were given the chance to hop into the booth and record a short scene from Frozen, and I'll tell you something…it's a lot harder than it looks! It also hit home the reason animation isn't created before voice recording. It's nearly impossible to get it exactly right. The clip played on a screen and the words seemed to fly by!
Naturally, Olaf was the star of our recording session. We had the choice of a dialogue clip or singing a the first few lines of "In Summer". For some reason, I chose to sing (really, not a pretty sight). Our sessions were all filmed, but they were so wonderful that Disney decided to keep them as talent reels for our future careers as voiceover actors. Truthfully, they're saving you from hearing my very off-key singing. For that, we should all be thankful.
Stay tuned for more Frozen fun next week! And be sure to stop by tomorrow for my review of Need For Speed!