The Radio Flyer Cyclone has FUN written all over it. I showed my son a video of the cyclone in action and right away he was asking me to order one (little did he know we had one coming to review). Days after watching the video he would still ask if I ordered a cyclone yet and when it would come.
The day finally came when the Cyclone arrived at our house, he couldn't wait to set it up and take a spin. There was some assembly required which only took about 10 minutes and it was ready to roll.
We had a snow fall the day before it arrived so he couldn't take it outside… good thing I have a nice open kitchen because that's where he took it. This little boy was all smiles as he quickly figure out how to do fast 360º spins.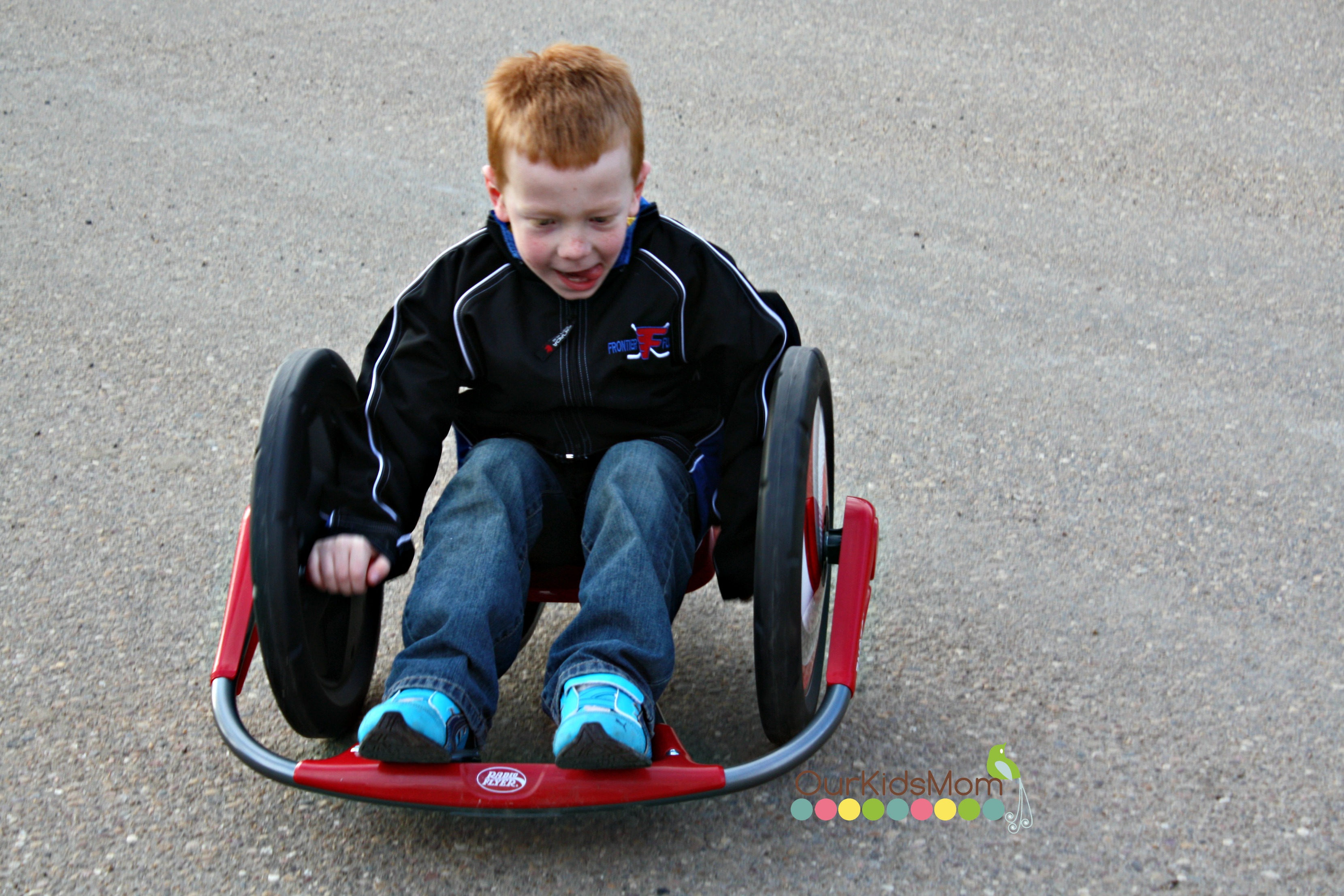 The cyclone is a arm powered ride on with a steel frame weighing only 10lbs. There is a nice seat and foot rest for a comfortable ride.  The handle grips are the perfect size for little hands to grip to roll forward or reverse. The wheels are a big 16″ and offer a smooth ride. There is a rear caster wheel that allows you to spin out the back to do those spins and doughnuts!
The only thing missing would be a little rubber or some kind of grip on the tires to give them some traction.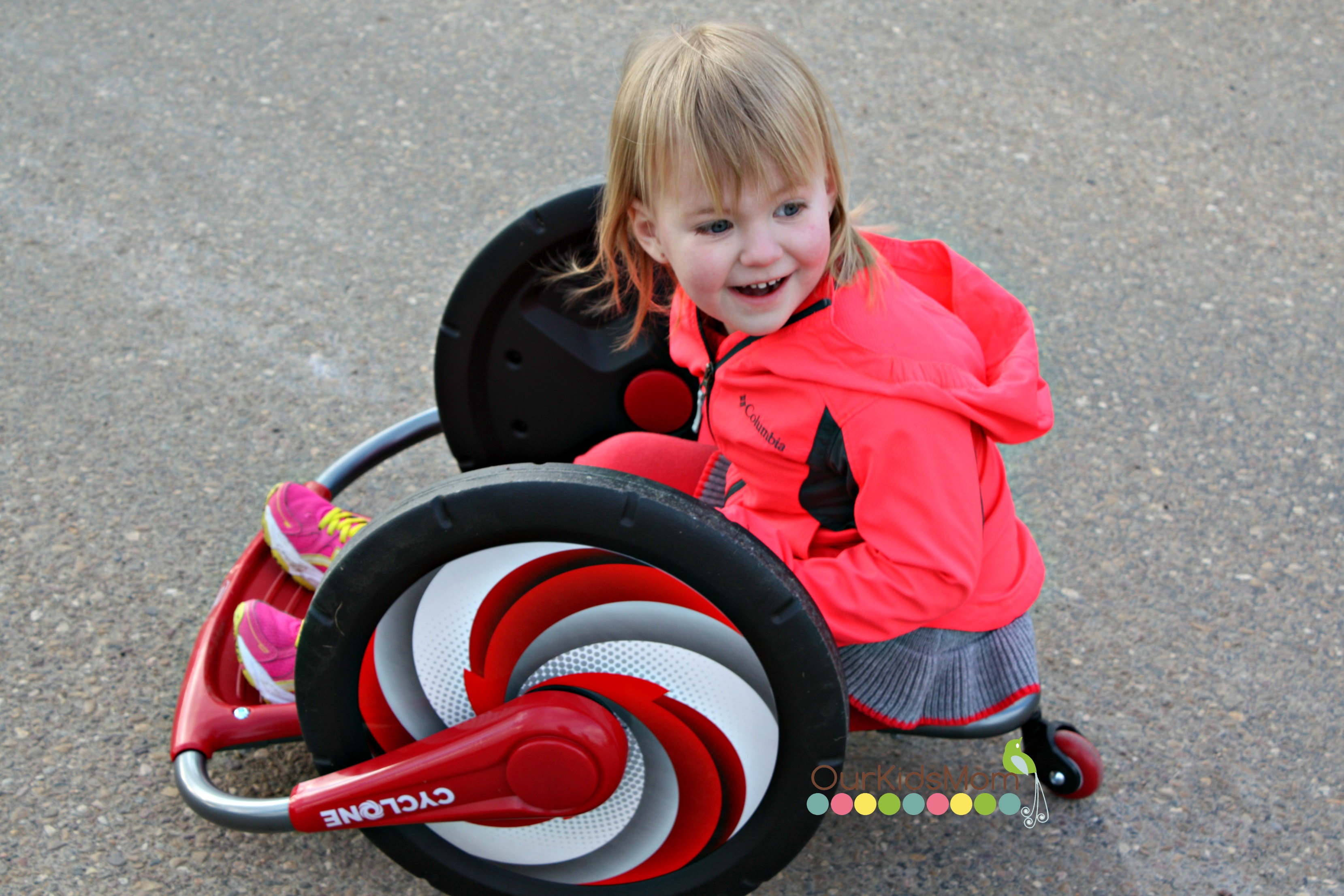 Not only does my 6 year old son love it but so does my 3 year old daughter. I'm amazed at how she can manoeuvre and spin the Cyclone around.
The kids literally get up in the morning and try to beat the other one to the cyclone so they can have the first turn on it. I have been told many times "Mom you need to buy another one so we don't have to share!"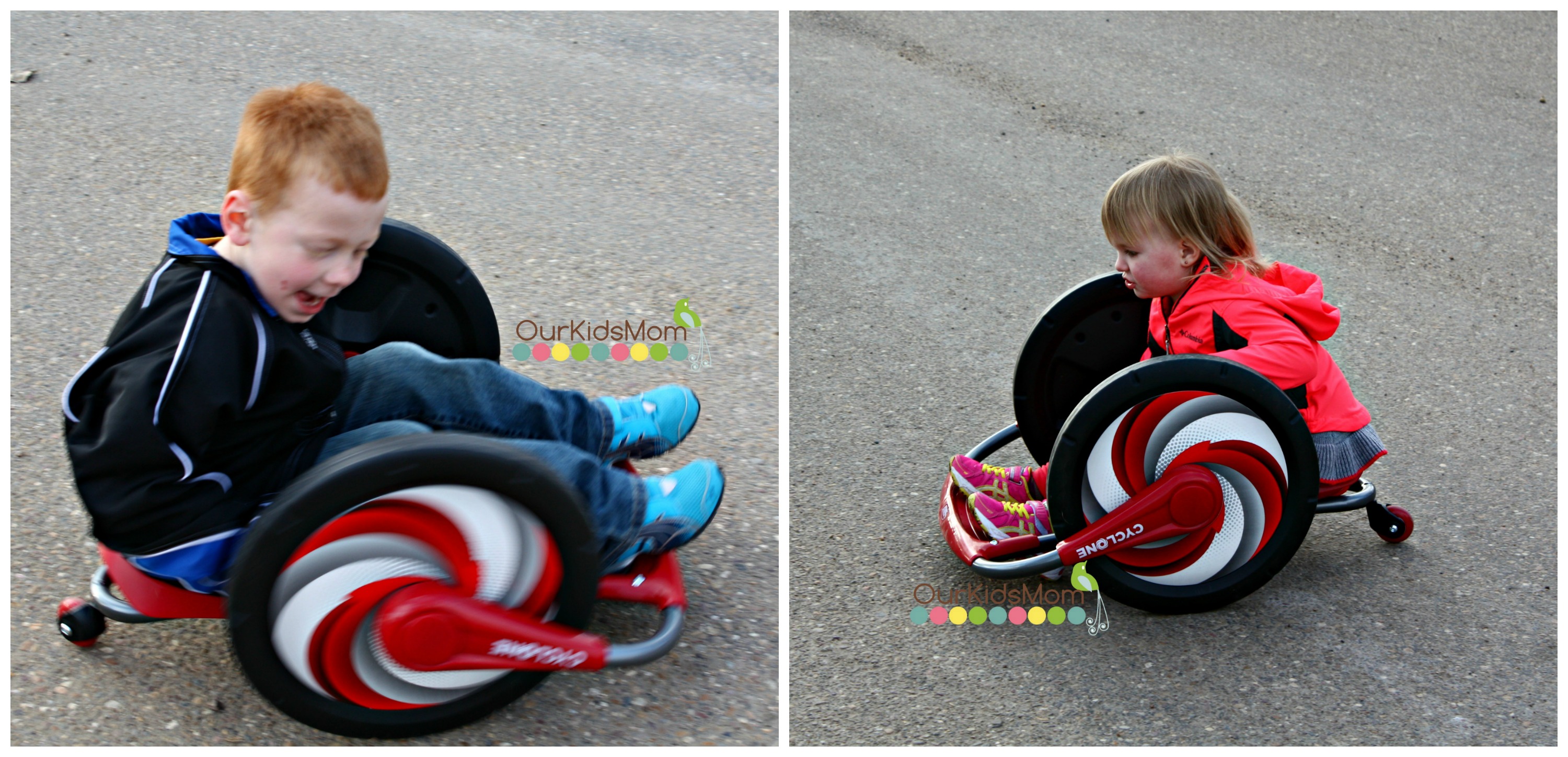 The Cyclone is meant for ages 3-7 and is good for up to a 70lb rider.
When I was watching my kids have a blast riding the cyclone my first thought was how amazing this would be for kids with disabilities that aren't able to ride a bike, or kids who don't have the leg strength or coordination to ride a bike but want to keep up with their friends.
This is the perfect ride on for any child!
My kids love being inside and it takes a lot to convince them to go play outside, but when they can take the Cyclone outside the hard part is convincing them to come in and eat. What a great ride on toy for an incredible price of $59.99 on www.radioflyer.com