What is bullying? (source About.com)
Bullying is intentional aggressive behavior. It can take the form of physical or verbal harassment and involves an imbalance of power (a group of children can gang up on a victim or someone who is physically bigger or more aggressive can intimidate someone else, for instance).

Bullying behavior can include teasing, insulting someone (particularly about their weight or height, race, sexuality, religion or other personal traits), shoving, hitting, excluding someone, or gossiping about someone.

Bullying can cause a victim to feel upset, afraid, ashamed, embarrassed, and anxious about going to school. It can involve children of any age, including younger elementary grade-schoolers and even kindergarteners. Bullying behavior is frequently repeated unless there is intervention.
Elementary school… early childhood. This is the time of your life you should look back fondly on. Not for me, though. From about third grade through sixth grade I was continually harassed by the "big kids".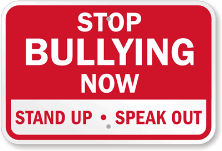 I wasn't the cutest kid in the world. Once the bullying began, I began to shove my feeling down with food. The change in my body gave the bullies even more ammunition to hurl at me. I was always afraid to get on the school bus. The big kids always sat in back and they would always shout things like "Here comes Heffer!" (my name is Heather)… or they would "Mooooooooo!" while I walked down the aisle of the bus. I just wanted to be invisible… to die.
This was incredibly hurtful but I had no idea how to make it stop. I would sit in my room after school and cry… sob actually. And then eat more. I don't know why these bigger kids decided they needed someone to pick on so badly. I do know that it ate me up on the inside. It made me ashamed of who I was and how I looked, it tore my self confidence down to nearly nothing and it made me question who I was as a person… did I actually deserve to be around?
Obviously I did stick around, but I can understand how a young person might be inclined to take the other way out. The pain eats you up from the inside… you feel your guts churning, your heart pounding and the tears burn down your cheeks.
Fortunately I found a group of friends in junior high that were incredibly loving, supportive and accepting of who I was and what I looked like. The bullies were still around, but not as strong. I eventually blossomed and, although still a big girl, these people stopped picking on me as much. I gained a little self confidence and was even voted onto the drill team in high school (which btw I eventually dropped out of… due to bullying).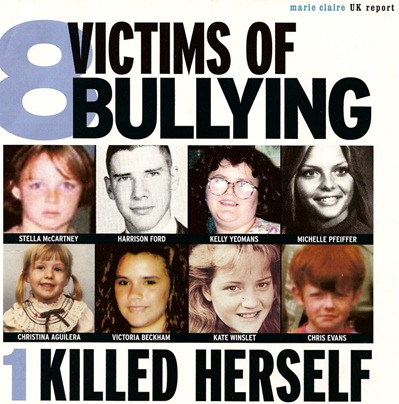 The reason I am spilling my guts for the world to see, read… hopefully hear… is this. Bullying needs to S T O P. We as parents need to recognize the signs of both the bullied and the bullies. Teaching our children compassion for others is a start. Recognizing the signs of a child that is being bullied is another. If we all get involved, none of these children will take the other way out to get away from this torture.