Pumpkin Lookalike Cupcakes
This post brought to you by Samsung Home. All opinions are my own.
Once upon a time my extended family used to call me "Susie Homemaker". As a stay at home mom to only one child (and the fact that I was a young pup at only 21) I had boundless ideas and energy. I would sew costumes for my daughter, crochet baskets out of fabric scrap, and the oven always seem to be on. In fact, my husband's work would call me at least once a week to place an "order" for cookies (to be delivered by my husband of course). I always seemed to have something in the works.
Twenty-one years later I look back on my past and wonder how I did it all. Just thinking about it exhausts me. I sometimes yearn for that energy and creative flow (and time) because it was such a fun and rewarding (to me) outlet. I felt like I could do it all… and I tried.
Today, I am a busy mom with four children. I still, on occasion, hold get togethers at our house and love to fill the house with the smell of a fresh baked goodies. My goal now is to offer something that looks amazing, but didn't take me all day to do.
I wanted to share a creative cupcake idea with you that looks like you spent hours on it, but really they go together fairly quickly… it's about the presentation, right?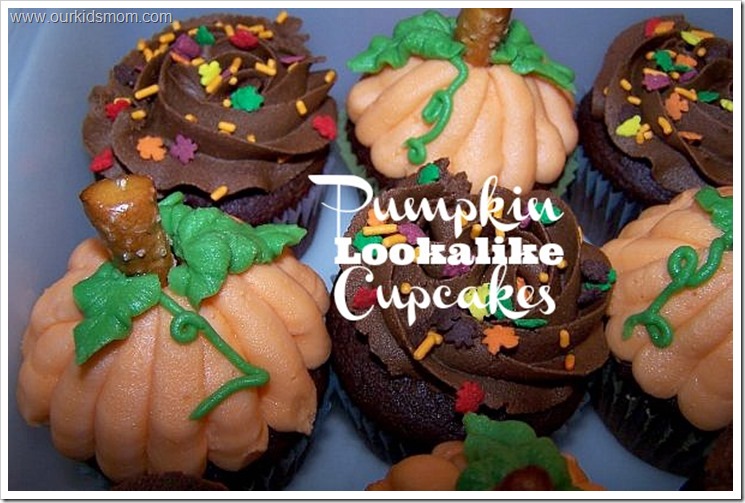 With Thanksgiving right around the corner and the smell of fall permeating my home I instantly thought of pumpkins. These Pumpkin Lookalike Cupcakes are sure to bring a smile to your guests and make you look like you spent all afternoon on them!
You will need:
fresh baked cupcakes

orange and green frosting (I like to use buttercream because it pipes easier)

pretzel rods

disposable decorating bags

tip 113 for the leaves (you can use any leaf tip though)

tip 3 for the vines

tip 1A or 2A for your pumpkin (I used 2A)
Begin by using tip 1A or 2A to ice the inner 1/2 of the cupcake in a circular mound. I do this in a swirling motion. This will prevent your pumpkin "shell" from collapsing inward.
Next, place a pretzel rod through the middle of the cupcake to form the stem.
Using tip 1A or 2A start on the outer edge of the cupcake and pipe up over your mound of frosting to the pretzel rod. Do this all the way around the cupcake.
Using tip 113 (or any leaf tip) make 1 smaller leaf and 1 larger leaf, one of each side of the "stem".
Using tip 3 toss on a vine or two.
You're done!
I like to pair these with regularly frosted cupcakes (brown or chocolate) with fall sprinkles for contrast.