I have been on the go a lot lately. Some days I don't have time to sit down to eat for long stretches at a time. It's
not a great idea to not eat and other options (like a drive thru) can be total junk and not beneficial to you at all. I've started carrying a protein bar with me for times like this. It may seem like such a small amount of food, but it totally stops my stomach from growling and gets me through until the next meal time.
Premier Protein provides delicious products that help people live everyday strong. They realize that getting healthy protein is hard especially for busy, active people. That is why all of the delicious products are high in protein but not in calories, fat and sugar. Premier Protein products sustain your energy and curb your hunger so you can focus on what you love to do.
Premier Protein has written a great article about how the right protein can help boost your day. There are several benefits of Protein including:
– Protein provides energy for the body which helps keep us from becoming fatigued
– Protein curbs hunger and makes you feel fuller longer
– Protein helps the body fight off illness and keeps the immune system functioning properly
– Protein helps maintain healthy muscles and repairs muscles
– Protein helps build skin, hair, nails and cartilage
If you'd like to give Premier Protein a try, they suggest starting with a 1-week trial. During the 1-week trial it is recommended to drink the shakes as a meal replacement for breakfast and eating their bars during the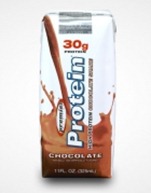 afternoon when 4 o'clock hunger hits. The shakes are also great to drink after working out for muscle recovery.
Here are a few recipes to help jump start and expand the use of protein shakes.
Recipe 1: Fresh Berry Boost Smoothie
1 Premier Protein® Vanilla Shake
1/2 cup Acai juice
1 cup Raspberries
1/2 cup Blueberries
Approx. 6 ice cubes
Directions: Combine all ingredients in a blender and blend on high until smooth. Pour into glass and start your day with a boost!

Recipe 2: Monkey Frosty
1 Banana peeled and frozen
1 Premier Protein Chocolate Shake
3 Tbsp Peanut Butter
Ice for volume
Directions: Break frozen banana into pieces, combine all ingredients in a blender and blend on high until lightly chunky. Scoop into large cup and serve with a spoon.

Recipe 3: Cafe Vienna Shake
1 Premier Protein Chocolate Shake
1 serving Cafe Vienna instant coffee
1 cup ice cubes
Directions: Add all ingredients into a blender and mix on high until blended. Pour and enjoy!
Recipe 4: Vanilla Oatmeal
Use Premier Protein Vanilla shakes as a milk substitute in your oatmeal.
Connect with Premier Protein for product news and specials:

Thanks to Premier Protein for sponsoring today's discussion