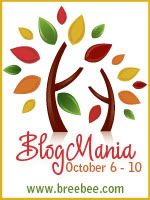 Coming soon to 80 blogs near you is the 4th season of BlogMania!!!
You will see a wide range of prize packages that you be able to enter to win. You can see some of the sponsor prizes HERE.
For now, let's 'warm' up with a pre-BlogMania giveaway!
Two Prizes, Two Winners.
Prize #1 is from 39dollarglasses.com and open to US/Canada. You can pick two pairs of glasses from their site, up to a $150 value!!
Prize #2 is from BlogMania Events, it is technically open WW; you can spend up to $20 at any one sponsor shop listed on the sponsor linky shown HERE. This is open to wherever your shop ships to.
So, how to enter?
From any BlogMania bloggers that chooses to post this giveaway you can enter directly into the Rafflecopter form below. PLEASE NOTE entry method #2 is to follow OurKidsMom via Google Friend Connect.
This will be open from Sept 27th 12am until Oct 4th, 1 week. We will announce the winners via email from Bree@blogmaniaevents.com on Oct 5th, you will have 48 hours to respond or another winner will be drawn. We thank you for your entry and look forward to seeing you on October 6th at noon for the grand event!