Potty training stinks, and I mean literally!
Why do I say this you ask? I just finished cleaning poop off a butt (too busy playing to take a minute to sit on the potty chair five feet from where he was playing) and changing the sheets/starting a load of laundry that includes a comforter.
Why? Because this morning he had the brilliant idea to strip down, take off his pull up and then put his pants back on. That must have made him sleepy, because he then proceeded to climb back into bed where he later peed all over the entire bed.
Okay, I hear you giggling… oh wait, maybe that was a groan of empathy that I heard?
*insert blurry traveling back through time imagery here*
4-5 months back Ethan decided he was ready to potty train. It was his idea. I was totally shocked, surprised, happy, joyous… you get the picture. I had decided long ago that I wouldn't push the issue until he was 3… after all, he is a boy and boys tend to train later.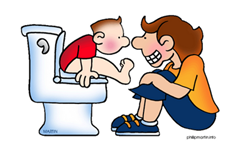 He wasn't even 2 1/2 and telling me he was a big boy?! Oh happy day!
We had the expected potty accidents, but from day one he has pooped in the potty chair or toilet (with only a small handful of true accidents). Daytime potty training was going well, but I noticed that he was loosing interest and having a few more pee accidents that usual.
Nighttime hadn't even been attempted yet… those Pull-Ups sure are absorbent!
A couple of weeks ago Ethan got very sick. He wasn't eating, barely drinking, had terrible diarrhea and barely peeing. His first bout with diarrhea he made it to the potty. That was the only time that week he made it. I didn't scold him… in fact I never even mentioned the fact that he was messing his pants.
It took about a week, but my Ethan was coming back around. I thought for sure he would decide that going in his pants was yucky and start heading for the potty/toilet again.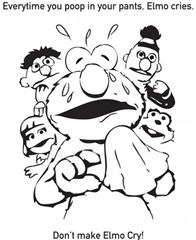 Ummm……… NOPE!
Ethan likes to please everyone he loves… so when he soiled his Pull-Ups I would tell him how sad I was. I thought he was a big boy… yadda yadda. You get the picture. This went on almost a week… no results.
One day I decided to tell him that I was done being sad, that now Mommy was mad (all of this in a stern voice). I knew he was a big boy, he had shown me, and that going in your pants is not okay and not acceptable. It made him cry… but the next morning he pooped in the potty chair!
Oh HAPPY DAY… something WORKED!
That day he pooped twice… both times in the potty chair. You should have seen the big deal I made over his accomplishment! Happy, singing, dancing… and he grinned ear to ear and said "I made you HAPPY!".
*insert Hallelujah Chorus vocals here*
So, how did the next day go, you ask? TERRIBLE.
The next day? He went in the potty again!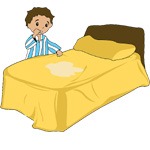 So… now here we are. Poop in his Pull-Ups, pee in his bed and I am exasperated.
I have potty trained 3 children… I don't remember any of them acting like this. Kaytlin and Josh were closer to 3. It was a struggle (and my idea), but they caught on fairly quick. Emma was only 27 months and it was completely and totally her idea. Once she got over the fear of pooping in the potty we were done.
So here it is. Ethan is 32 months. We have been doing this for nearly 5 months now. He started when he was 28 months… again, all his idea. We have used underpants most of the time, but recently switched to Pull-Ups because, well quick bluntly… I give up. I am tired of changing wet pants 5 times a day, I'm grossed out by poop in his underpants and I'm tired of all the laundry… you get the drift.
So what would YOU do?