PMD Personal Microderm At-Home Microdermabrasion System

   Stop being disappointed by microdermabrasion creams or scrubs. PMD Personal Microderm gives you the results of a professional microdermabrasion treatment in the convenience of your own home. PMD Personal Microderm is an at-home microdermabrasion system that reveals younger looking skin by the same aluminum oxide crystals found in the equipment at your doctor's office, but in a microdermabrasion home system.
PMD Personal Microderm was created to give consumers an effective home microdermabrasion without having to schedule an appointment at the dermatologist. The science has been around for decades, but PMD Personal Microderm puts the results in your hands, making microdermabrasion at home a simple, convenient procedure. Embedded in the tip of this sleek tool are the same aluminum oxide crystals used by professionals. PMD Personal Microderm gives you a younger looking complexion by diminishing age spots and skin imperfections in a matter of weeks.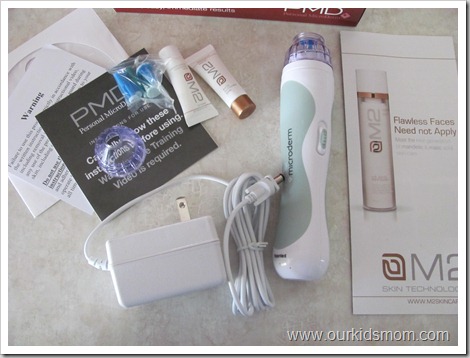 I had never considered microdermabrasion before, but I have noticed fine lines and wrinkles creeping up on my face that I wasn't overly joyous about. So when I had the opportunity to review the PMD home micro dermabrasion from Skin Care RX I said yes!
Instead of diving in (like I usually do), I decided to read the paperwork that came with the unit. This is my face after all! It's a good thing I did… it stressed to watch the DVD (very short but very informative) before you use the device. I sat and watched the DVD with my husband and then went upstairs to try the PMD.
As I mentioned, I have a few fine lines and wrinkles but the main area that has me concerned is my forehead. Years of squinting outside (should have worn those sunglasses!) have taken their toll on my skin. I understood that I wouldn't see dramatic results after the first use, but I would see some. The device is intended to be used once a week and followed up with the aftercare treatments (lotions etc).
I was surprised by the amount of noise the unit made when I turned it on… I guess I expected it to be quiet. I set to work on my forehead as instructed in the video and it only took a minute or two and I was done. It was very simple, quick and painless. The area was reddened for a little while, but it eased up and wasn't noticeable within an hour or so.
My parents put in a pool when I was around ten, and I had been a sun bunny from that point on. We never bothered with sunscreen and as a result I suffered sunburns here and there. I have years of sun damage that, from a distance, isn't very noticeable. I decided to get brave and try to treat my cheeks. I was hoping that it might also help treat my minor case of rosacea. I have to be honest and say that my experience using the PMD on my cheeks was not as pleasant as using it on my forehead. Apparently I have fairly sensitive skin on my cheeks and because I haven't quite got the technique down with the PMD yet, I was clumsy with it and I caused a bit of damage on my right cheek. It's hard to tell from the before and after photo, but by day three post treatment I had a scab on my cheek indicating damage.
As I mentioned before, this is not a daily treatment and so I have only had the opportunity to use it a couple of times. I will admit that I have yet to use it on my cheeks again. I'm sure the damage was due to user error and when I get the nerve to try it again I will use the smaller disc.
I have used it a couple of times on my forehead, though, and have noticed the skin getting softer and the lines diminishing. From my experience with the PMD, I would recommend it to anyone considering microdermabrasion. I can see a difference and with continued use I would guess that the lines on my forehead would continue to diminish. As for the rest of my face, as soon as I am more comfortable with the technique I will tackle that area again.
PMD is not just for the face! It's great for the back of your hands, elbows, feet or wherever you have dark spots, fine lines and wrinkles. It also works well on surface blemishes (acne scars) and smoothes uneven skin textures.
Take a look at what they said about PMD on The Drs.
BUY IT:
You can purchase PMD Personal Microderm at Skincarerx.com for $179.00
Connect with PMD

I received a PMD for the purposes of review only. I was not compensated for this post. Your experience with the product may differ from mine. All opinions are 100% my own.