Holiday Gift Guide 2013 | PlayMG Handheld Android Gaming Device
My phone is not my own. As much as I chanted to myself that I would not share my smart phone with my littles…. it happened. I fought it… I really did. But, it happened one day in a dressing room when I needed five minutes to myself to try on a few pieces of clothing for a trip. The children had been shopping with me for longer than they liked and they needed a little distraction. That little handoff opened up the floodgates of "Can I have your phone?".
When I was offered the opportunity to review the PlayMG, a smartphone that is not a phone, I was more than game.
What exactly is PlayMG?
PlayMG is a pocketable all-in-one entertainment system specifically designed for young people who do not have a smartphone. There are no monthly charges or expensive cartridge games to buy and PlayMG gives you access to everything on the Google Play Android platform. With PlayMG, young people get their own smart-device and parents get their smartphones back.
PlayMG functions over Wireless Internet which makes it perfect for at home use or on the go connected to my mobile hot spot.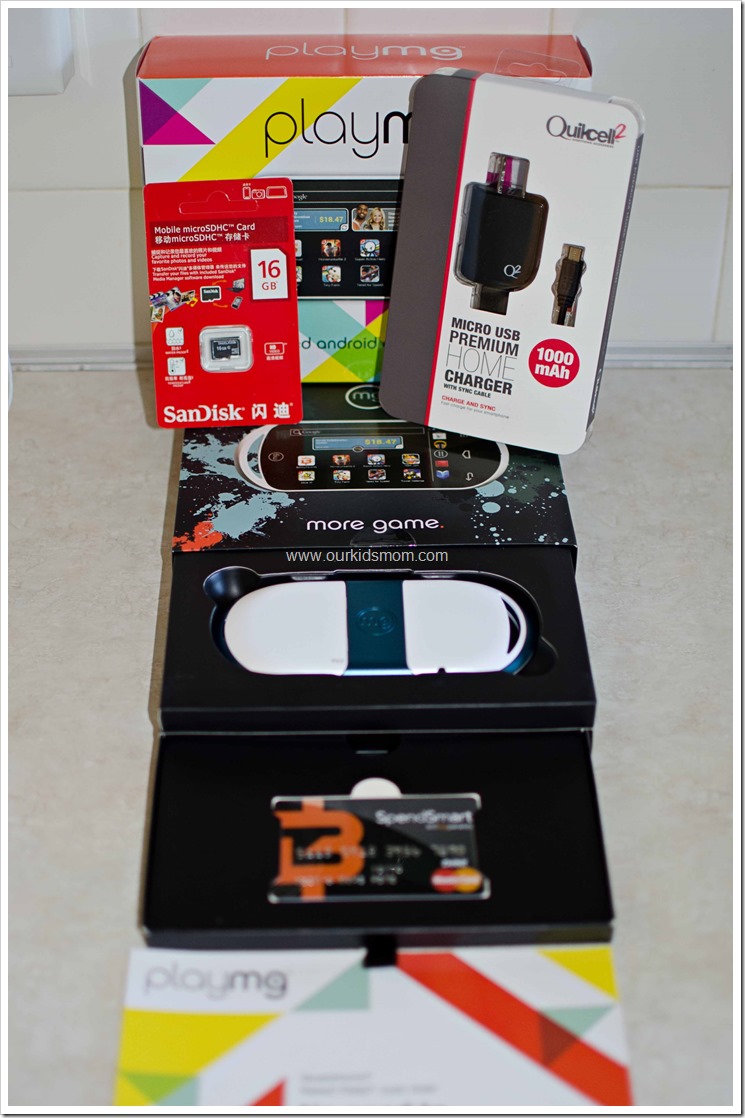 The contents of our PlayMG box included:
PlayMG Device
16 GB (& 8 GB) Micro SD memory cards
Micro USB charger
SpendSmart™ prepaid MasterCard (sample card)
Protective case (40GB package only)

One of the unique features of the PlayMG is the Family Collaboration System.
This system includes:
1. Provides An Optional Email Notification For Remote Monitoring. Young people get to enjoy unlimited apps and parents get to "trust but verify" through weekly email usage reports.
2. No More Over Spending With An Easy to Use Prepaid MasterCard.
Unlike competitive brands, Moms and Dads won't get surprise credit card bills with $1,000's of app spending.  Included with every PlayMG is an optional dedicated SpendSmart™ Prepaid MasterCard that helps manage app spending through a real-time balance on your home screen! Think about it… no more "Mom? Can I download this app?" with several .99 charges adding up. Deposit their allowance into their account and they are responsible for their own funds management. Out of money? No paid downloads!
Our PlayMG arrived needing a little battery boost. My poor Ethan could barely stand it, so I plugged it into my computer and started downloading some of his favorite apps from Google Play. The Google Play Store combined with PlayMG offers unlimited android entertainment. Every app my two littles have grown to love was available on the PlayMG.
With WiFi access to the Google Play store you have an endless amount of apps, games, music, movies, TV shows, books and much much more! It offers total access to the Internet. It is the perfect companion for the App Generation and the best part… it does not require an expensive monthly data plan!
PlayMG offers big expandable memory. Depending on the box you purchased, it comes with 8GB to 40GB of memory and more can be added – unlike leading competitive brands that have fixed memory.
The photo above shows the PlayMG (on the left) next to my Samsung Galaxy SIII (the phone my littles have grown to love). Initially they look almost identical in size.
The PlayMG has a lot of features a smart phone offers as well:
Headset jack for ultra-immersive full-stereo gaming audio
Micro USB 2.0 connector (can be used for data transfer)
1.3MP front-facing camera for Face Unlock Security
1880mAh for Long-life battery (3.75 hours Play time, 4+ days stand-by).
4-inch high-density Gorilla Glass touch screen
Rounded design for easy Android App play
The lock screen options are almost identical between the two. As soon as Ethan saw the PlayMG lock screen he felt confident he knew how to use it. Above you see the screen display side by side with the Galaxy SIII. Even though they aren't the same, the PlayMG screen is still a decent size and comparable to a standard sized smart phone.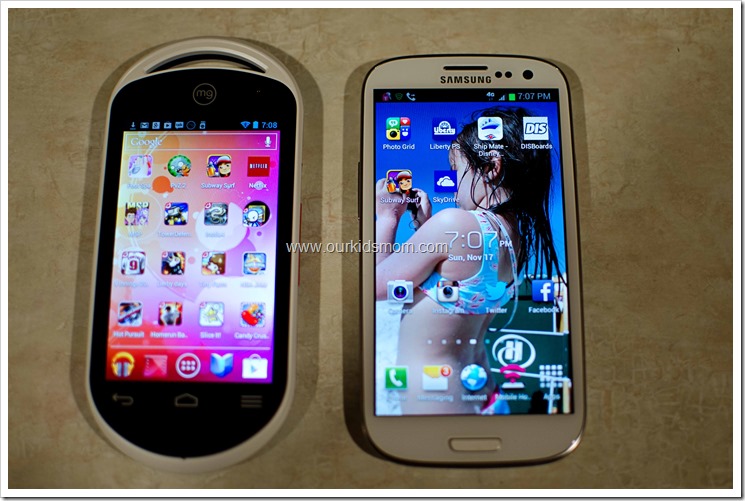 The home screen of the PlayMG is layed out very similarly to my cell phone as well. Everything about the PlayMG made me feel comfortable in handing it over to my 5 and 7 year olds without having an instructional demo with them beforehand.
One of the littles favorite things to do is watch Netflix on my phone. If Netflix doesn't function then the device is abandoned.
Here you can see the screen is more than ample to view the movie while offering a crisp picture.
As you can see, the PlayMG fits in my 7 year old's hands nicely. She is able to grip with one hand while scrolling and manipulating with the other without issue. Ethan doesn't know how to spell yet, but Emma uses chat in Movie Star Planet often and hasn't had any issues with the keyboard size. In fact, Emma has grown fond of the PlayMG and will sneak off with it to enjoy some alone time without her 5 year old brother breathing over her shoulder.
As much as my children have fallen in love with PlayMG, I am more relieved to finally have my smart phone back and to be able to wipe some of the children's apps from my screen and replace them with apps for ME!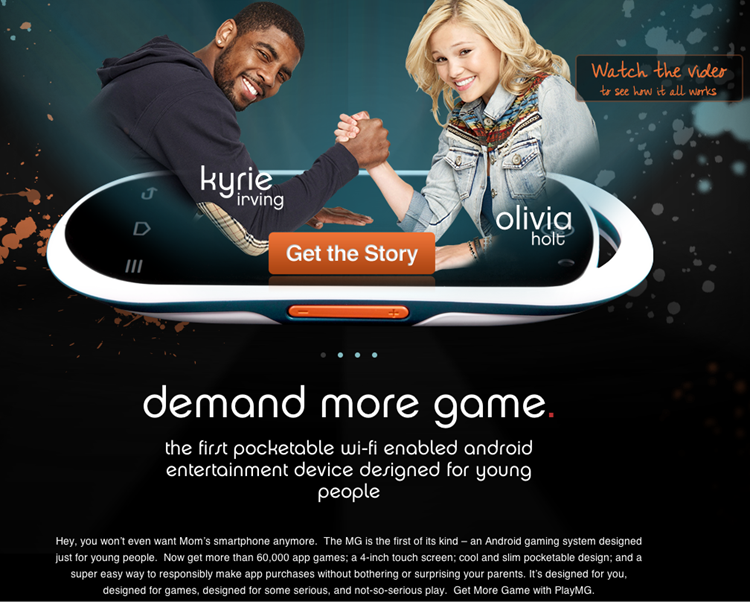 Now that you don't want Mom's smart phone anymore… which of the 60,000 apps do you download first? PlayMG partners/owners Olivia Holt and Basketball All Star Kyrie Irving will help you discover new apps and the recommendation engine will make suggestions based on what you play most.
Our overall experience with PlayMG over the past week has been fabulous! With a little patience when it first turns on (the kids expect it to bounce right into the home screen… I tell them it has to wake up and think a little) they have their own smart phone without the phone part (which they don't need anyway!). If you had no idea what it was and picked it up to inspect it… you would assume it was an Android phone. It's the best of both worlds!
Learn more about PlayMG by watching the video below…
Connect with PlayMG:
BUY IT:
PlayMG is available online at PlayMG.com and shop.playmg.com as well as
WIN IT:
ONE OurKidsMom reader is going to win a PlayMG!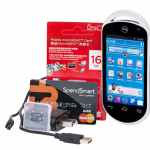 This giveaway ended at 11:59 PM EST on November 26, 2013.
        Disclosure of Material Connection: I received one or more of the products or services mentioned above for free in the hope that I would mention it on my blog. I only recommend products or services I use personally and believe will be good for my readers. I am disclosing this in accordance with the Federal Trade Commission's 16 CFR, Part 255: "Guides Concerning the Use of Endorsements and Testimonials in Advertising." The opinions expressed in this post are entirely my own. Your experience with the product may differ from mine. The sponsor is responsible for prize fulfillment and will be shipping the winner(s) their prize(s). For more information read my disclosure policy.