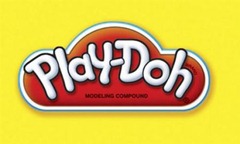 Whip up some delicious fun with this breakfast set! Use the molds and "griddle" to create scrumptious looking "eggs", "pancakes" and much more out of PLAY-DOH modeling compound. Then, use the waffle griddle to press out a picture-perfect "waffle". Would you like a "banana" or a "croissant" to go with your "French toast" or "hash browns"? But of course! A knife, spatula and fork even let you "serve up" your creations. When you're done "cooking", just put everything back inside the container to keep it all safe and sound for your next imaginative "breakfast" or "brunch"!

Playset includes playset base with griddle, spoon, fork, knife, spatula, cup, smoothie presser (2 pieces), 3 griddle stamps, rail and serving dish accessories, with instructions and 4 two-ounce cans of PLAY-DOH brand modeling compound.

Ages 3 and up.

NOTICE TO PARENTS: CONTAINS WHEAT. NONTOXIC.
My kids love anything Play-Doh. I like that they can express their creativity, use their imagination, show their artistic side and it is a plain 'ole stress reliever from squeezing and molding it.
Just recently, Emma & Ethan graduated from the introductory rolling and cutting to the more sophisticated "kits".
This particular kit features a breakfast theme… one of their favorite subjects! There is a waffle press, a pancake press, an egg and hash brown mold, a smoothie server and more!
As you can see, a nice O shaped mouth makes it work so much better :O).
Emma especially liked the ice cream maker. Although I usually don't allow the kids to "mix" the Play-Doh colors (something I learned from my childhood… guess I need to loosen up, huh?) , I let her mix the tan and white to make a twist cone.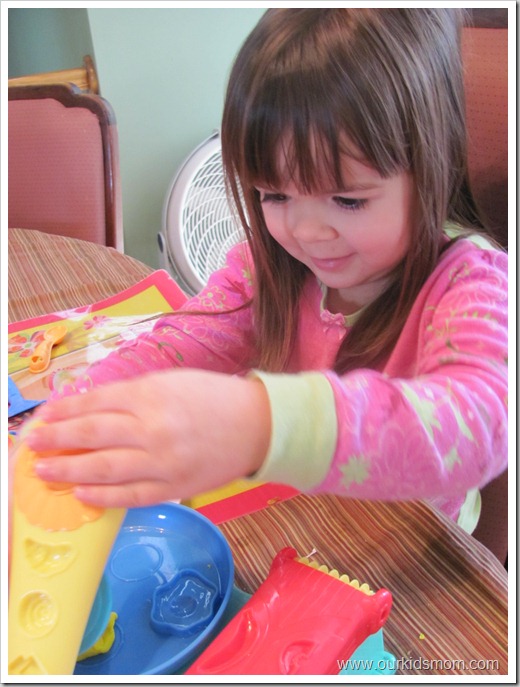 The Play-Doh Flip N Serve Breakfast ($21.31 at Amazon) kit received two thumbs up and a big smile from Emma.
*********
Visit the Play-Doh website
and stay connected

Disclaimer: This post was written by me and was not edited by anyone. The opinions expressed in this post are entirely my own and have not been influenced in any way. I received product for review purposes only. I was not compensated for writing this post. For more information please read my disclosure policy.