Plan a Teen's Party!
Planning a party for a teenager is not as scary as it may seem. Yes, they are begging to throw the biggest gathering yet – inviting people from every school, wanting you to foot the bill – but under your supervision they will have a great time and you will be happy with the result.  Just continue to tell yourself that everyone will be safe and everything will go as planned…
…because it's time to prepare:
Set Ground Rules
First things first, you should accept your teenager's convincing invitation to help and fund their party – but on your rules only. Come to an agreement about what this night will involve. When you both have this conversation, you must stand by what you expect and the number of people you are limiting the party to. Speak with them about what time the party will end and the designated clean up crew, which should be your teenager.
Set the rules of what you will not tolerate – including rowdy guests, alcohol, drugs and any recklessness because you want everything to go as planned.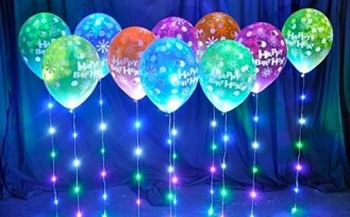 Decide on Logistics
Decide on the specifics. The first step would be choosing a location for your teen's party. If you have a large home and you can afford to have a certain amount of people in your home then that may be the cheapest option. If your house isn't big enough then look into prices of venues close by. Don't spend too much money because this is only the beginning of the party planning process.
You can rent a large ballroom from a close by community center or an empty room of a church. You should make sure that whichever location you choose is suitable for the event. If you need to, buy small party necessities such as drinks and finger food from the grocery store, plates and other supplies at Party City, or party lights from www.partylights.com.

Discuss who will get invitations and how many people the invited guests can bring, if any. Be sure to get across to your child that you only want to admit people that they know personally.
Set Everything in Stone
Your teenager will most likely spread the word via their social media profiles so before they do, check the details on their invitation. You will be checking for a few things and there are several things about the party invitation that you should look for:
Be Specific
Be very clear about the start and end date as well as the location. If you are as specific as possible then the guests will know not to take it as a joke or try to bend the rules. Speak on everything you want the guests to know too, for example the fact that you will have chaperones and no illegal substances will be allowed. At the end drop your contact information so that the parents of your child's guests can reach you if they have any questions.
Make a Quick Contact List
When your kid's friends RSVP, get their contact information as well as their parents so that both parties are reachable. You can also use the contact information you receive to ask various parents to become chaperones for the party. If you ask enough parents to help out then several will be willing.
Hosting your teenager's party may be like pulling teeth from their end but once you secure the rules and see that everything is running just as you planned, you will have a fun time seeing how happy you've made them.