This post brought to you by Pier 1. All opinions are 100% mine.
It's been a long and dreary winter, but today has me thinking SPRING!
What better way to enjoy the weather than with some new outdoor furniture, right?
I've been sifting through the Pier 1 website, daydreaming of changing things up on our back porch a bit. Our current outdoor set has seen better days. I was thinking that maybe a wicker set might be just what the doctor is ordering for "spring fever".
A nice wicker set like the one above could easily be used indoors in an informal sitting/reading area or on your back porch. Maybe grab a cute indoor/outdoor floral creme rug and change up the cushions a bit. The set is so inviting and makes a nice statement… it has the "wow" factor that will make your guests take notice.
That's the beauty of Pier 1. A lot of their products are interchangeable in function and design. As the seasons change you can change out the rug or maybe just the cushions to a darker earth tone to match the changing leaves.
Here's a blast from the past. The iconic Papasan chair has evolved and is now available for outdoor use! Of course I am leaning towards the double Papasan or the Swingasan so I can cuddle with the kids while enjoying the fresh air.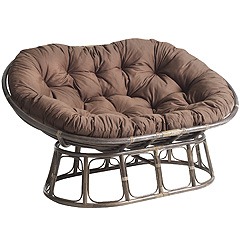 March 20th marked the official start to spring!
What are some of your spring must haves from Pier 1?
**********
If you're in the Atlanta or New York City areas and will be around on the dates mentioned, we'd love to see you! Make plans to come visit, and meet some of your area's bloggers & Tweeters. Check out the upcoming Pier 1 Tweetups:
Atlanta: April 5th
NYC: April 20th