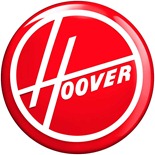 October is Pet Month and Hoover has been kind enough to pass along some cleaning tips for households with pets. This is perfect for us as we have two huge hairy furballs we like to call cats. According to a recent study conducted by the NPD Group revealed more than half of pet owners (51 percent) reported that managing and cleaning up pet hair is their number one cleaning chore.
Use Products That Are Safe For Pets – There are products specifically made for pet messes and pet odors. They are typically more effective, since they organically break down waste while neutralizing odors, and they are safer for homes with animals and children, but always check the label to be sure.

Let the Air In – After giving the carpets a deep cleaning, open the windows. Fresh air will speed up the process of drying carpets, allowing your family to enjoy the cleaned rooms without spoiling the hard work. Plus, instead of investing in an expensive carpet cleaning service, try the Hoover MaxExtract77. Not only does it work wonders on dirty carpets, it pulls up a lot of dirty water so your floors dry fast and you'll be back to living on those deep-cleaned floors quickly.

Baking Soda, Not Just For Baking – To remove scents from a carpet, sprinkle with baking soda. Let stand for at least fifteen minutes, then vacuum. Repeat as needed.

Clean One Room a Day to Keeps Messes Away – Develop a cleaning schedule where each day is devoted to one room in your home (for example, kitchen on Tuesday, bedrooms on Wednesday). Save the rooms that are considered high-traffic areas for later in the week in case of unexpected company.

Avoid Pet Hair Emergencies – The guests are about to arrive and suddenly you realize that your pet has picked an in-opportune time to hop on the couch. Tidy up with the Hoover T-Series WindTunnel Pet. Made with pet lovers in mind, it comes with an Air-Powered Pet Hair Hand Tool. Rubber blades collect hair and powerful suction carries it away. A rinsable filter and high-quality HEPA filter helps absorb odors from your furry friends, all for less than $100. Additionally, consider grooming more frequently to help control shedding.
To help us clean up nearly 10 years of grim and gross from our pets (we had a dog in the house for 8 years also), Hoover sent us a Max Extract 77 to try out. The Max Extract deep cleaner is designed to clean a variety of surfaces from carpets and couches to sealed wood and tiled floors. The describes my entire house!
The Max Extract arrived in a medium to large sized box and when unpacked, only contained a few parts. I love easy assembly jobs! The handle snapped in and then was screwed down, the hose wrapped around that and the water receptacle slid into position. Viola!
I was excited to try the Max Extract. I am embarrassed to admit it, but in the nine years we've lived here I have never shampooed my carpets. Now imagine six people up and down the stairs, two cats and a basset hound. Yeah…. total yuck.
Features:

MaxExtract® DualV® Nozzle Technology -we're pulling up a lot of dirty water so your floors dry fast and you'll be back to living on those deep-cleaned floors quickly.
Pressurized Edge-to-Edge Cleaning – a wall of pressurized water that loosens and lifts stubborn stains with constant and relentless spray.
SpinScrub® 77 – counter-rotating brushes engineered to surround carpet fibers, removing dirt at every angle. It's like treating your carpet to a deep, massaging salon shampoo.
SpinScrub® Setting Options – sets your cleaning system by surface:

Spill Pickup Mode is suction only, without brush agitation action;

Gentle Scrub Mode rotates brushes at slower speed for ceramic tile, linoleum and sealed hardwood floors;

Power Scrub Mode maximizes scrubbing action for cleaning carpet and high-traffic areas.

Heated Cleaning – powerful motor with forced heated air to help speed dry time.
Auto Conversion Tools – conveniently positioned where they should be – right at your fingertips.
AutoRinse™ – sets cleaner to wash with detergent on forward stroke, then automatically rinses with fresh water on the backwards stroke.
CleanSurge™ – fingertip control applies extra detergent to stains and heavy traffic areas.
SmartTanks™ System – separate tanks for clean and dirty water, so you can easily fill, empty and rinse each tank individually!
I took my time cleaning the landing and hallways with several passes of the machine at a very slow speed. I had to dump the water twice. Both times I was in awe of how much gunk was picked up. As I poured it into the toilet I began to get extremely grossed out. Nearly 10 years of "stuff" accumulated in my carpets was now pouring out of this machine… it looked like sludge. Yes, seriously. These are photos of the water from both fills.
So here it is… in all it's glory. This is the one area of the house everyone crosses over multiple times a day. This is the landing that leads to the bathrooms and bedrooms. We have tried to clean it by hand several times with oxi-clean and foam cleaners with a brush. Cosmetically it looked better for a couple of weeks, but I honestly believe that the residue left from those cleaners attracted more dirt and gross because the stains would get bigger and darker. Btw, the carpet is supposed to be a light tan. Gross huh?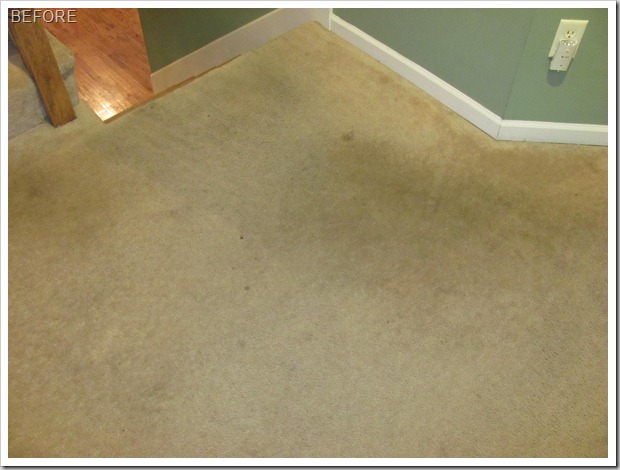 You saw how much dirt I got from just this tiny area and my hall, right? Now… here is the after. Yes, the colors are pretty accurate in both photos (the before is a tad yellower than it was due to the photo being taken at night). The dirt had changed the coloring of my carpet. The "after" below is the true color the carpet was when we moved in nearly 10 years ago. A.M.A.Z.I.N.G. huh???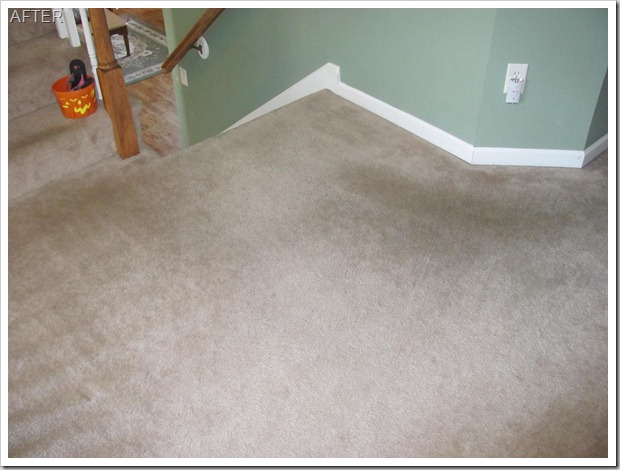 As good as it looks now, I intend to go over this area some more at a later date until the water comes out a much lighter color. I got similar results in other high traffic areas of my home.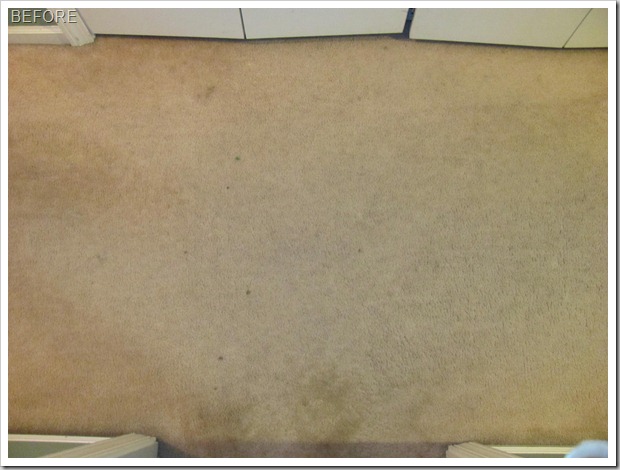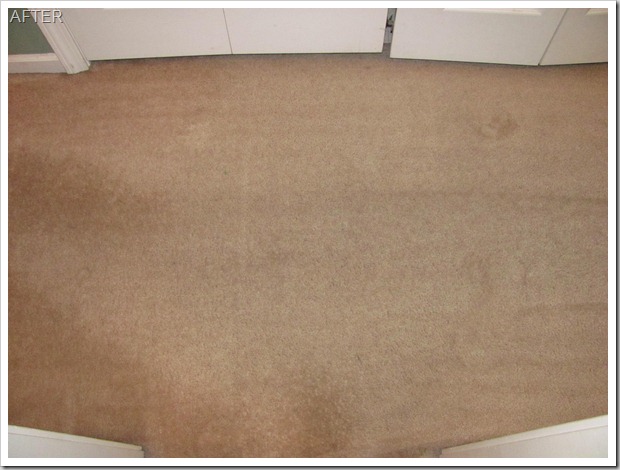 I have yet to try this amazing machine on the tile and wood surfaces in my home. I am pretty sure my wood isn't "sealed" and my tile is fairly new so I want to give it time to cure before scrubbing it. I have to say that I would TOTALLY purchase this machine for JUST the carpet, it did such a good job. My only question was that in the instructions and descriptions I've read it says "no more wet socks". It may be that I did way too many passes, but the carpet did leave our socks a bit wet when we walked on them. The carpet was dry by the time we woke in the morning. I don't expect a carpet shampooer to dry my carpets completely, though, and this tidbit of information would not deter me from purchasing the Max Extract.
BUY IT:
You can purchase the Hoover Max Extract 77 for $254.99 (RV $299.99)
Connect with Hoover:
[tweetbox width=500 height=50 label=Retweet! content ="Hoover Max Extract 77 Multi-Surface Pro Carpet + Hard Floor Deep Cleaner Review @hooverclean @ourkidsmom %u #ShoutMedia"]
This campaign is being cross promoted through Shout! Media.
Check out these other great reviews to hear their thoughts about the Hoover Max Extract 77!
Disclaimer: I received product for review purposes only. All opinions are 100% my own.