I fell in love with pediped in 2007 when Emma received a couple pair for her 1st birthday. I had found an article about how flexible footwear is so important to growing feet. I had always thought that firm "walking shoes" that people bronze were what babies needed to learn how to walk.  After some research on the topic I was sold. Then I found pediped originals. After some reading on the subject, I loved that pediped mimics barefoot walking… perfect!
I have been hooked ever since.
Emma sporting her first two pair of pediped.
I was so sad when Emma grew out of her original pedipeds. I actually saved them. They are tucked away in their original boxes in her closet. I'm not sure why I am saving them… but it makes me smile to think about them.
Since then, Emma has graduated into the older children's line of pediped Flex®. These still mimic barefoot walking, but with extra protection on the bottoms (and super flexible soles).
Emma was sent a pair of Giselle to review. Although we are familiar with the Flex® line, it has been a while since we owned a pair. Taking them out of the box, I quickly remembered why I love pediped and started questioning why we didn't own them anymore.
Pediped shoes are made from quality materials (premium grade, non toxic leather)… but most of all, they are comfortable! Pediped's mantra has always been comfort, quality and style.. in that order. Emma did not want to take them off!
Pediped shoes are also stylish. With 120 styles to choose from there is a pair for just about any taste.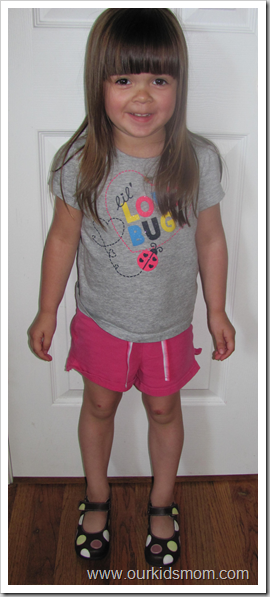 The Giselle shoes that Emma is modeling have a brown base with adorable polka dots. These grab your attention, add spunk to an outfit, and the Mary Jane style is classic. The Flex come with an additional insert to allow your child to wear them for even longer. When the shoes are a bit big, slide in the insert. As their foot grows and takes up more room in the shoe, remove it for a few extra months of use.
pediped® Debuts Spring/Summer 2011 Collection with the Launch of the
Adventure Line… the Perfect Outdoor Shoe for Active Children
The pediped® Spring/Summer 2011 collection debuts with the new Adventure Line, an innovative collection of eco-friendly, machine washable, water-safe shoes. The new collection, an expansion of the popular pediped® Flex® line, offers style,protection and comfort both in and out of the water.

The functional, yet stylish Adventure Line footwear includes a natural rubber sole, toe caps and Velcro straps. The machine washable shoes are lighter weight and more flexible than other waterproof shoes available on the market. Offered in EU sizes 20-31, the collection features twelve bright colors in two adorable styles: the Nile, a Mary Jane style for girls, and the Amazon,an athletic sandal for both boys and girls.
I love companies that give back…
In addition to the debut of the exciting Spring/Summer 2011 collection, pediped® announces the launch of the pediped® Foundation to support children's causes. Since the company's inception, pediped® has been committed to bettering the lives of children and to date nearly $700,000 in cash and product donations has been donated to children's charities. The establishment of the pediped® Foundation will help foster even more ways for pediped® to give back to those in need. To learn more about the pediped foundation, visit www.pedipedfoundation.org.

Purchases with a purpose sale!
Right now shoes are marked up to 50% off. For each pair of shoes sold, pediped footwear will donate half of the sale price to the pediped Foundation. 
Stay Connected with pediped for news of special promotions, new product introductions, etc:
[tweetbox width=500 height=50 label=Retweet! content="Pediped SALE Up to 50% OFF: Announcing New Adventure Line: Giselle Flex Review @pedipedfootwear @ourkidsmom %u "]