PBS KIDS is gearing up for Halloween with an assortment of Halloween-themed episodes, including brand new episodes of science-focused series DINOSAUR TRAIN, SID THE SCIENCE KID, THE CAT IN THE HAT KNOWS A LOT ABOUT THAT!, and WILD KRATTS.
SID THE SCIENCE KID
"Halloween Spooky Science Special"
It's Halloween time and Sid and his friends have dressed up in the spookiest and scariest costumes possible.  Sid is a bat with big fangs.  May is a spooky black cat.  Gabriela is a furry, yucky spider.  And Gerald is a super spooky skeleton that goes boo!  Susie (dressed as a silly mad scientist) loves their costumes, and helps the kids discover that Halloween can be spooky and scientific!  The kids investigate how bats are helpful creatures that catch mosquitoes, spiders are expert engineer web builders, cats are leaping aerial acrobats, and skeletons help hold up our body frames!  At the Halloween party, the kids also investigate how to make icky, gooey green slime.  Susie then ends the day with a special "Halloween Parade" song so the kids can march around and show off their spooky and scientific costumes!
DINOSAUR TRAIN
"Haunted Roundhouse/Big Pond Pumpkin Patch"
"Haunted Roundhouse"
Dad takes the kids on a special Night Train to Troodon Town, where the Troodons have decorated their Roundhouse into a "haunted house" for a spooky party. The kids end up meeting a strange new nocturnal creature – a mammal named Vlad Volaticotherium, who was hiding in the roundhouse trying to get some sleep.
"Big Pond Pumpkin Patch"
The Pteranodon family learns more about the customs of their neighbors, the Lambeosaurus family, when they are invited for the first time to accompany them to the Big Pond to celebrate "Gourd Day" – a kind of Mesozoic Halloween. The kids see their first pumpkins, and Larry Lambeosaurus even shows our family how to hollow them out and carve faces into them.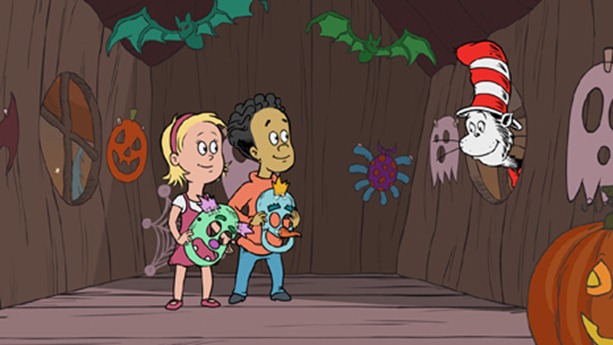 THE CAT IN THE HAT KNOWS A LOT ABOUT THAT!
Two Halloween stories, "Aye Aye!" and "Trick or Treat," premiere in October, first as parts of two separate episodes and then in encore presentations as one episode.
"Sniff and Seek/Aye Aye!"
"Trick or Treat/King Cecil the Seahorse"
"Aye Aye!/Trick or Treat"
"Aye Aye!"
Nick and Sally are making Halloween masks, but they want to make them really scary. Cat takes them to meet Aiya, the Aye Aye, in the forest of Spookywoowoo. Aiya shows them, that even though he may look scary – his big ears, huge eyes and long fingers help him to find food. And now Nick and Sally know just how to make their masks scary!
"Trick or Treat"
It's Halloween! The Cat in the Hat takes Sally and Nick trick or treating – his way! Around the world they go, meeting three new friends who teach them each of the tricks they do and share the treats that they like to eat. Back at home Nick and Sally are ready to go trick or treating, with plenty of new tricks to share!
WILD KRATTS
"A Bat in the Brownies"
When a little brown bat crash-lands into a plate of Jimmy Z's famous brownies, Martin and Chris out set out to convince Aviva, Jimmy Z and Koki that bats are nothing to be afraid of.  With bat activated Creature Power Suits, the bros follow join their new friend on a nocturnal fly about, and the entire crew must come to the rescue when the bat colony's roost is destroyed by a lightning bolt. In the end the Wild Kratts crew "goes batty," as they gain a new appreciation for bat ecology, predators and insects and echolocation, and learn to love bats.
"Masked Bandits"
As they prepare for a creature costume party, the Wild Kratts team begins to notice all sorts of strange things happening in the Tortuga HQ.  Jimmy is sure there is a ghost or monster living with them, but the Kratt brothers are convinced it's some kind of creature.  When the gang sets out to discover who is causing all the trouble, they discover that certain animals gravitate towards human habitation because it provides food and protection from predators.
Visit PBS KIDS for Show Times!