Why it Pays to De-Clutter and Organize Before Moving
If you're getting ready to move, the best advice you'll ever receive is to de-clutter and organize well before the big day. While you might think it's easier to grab everything and throw it into a box, you'll regret it later on once you're stuck sorting through everything all over again in your new place. Besides, de-cluttering and organizing is not only a way to minimize the stress of moving, it can also save you time and money in the long run.
De-Cluttering = Less Stress
Going room to room and dumping things into boxes and bags simply for the sake of packing is only going to lead to a lot more stress down the line. When you arrive at your new place, you won't have a clue where the most important things are. Not to mention, you'll have moved a whole bunch of personal items that you no longer need or use. Sorting through your belongings allows you to simplify your packing and unpacking process.
De-Cluttering Saves Money
If you're going to use the services of professional movers, you should know that most moving companies charge by the amount of items they're moving. So if you pack five boxes of personal items that you have no use for, essentially you've paid to move junk into your new home. That said, movers like Mayflower offer considerable resources beforehand to help you organize and plan.
At the end of the day though, de-cluttering and removing the unwanted items will save you money. Less stuff to move means a lesser charge and a smaller moving van/truck.
De-Cluttering Gives You Peace of Mind
After all the planning, packing, and moving, the last thing you want to do when you arrive at your new place is organize and de-clutter. Trying to find things of importance while sorting through boxes and bags full of items can really just take the stress to an entirely different level. Having comfort in knowing that everything can be neatly unpacked and placed in their designated areas just makes things so much easier.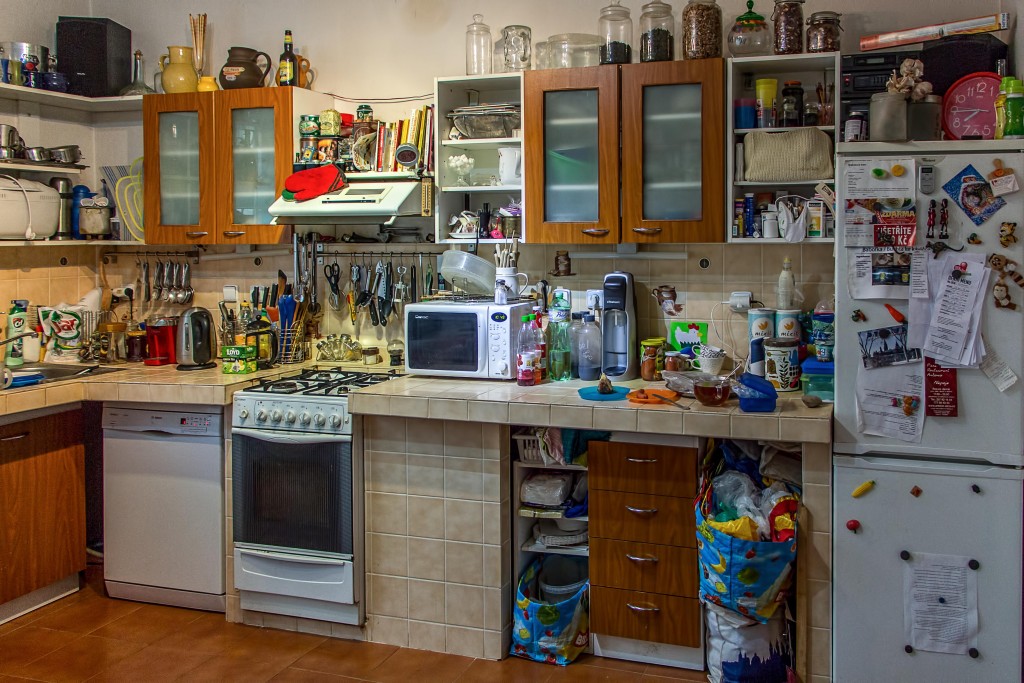 Tips for De-Cluttering and Organizing
Now that you understand why it is important to de-clutter and organize, here are some tips to help make the process run a bit smoother.
De-clutter by room – it can become overwhelming to try and de-clutter your entire house at the same time, so it's best to start room by room.
Sort your personal belongings – As you pull things out of closets, drawers, and cabinets, be sure to sort through them. Make a pile for things you wish to donate and throw away things that are no longer any good. Be sure to clearly label the piles so that you don't throw away or donate things that you wanted to keep.
Allow the kids to help with your room – Your kids are probably already a bit down about the move, especially if this is the only home they know. Therefore, you don't want to add more stress by trying to sort through their toys. Let the kids sort through their own things so that they can keep the toys that mean the most to them. The more involved they feel with the process, the better it is for the transition.
Clearly Label Everything – After you've sorted through the things you want to keep, it's time to pack it up and clearly label it. If you decided to de-clutter room by room, then labeling should be easy. If you're packing up the kitchen, all your boxes need to say kitchen. Anything that is fragile should be labeled as such, and you should also make sure that it is clear on all sides of the box where these items should go in your new home.
Yes, relocating is always going to have its obstacles, but you can really save yourself some time, money (and sanity), by simply getting rid of the clutter and organizing before the movers arrive. Don't wait until the last minute to begin packing and cleaning up as this can take several days depending upon the size of your old home and the amount of things you have. The better prepared you are, the smoother the moving process is for everyone.