Oz the Great and Powerful Review | Is it Child Friendly?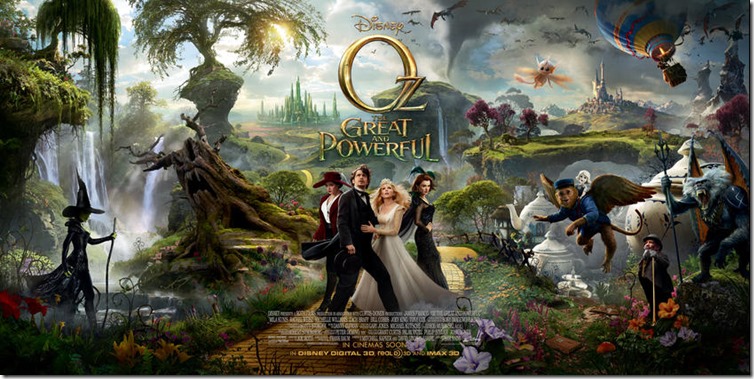 It's finally here! Oz the Great and Powerful has hit the big screen and I am incredibly excited to take my children. From the instant I heard about the making of this movie I was intrigued. When I was invited to attend the red carpet world premier and interview the stars of the movie I felt like Dorothy… I wasn't in Kansas (City) anymore.
In Oz the Great and Powerful the audience finally gets a glimpse at how the Wizard became the Wizard of Oz. From the start we see a few silent references to the first movie. The movie begins in black and white, when the Wizard lands in Oz people from his past are there in another role, the use of Dorothy's last name Gale, and the yellow brick road spirals for just a few.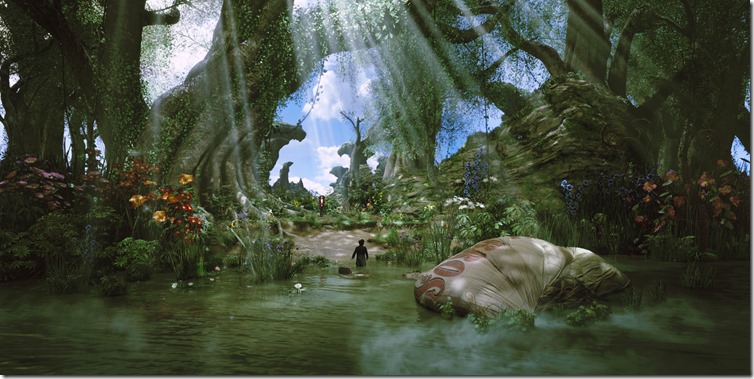 The land of Oz is as beautiful and mythical as the original or maybe even more so. As we found out in the interviews almost all of the sets were tangible and full of detail creating a new world for the actors to experience.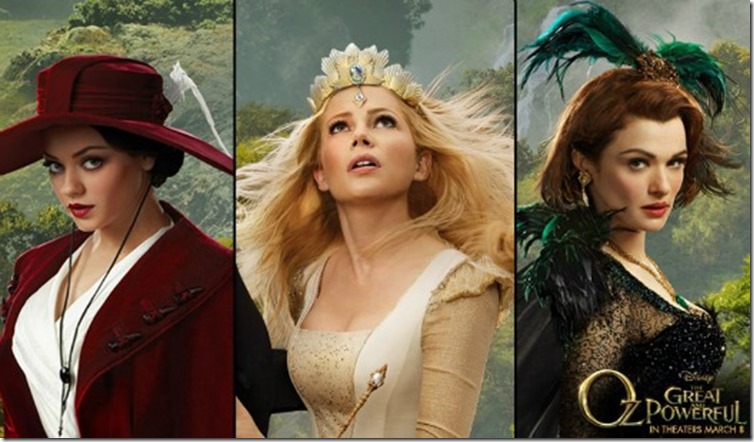 The witches of Oz blew me out of the water. Michelle Williams was an incredible Glinda with her kind and gentle voice and mannerisms and Rachel Weisz had me wiggling in my seat as Evanora. I could tell she was enjoying playing a deliciously evil role which made it even more believable. Mila Kunis plays Theadora, a naive young witch that believes that Oz is the Wizard they have been waiting for. Each actress brought a piece of themselves and their character into the role to make the casting of the three witches spot on.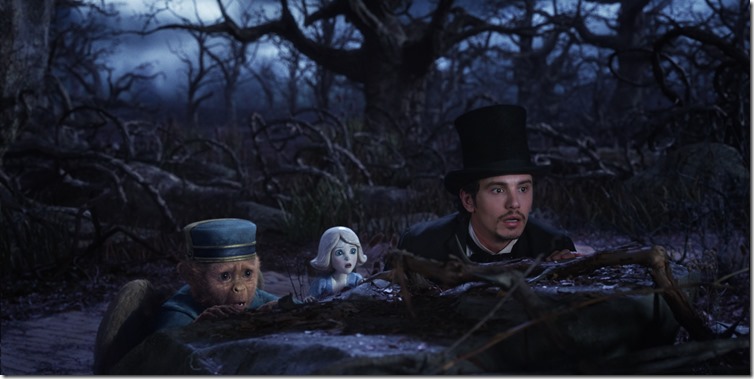 James Franco plays Oz, a magician that gets swept away into this fantastical world where everyone believes him to be the man they have been waiting for to save them. He meets up with Finley (Zach Braff) and China Girl (Joey King), both of whom bring a fun element of comedy to the picture. Finely had me literally laughing out loud in parts and China Girl's sass and attitude made me grin and giggle. I couldn't imagine any other actor playing the rolls any better.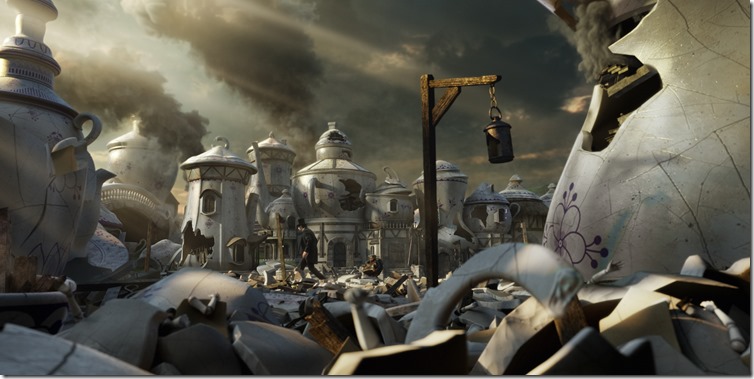 As far as the story in relation to bringing the kids… there is a sad scene when they meet China girl. You don't see the event, just the aftermath.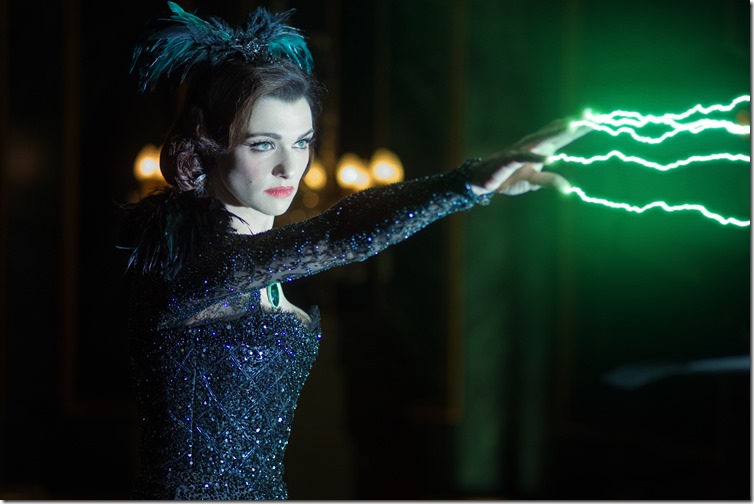 Of course, with witches, there are going to be magic and "powers" used in many scenes. With that being said, director Sam Raimi answered the violence question for us in our interview:
In the writing of the script — I'd made sure there was no violence in the thing 'cause I really wanted to make it a family picture.  And there really isn't any violence in the thing.  The worst it gets is these real scary baboons came out of the mist where they go looking for our main characters so they hide in the cave.  Or there's a scary witch at the very end.  But I thought, "I changed the makeup once or twice to make it a little less scary… I tried to find a line like you're saying where it's scary for the kids, but not so scary the parents think, "I shouldn't have brought my child to see this."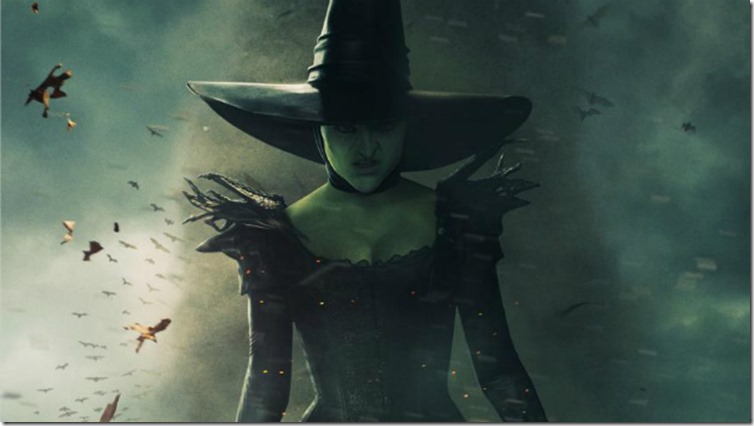 Violence or not, the wicked witch is pretty scary. Because you know she's coming, though, you can prepare your child before going and be there for a little extra reassurance when she's on screen. Good news is, your child will see that wickedness does not prevail. The witch gets what's coming to her. Again, no houses are being dropped on anyone and no violence … but I won't give it away.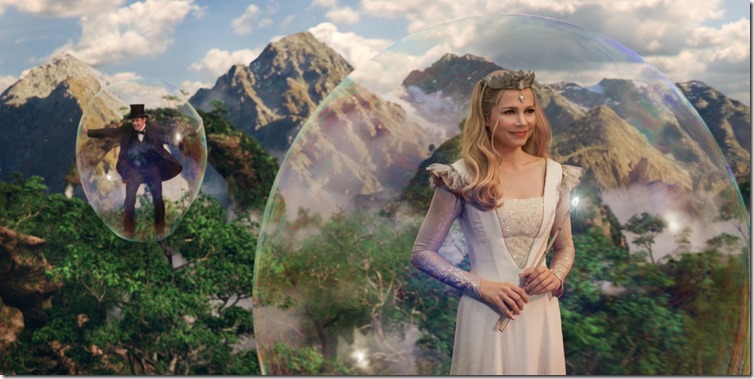 This film is in 3D. What does this mean for the younger viewer? There are a few scary parts that the 3D makes it feel like the flying monkeys are popping out at the them. If your child would be frightened by this, seek out a theater showing it on a traditional screen. If you are heading there alone, but all means go for the 3D experience. The effects are fantastic and totally add a touch of realism to the film.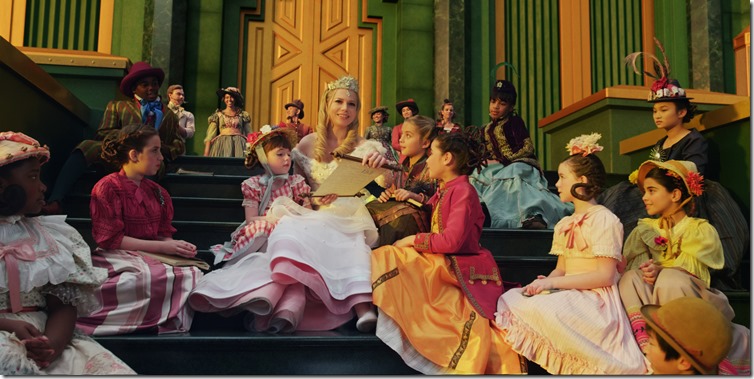 The film is rated PG, but as with any Disney film they come nowhere near the maximum guidelines for that grade. As for my recommendations as far as appropriate ages to take, most everyone I talked to said 8 and up.
Here are my thoughts on this. My Emma is 6, and because of her maturity and ability to separate fiction from reality I know that she can handle this movie and enjoy it tremendously. Ethan is 4 and struggles with real versus make believe and I am thinking he might have nightmares if I take him. I think that every parent knows what their child can handle and knowing that there are scary parts and a sad part judge whether their child should see it or not.
OZ THE GREAT AND POWERFUL in theaters 3/8/13
#DisneyOz
Disclosure: I attended this press trip as a Guest of Disney. All opinions are 100% my own.