One Cup Connection Keurig Mini Plus Single Cup Coffee Brewer
This is a spotlight post: Stay tuned… you can WIN one on Monday!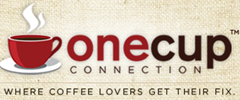 Hi, my name is Heather and I'm a coffee addict. It wasn't until my 30's that I developed this passion. Up to that point, I just hadn't tried to proper blend of quality coffee, flavorings and creamers. Now my kids know that it is best to let Mommy start her coffee maker before asking for things in the morning. We have a normal sized 12 cup brewer that does a rather decent job when the three of us want some, but some mornings I really just need the one cup.
One Cup Connection contacted me and asked if I'd be interested in reviewing a Keurig. I have heard fantastic things about this brewer so I jumped at the chance. I spent some time on their site and found out that One Cup Connection is an authorized Keurig distributor specializing in K-Cups and brewers. They are family-owned and operated and have over 50 years of experience in the coffee industry. Our family has been trying to "Shop Small" so I was pleased to work with them!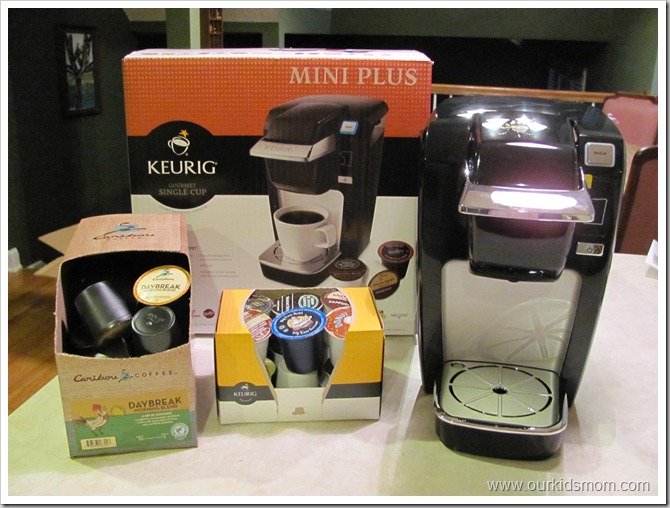 The Keurig B31 Mini Plus K-Cup Coffee Maker arrived and barely made it past the threshold before Kaytlin and I ripped into the package. Our shiny new brewer was compact but stylish, just the perfect size not to overwhelm my countertop. One Cup Connection sent a box of Caribou Coffee Daybreak to try with the brewer. To my delight, I found a sampler box of assorted coffee was also included in the Keurig box. I am a coffee wienie… I'm always afraid to try something new for fear of disappointment. Now I had one of each to try without wasting an entire box if I didn't like it!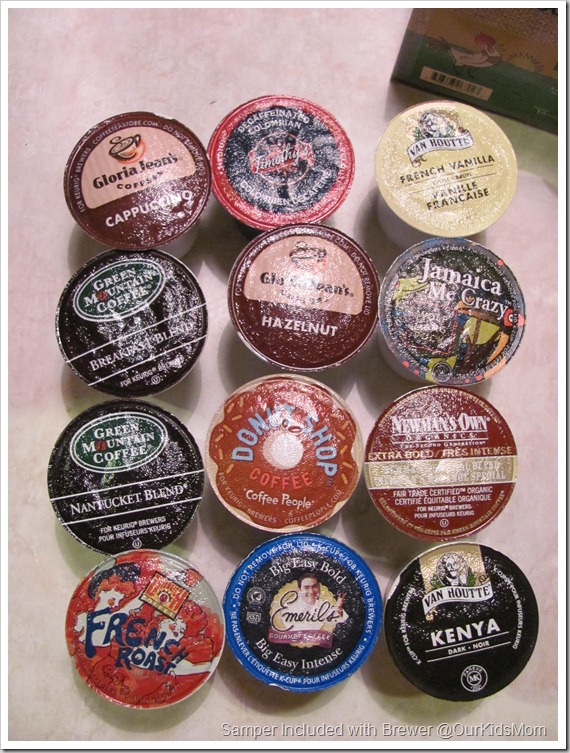 The Mini Plus Personal Brewer is perfect for gourmet coffee, tea and hot chocolate (yes, great for the kids, too!). It is compact and super easy-to-use. The size of the brewer makes it perfect for more than just at home… thinking vacation home, home office, RV, off campus apartment, loft living and more!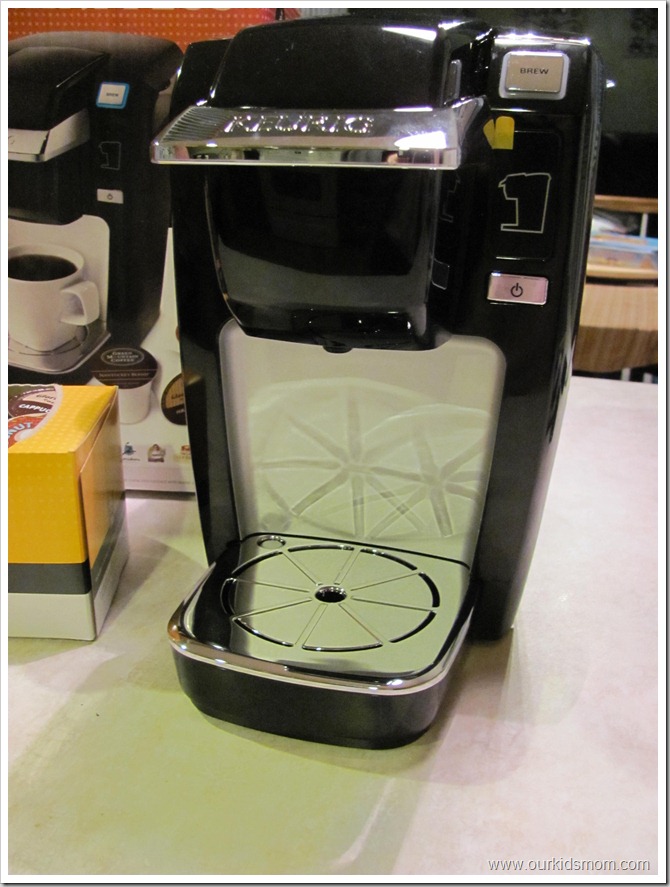 You can purchase a Keurig Mini Plus Brewer in your choice of three colors: red, black or platinum. It has a removable drip tray, cord storage and features an auto-shut off for people like me that just don't have their head on in the morning.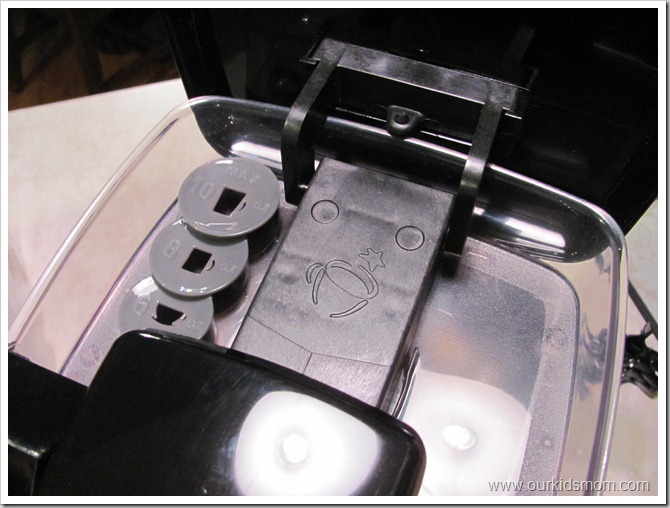 The Mini Plus allows you to brew 6, 8 or 10 ounces to get the strength you desire… just pour the desired amount of water into the reservoir. No need to pre-measure before pouring… just fill until water bubbles in the center of the "cup" of the desired amount. If you accidentally over pour, the Keurig has a run off that empties into the drip tray at the base of the unit.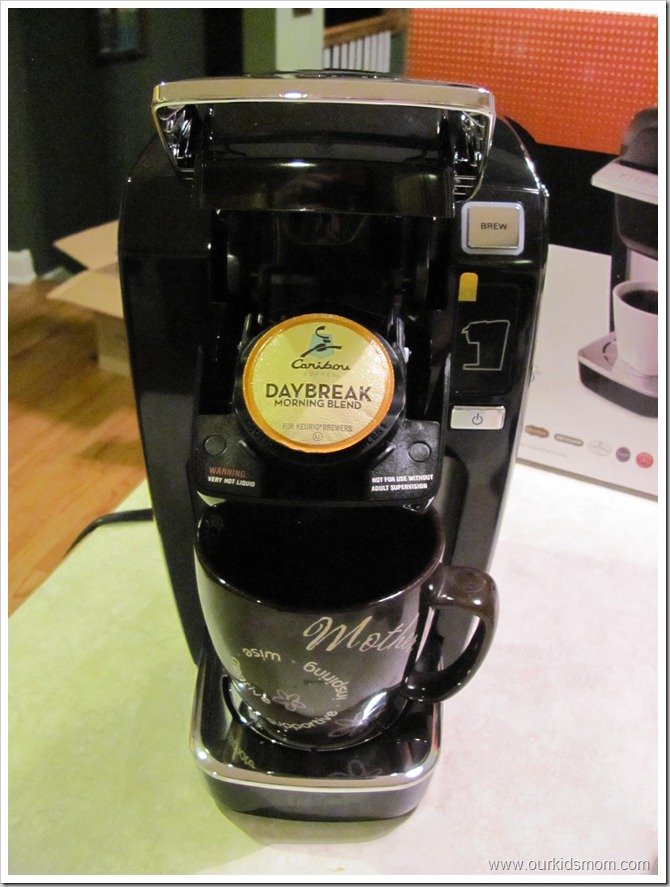 To brew up a cup simply turn on the Keurig, pour your water, lift the lever to insert your K-Cup (you will hear the water drain into the tank when you lift the lever) and close.
The photo on the left shows the brewer ready to begin. Press the "brew" button and it starts the process (and shows you it's working with a red light around the brew button).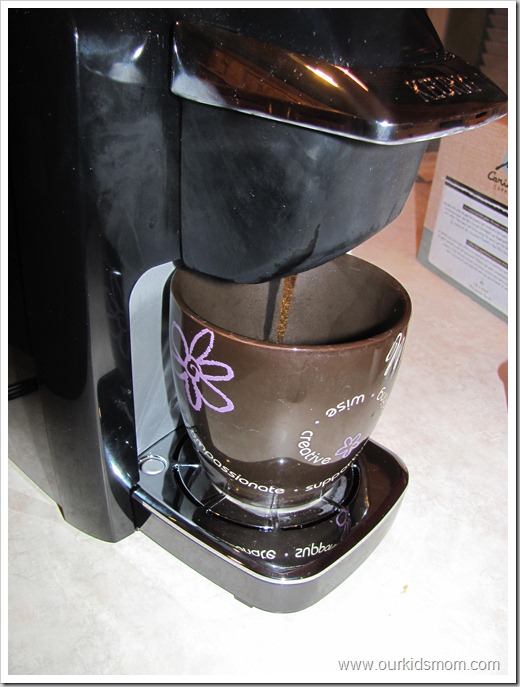 In less than 2 minutes you have a cup of coffee that can put a coffee shop to shame. You can see how hot the coffee comes out… the brewer is starting to steam a little in the photo above.
My overall impression of the Keurig Mini Plus Brewer is very favorable. It's super easy to use and is compact (space hogs are not allowed on my counters). The coffee comes in convenient K-Cups that are usable in all Keurig machines (so you can bring your favorite flavor and use it on the office machine if you have one) with a brew available for just about every taste. My only complaint is that the maximum water capacity is only 10 ounces. I have some big mugs. Even the mug above didn't fill completely. If there was a way to push a little more hot water through that would be fab. For now, I'm just adding it manually. I

the Keurig Mini Plus Single Cup Coffee Brewer!
BUY IT:
You can purchase a Keurig Mini Plus for $99.99
Connect with One Cup Connection for news and specials:
Disclosure of Material Connection: I received one or more of the products or services mentioned above for free in the hope that I would mention it on my blog. I only recommend products or services I use personally and believe will be good for my readers. I am disclosing this in accordance with the Federal Trade Commission's 16 CFR, Part 255: "Guides Concerning the Use of Endorsements and Testimonials in Advertising." The opinions expressed in this post are entirely my own. Your experience with the product may differ from mine. The sponsor is responsible for prize fulfillment and will be shipping the winner(s) their prize(s). For more information read my disclosure policy.