On-In Beauty | Beauty From the Inside Out
 
I am a busy mom to four children ages 19, 14, 5 and 3. My days are full and fun and occasionally stressful. I've had this full time job for almost twenty years now and just recently I've noticed that my skin is starting to show it's age. A mom can't help but worry on occasion and with recent family stress added on top I'm noticing it more and more on my face. It's now time to take this seriously… I refuse to age prematurely.
On-In Beauty is a new skin care system that does what it's name says it does… it works from the inside out. The method is fairly simple, and why I hadn't considered taking care of myself on the inside to help prevent aging on the outside is beyond me.  

On-In Beauty uses a nutrient rich on-the-skin topical cream for the outside and a natural in-your-skin dietary supplement. The combination of the two helps boost skin elasticity, hydration and UV protection.
Marigolds contain Lutein, a natural antioxidant. Both the On-In beauty cream and supplement contain Lutein to help achieve fast absorption into skin cells which in turn delivers improvements in hydration, elasticity and UV protection.
Although the idea of beauty from the inside out has been well known amongst dermatologists, the new evidence shows that a simple solution containing lutein can have a dramatic impact on beautiful skin. 
Your skin is your body's largest organ. It provides the first line of defense against disease and environmental pollutants. Your skin is quite likely the most visible demonstration of healthy appearance and attraction. All great reasons to keep it healthy!
Natural sunscreen… Research has shown that lutein is uniquely able to absorb and filter cell damaging sunlight which promotes the formation of free radicals. Free radicals can damage the skin and lead to premature aging (wrinkles and fine lines). Lutein helps to absorb this damaging UVB and UVA light thus decreasing the amount of free radicals generated in the body.
Although Lutein acts as an antioxidant protecting and maintaining healthy skin cells, our body does not make the lutein we need. We get the lutein we need by consuming foods like leafy green vegetables or nutritional supplements. On-In's Beauty system contains lutein in both the topical cream and supplements.
Finally a system that can help keep our skin healthy, but not cost us an arm and a leg! Taking care of yourself both inside and out makes sense… why didn't I think of this sooner?
BUY IT:
  
Save $10 on the $29.99 retail price by pre-purchasing On-In beauty. By paying a $1 deposit you secure the pre-purchase price and only pay $19.99. Remaining payment will not be processed until the item ships.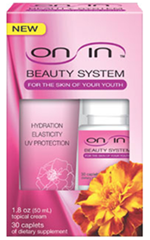 * Get on the Shelf Campaign *
On-In Beauty has been entered into the Walmart Get on the Shelf contest that runs March 7 to April 3, 2012. This is a public voting contest and we would love a quick vote for On-In Beauty! The winner could get featured placement on Walmart.com, valuable marketing support, advice on scaling up… and a spot on Walmart store shelves!
[tweetbox width=500 height=50 label=Retweet! content ="Help On-In Beauty GET ON THE SHELF & SAVE $10 | Beauty from the Inside Out @oninbeauty  @ourkidsmom %u #oninbeauty"]
Connect with On-In Beauty:
This post brought to you by On-In Beauty. All opinions are 100% my own.