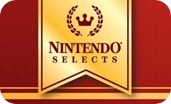 Let's face it… the economy leaves the budget tight and big extended family vacations are less obtainable (and reasonable) than in years past. More and more families are searching for less expensive "staycations" that are still family involved, fun and most importantly affordable.
Nintendo has heard our cries and is offering Nintendo Selects. These games are affordably priced at only $19.99 each and will induce hours of family fun.
Wii Sports lets players enjoy hours of sporty summer fun on the golf course, tennis court, boxing ring, baseball diamond or bowling alley.
The Legend of Zelda: Twilight Princess whisks them to a mystical land filled with challenge and adventure.
Mario Super Sluggers grants players admission to a host of wildly imaginative ballparks, all with a Mushroom Kingdom twist.
In Animal Crossing: City Folk, they can even customize their own colorful universe for a social summer getaway.

Don't own a Wii yet?
Now is the perfect time to invest. Nintendo has adjusted the price to meet with the times and is now available in black or white for just $149.99 – the system also comes packaged with the Mario Kart Wii game and a matching colored Wii Wheel accessory…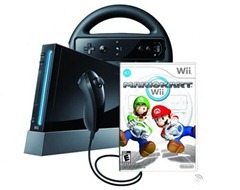 I know you are thinking "A Wii as a "family vacation staycation"?".
Yes!
Seriously… what the kids want from us is uninterrupted quality time that's fun!
The Wii can provide this several times over and can be brought out time and again.
Our family will spend hours playing the Wii together. You are on your feet, laughing at each other, giggling and having a blast… it's board games on steroids!
*~*~*~*~*~*~*~*~*~*~*~*
Nintendo has just released another fantastically fun game to add to your staycation!
Wii Play: Motion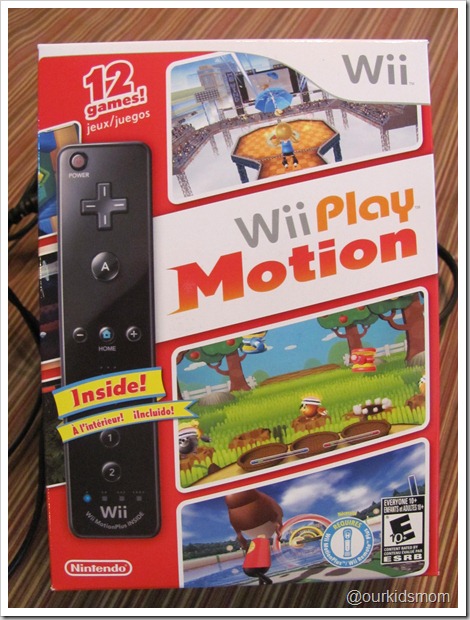 This family centered title comes complete with bonus Wii remote (so even more family members can play simultaneously) and 12 games.
The 12 games include:

Wind Runner – Tilt the Wii Remote Plus controller all around you to control the direction of an umbrella – riding the wind through a race course filled with gems.
Grappling Ghosts – Catch ghosts that fly out of from your television and surround your body. First, you'll search for a ghost with the Wii Remote Plus controller, which beeps faster as you bring it near the "invisible" ghost. Then you'll hook it with the controller, wrestle it back into your TV, then stuff it into a cage.
Teeter Targets – Flip a ball upward to break targets, holding the Wii Remote Plus controller like you're gripping the ends of a teeter-totter.
Veggie Guardin' – Smack garden pests on the head or bat them far away – twisting, turning, and swinging your Wii Remote Plus controller as you defend your vegetables.
Trigger Twist – Shoot your way through UFOs, ninjas, and dinosaurs. While holding the Wii Remote Plus controller, you'll move your arm to aim and turn your body to pivot – giving you the new experience of being surrounded by enemies and whirling to face them.
Skip Skimmer – Skip stones, by making that motion with the Wii Remote Plus controller in your hand, to get the highest number of skips you can on a lake or to earn the highest score on a floating obstacle course. Shuttle parts safely to a space station by tilting the Wii Remote Plus controller, as if the ship is in your hand, then firing thrusters with controller buttons.
Star Shuttle – Shuttle parts safely to a space station by tilting the Wii Remote Plus controller — as if the ship is in your hand — then firing thrusters with controller buttons.
Flutter Fly – Guide balloons through an aerial obstacle course by fanning them along with the Wii Remote Plus controller – fast, slow, and on all sides. You'll also scare off crows by pointing at them then pressing a button before the birds pop your balloons.
Cone Zone – Hold the Wii Remote Plus controller like an ice cream cone, then try to keep it in balance as more and more ice cream is piled on.
Treasure Twirl – Lower a diver to the bottom of the sea by twirling the Wii Remote Plus controller to unspool his cable, and dodge sharks and jellyfish by moving the controller left and right. After you grab the sunken treasure, you'll have to pull him all the way back up again.
Jump Park – Jump around a huge trampoline park by tilting the Wii Remote Plus controller at the exact angle you want to bounce next. You'll gather all the gems you can to earn a high score.
Pose Mii Plus – As your Mii character flies through space, you'll rotate the Wii Remote Plus controller in all directions to squeeze your character through silhouette-shaped holes in barriers before you crash through them. Your Mii will change its pose often, so you'll have to act fast.
The first time we played this game, the game played for hours. We had just returned from camping and were in full relaxation / let's have fun mode. Our first several rounds were playing Cone Zone. I believe we got up to 41 scoops before it toppled over! (Oh joyous day… Emma just got 49 scoops as I was writing this!). It was so funny to see the players with the remotes trying to balance the ice cream scoops… the faces people make while trying to concentrate (and tongues hanging out of mouths) was hilarious!
Another of my favorites for relaxation (I don't enjoy overly challenging games… I can't relax and play them) was Skip Skimmer. It took a few tries before I figured out how to hold my rock before releasing it to skip through water, but I beat the family! WOO HOO! lol
Remember Whack a Mole? Veggie Guardin' is Whack a Mole on steroids. Emma is getting pretty good at this game, but be careful! Sometimes Mii's pop out of the holes and you lose points for whacking them. The moles are pretty sneaky, too… sometimes they pop out of the holes with Mii masks on so you won't wack them.

Want a game you have to work together and cooperate with someone? Treasure Twirl is your game. The sunken treasure is at the bottom of the water and you and another player have the rope. Both of you twirl your remotes to bring the chest up from the bottom, but be careful! The chest tips and you lose treasure if you don't cooperate and twirl at the same time/rate!
My final thoughts on Wii Play Motion… it's a definite keeper. How many games are on the market that can be enjoyed by the entire family? Emma, age 4 1/2 through my husband (age undisclosed) had a great time trying to demolish other family members scores. Heck, the games are fun to play alone (aka naptime), too!
BUY IT:
You can purchase Wii Play Motion for $49.99 with bonus remote at Amazon.com