NIKEiD | Nike Free 5.0 Running Shoes
Samples were received for review purposes only. All opinions are my own.
Last year my husband and son had the fabulous opportunity to fly to Oregon and tour the Nike headquarters. They had a fabulous time and came home excited about the brand in general. Both of them received a pair of shoes there and my son was also given the opportunity to design his first pair of NIKEiD shoes. Both of them have enjoyed their shoes, but after a year of heavy use for Josh it was time for a new pair.
Nike offered to allow all of my children to design their very own pair of NIKEiD shoes. This was an exciting prospect for the littles as well as Josh and Kaytlin.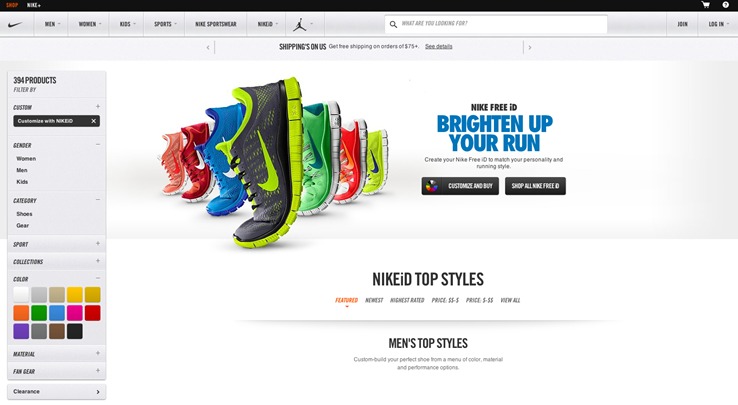 Designing a pair of NIKEiD shoes is so much simpler than it sounds. The hardest part is actually selecting your style… there are so many to choose from! All four of my children decided to go with the Nike Free 5.0.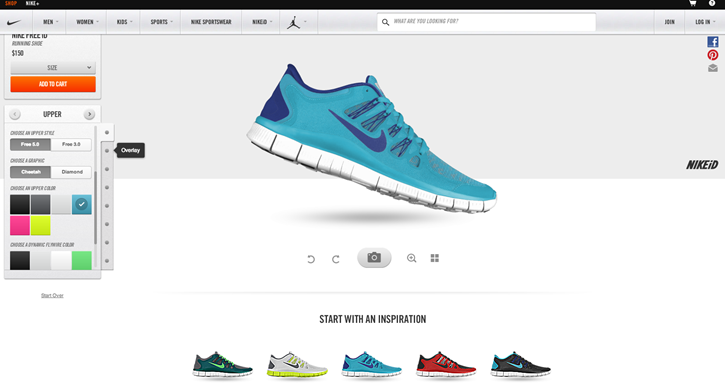 From there you choose your size and start the design process! If you are entirely clueless you can choose an inspiration and add/change/remove pieces. If you want total creative control you just start going down the left hand column and start creating. Just about every little piece of the shoe is customizable, including the tongue (you will see examples below on my kids shoes).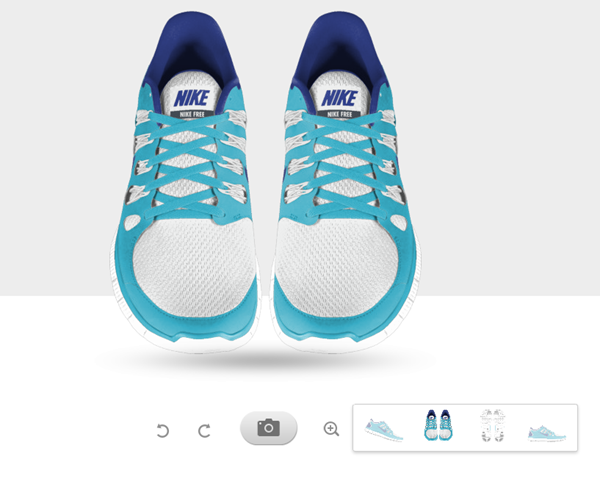 With the choice of 4 views you can make sure every inch of your new shoes are to your exact specifications! By clicking the camera button you will put that shoe in memory so that if you change something and decide you don't like it you have an instant backup to the design you did like.
I sat my kids down one by one and allowed them to play with the NIKEiD designer. Here are the results!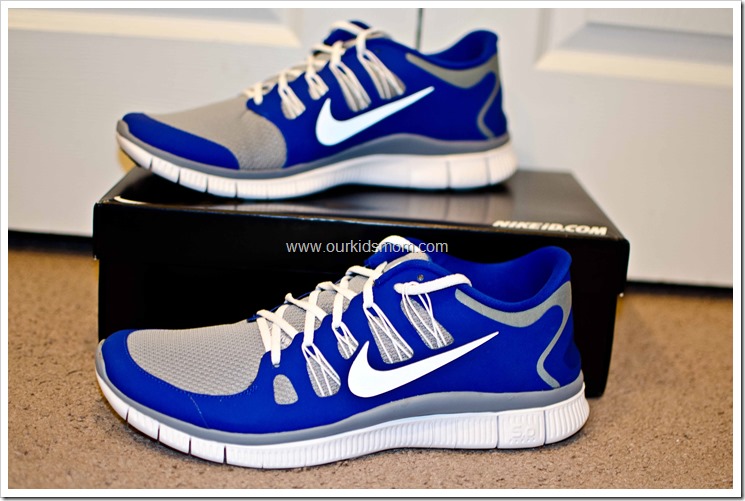 Josh wanted to design shoes in his school colors. He wanted a classic shoe that didn't stand out.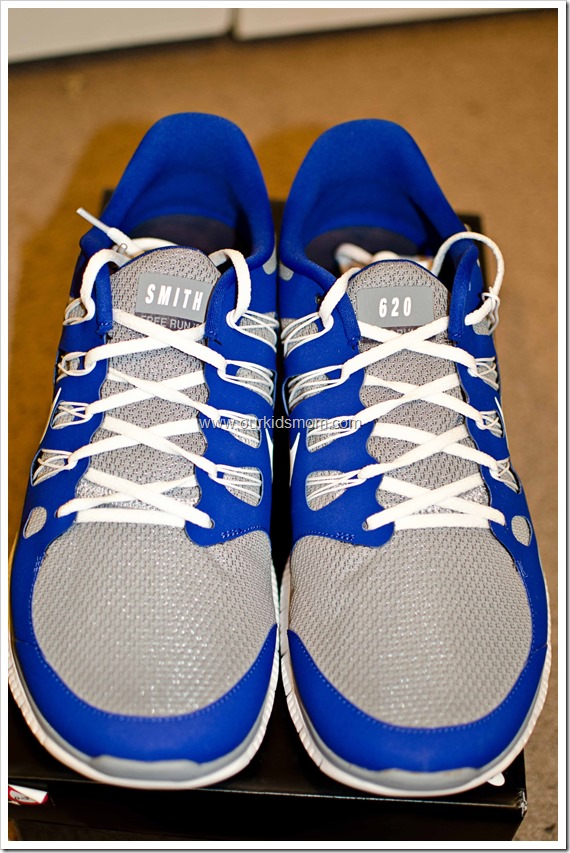 The shoes turned out just as Josh had planned, the navy blue nice and bright and the white crisp and bright. To personalize the label he put our last name and 620, the nickname his soccer coach has for him because he's so tall (6'3").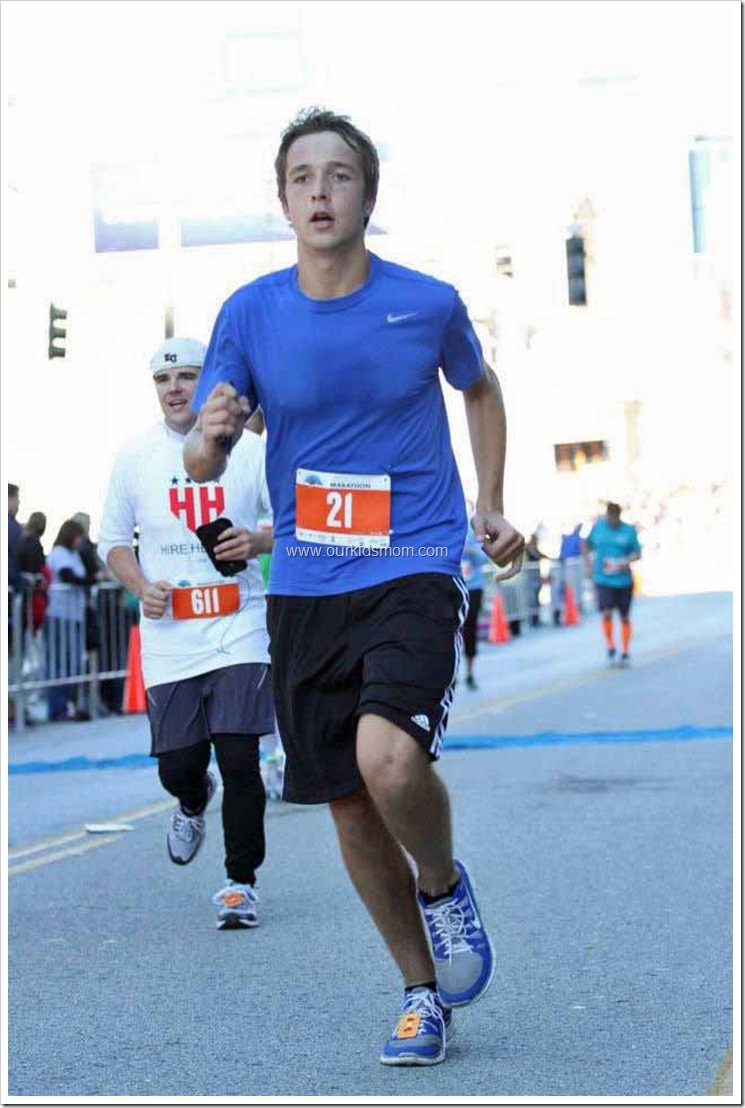 Josh has loved these shoes not only for running, but for every day shoes as well. As you can see from the toes (he's scrapped them white) he has lovingly worn them quite a bit. The photo above is of Josh right before he crossed the finish line of his first marathon… wearing his NIKEiD shoes.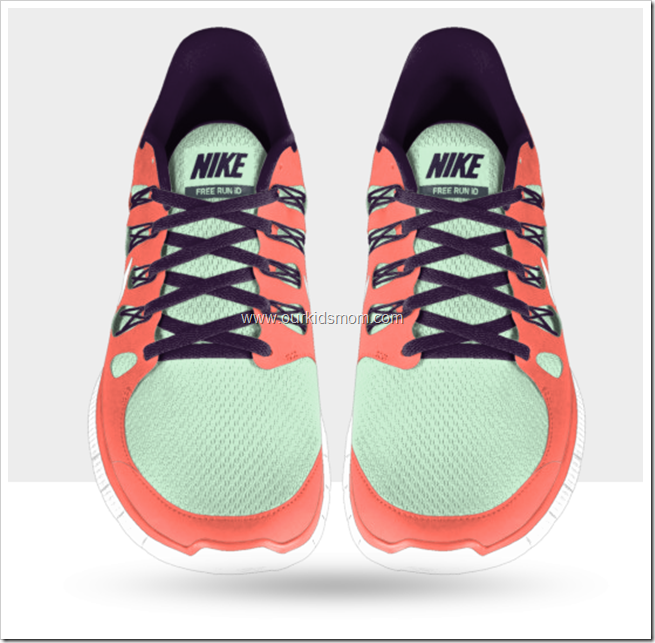 Kaytlin is picky when it comes to shoes. I was so pleased to tell her that she had the opportunity to design her own pair. The above photo is one of the possible color combinations she came up with. Unfortunately it didn't make the "cut". Her final choice as below.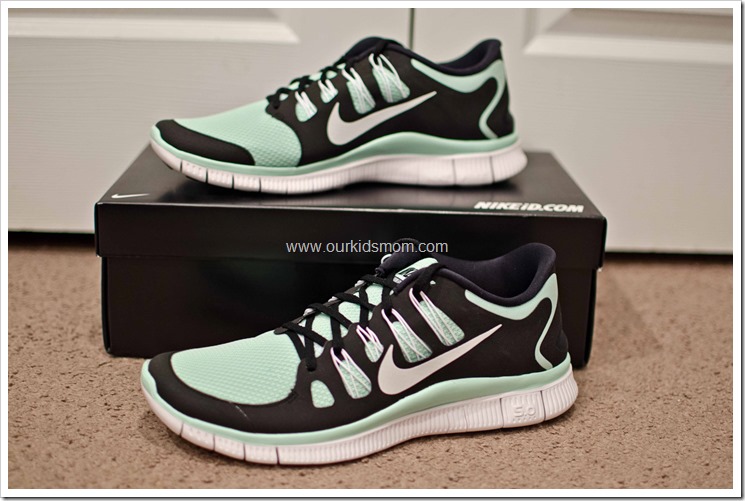 To be honest, I was a little surprised at Kaytlin's final decision. When I opened the box I almost thought she designed them for me! The black and white didn't surprise me, the mint green did.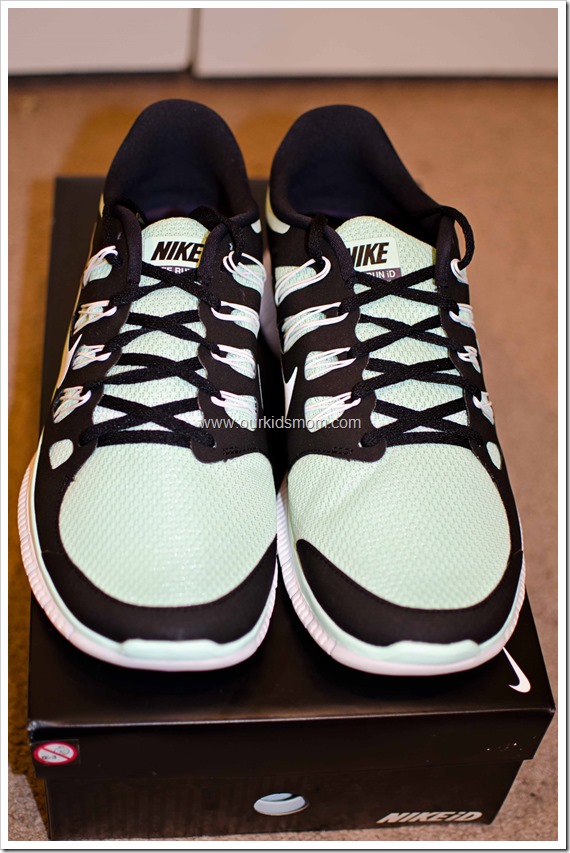 I love the combination of these two colors and how they contrast but compliment each other so well. Although Kaytlin isn't into running marathons like her brother, she is on her feet all day in the college bookstore and has reported that her feet appreciate a quality pair of shoes.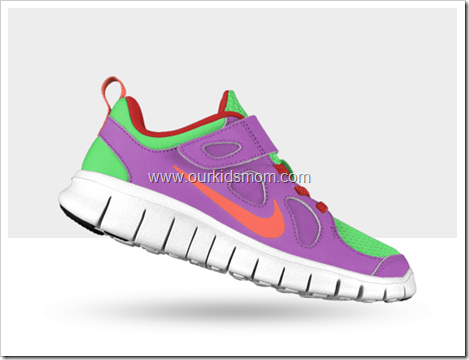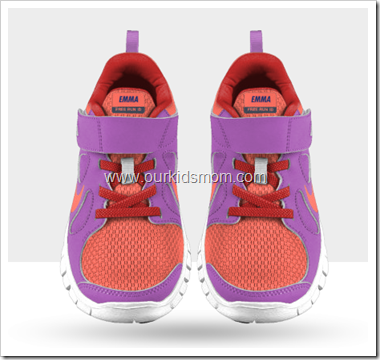 Emma had a little difficulty making a final decision with her shoes because there were so many combinations she liked. Above are a couple of the choices she designed. We were glad that we had the camera option so that we could bounce back to a design she liked when she tweaked a little and decided she didn't like them. One of the other choices available in the children's line is a strap instead of a full lace. Initially Emma was going for a strap.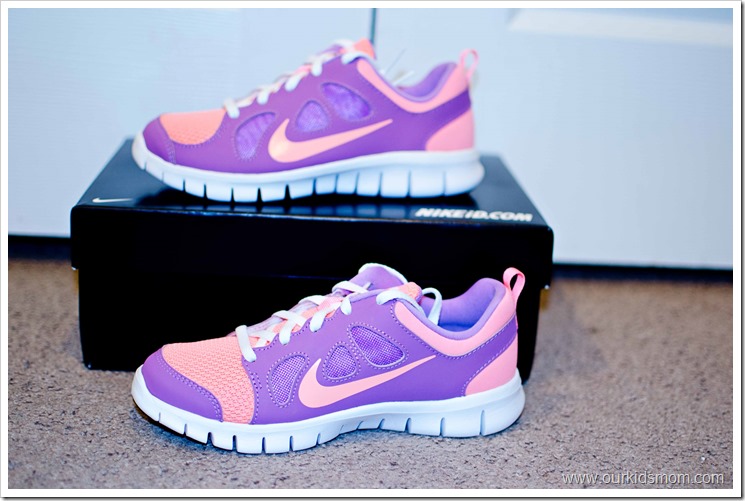 I'm so happy with Emma's final choice. She decided to go simple instead of bold and considered the clothes in her closet before saving her final choice.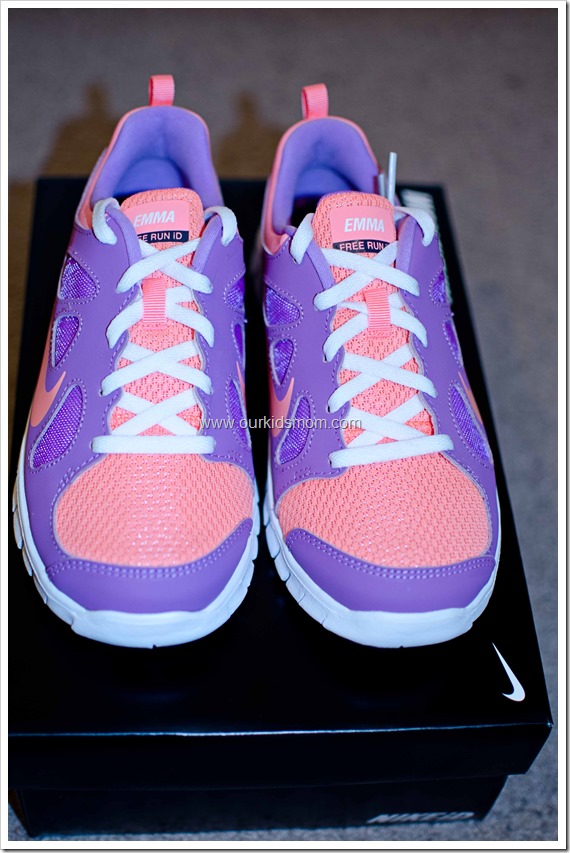 As you can see, Emma decided to lose the strap and go for laces (she knows how to tie shoes and didn't want to look "babyish"). She also put her name on the tongue.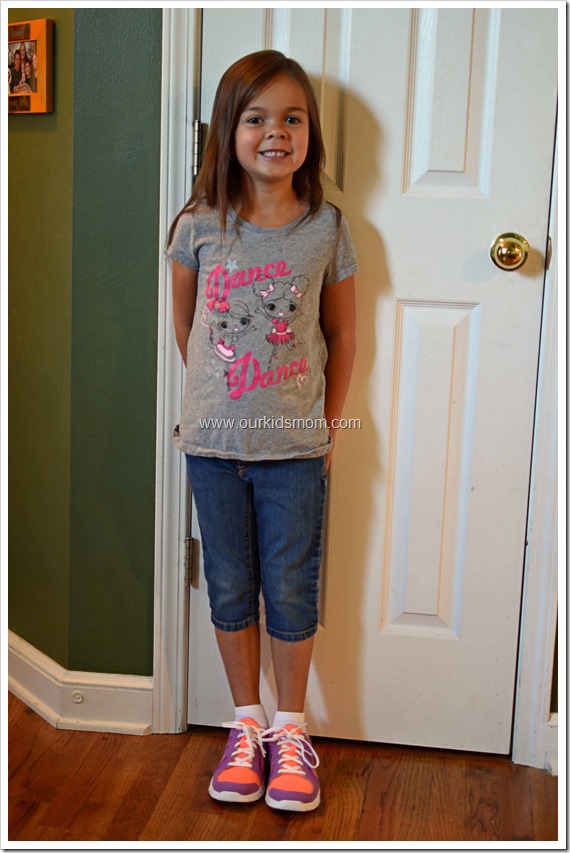 Here is Emma modeling her new pair of shoes. When told to grab her tennis shoes this is the first pair she reaches for (she has too many pair to count). She loves the pink and purple color combination and the fact that nobody else in school has the exact same pair of shoes as her.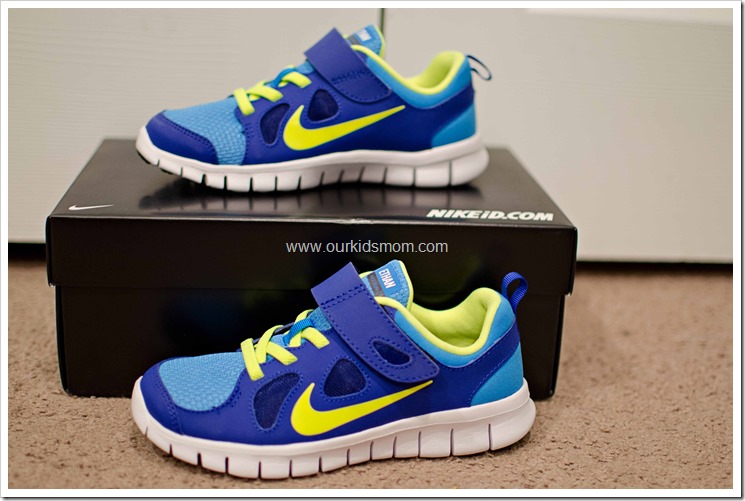 Ethan is a boy of quick decisions. I honestly think he took less than 5 minutes to design his shoes. His favorite color is blue, so he went for two shades of it.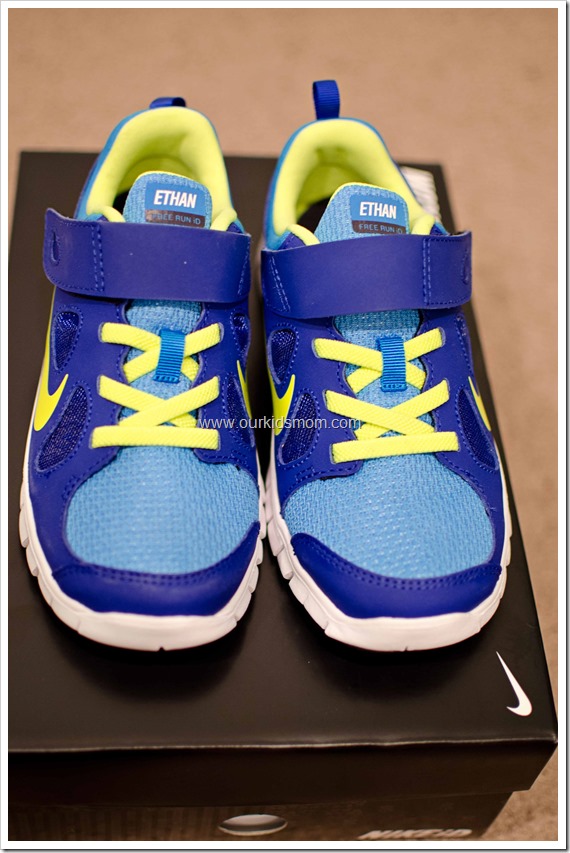 Ethan also went for the strap instead of a full lace. The lace on his shoe is permanently tied, so when putting his shoes on all he has to do is fasten the velcro on the strap. This is fabulous because we are still working on shoe tying and frustration while trying to get out the door is not a good thing. I loved that he chose the bright yellow accent to give his shoes a little pop of color without screaming "look at me!". Ethan also put his name on the tongue, making these extra special for him.
The NIKEiD shoe is perfect for adult and kid sizes alike… all you need is a little artistic sense and desire with a dash of decisiveness. The decisiveness is a good thing, because you will end up with many combinations you like. All of my children have remarked at how comfortable they are and one even ran a marathon in them! From everyday to sports activities the NIKEiD Free 5.0 are a great choice.
       Disclosure of Material Connection: I received one or more of the products or services mentioned above for free in the hope that I would mention it on my blog. I only recommend products or services I use personally and believe will be good for my readers. I am disclosing this in accordance with the Federal Trade Commission's 16 CFR, Part 255: "Guides Concerning the Use of Endorsements and Testimonials in Advertising." The opinions expressed in this post are entirely my own. Your experience with the product may differ from mine. The sponsor is responsible for prize fulfillment and will be shipping the winner(s) their prize(s). For more information read my disclosure policy.