As I was unable to attend the conference because of prior commitments, my husband Jason graciously took my place so that Joshua could attend. I recently started to converse with him about the Nike Free Run 5.0 shoes he received at the summit… but after a few minutes we both decided it would be best for him to write about them himself.
So here are OurKidsMom's husband's thoughts on the Nike Free Run 5.0 shoe…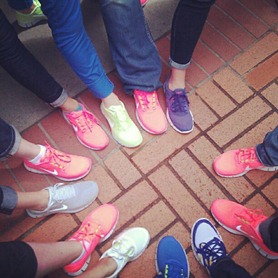 At the Nike Young Athlete's Summit, Josh and I were fortunate to each receive a pair of the Nike Free Run 5.0 shoes.  I've been dabbling with the idea of minimalist footwear but hadn't yet taken the plunge and so I definitely was excited about trying them out.
Putting the shoes on, I immediately was struck by how comfortable they were.  The Dynamic Fit design makes the material in the upper very stretchy causing the shoes to fit like a sock.  It literally felt as though I were in stocking feet.  I wore them around the hotel for awhile and really enjoyed how they felt.  Exhausted from all the excitement of the flight, Josh ended up falling asleep after lunch.  That gave me the perfect opportunity to hit the streets of Portland and give my new Free Runs a whirl.
Backing up a bit, I've been struggling for some time trying to learn how to land on my mid-foot.  It sounds like it would be easy but I've found it to be difficult because the heels of my running shoes (and most regular running shoes) are built up higher than the rest of the foot.  Therefore, when one extends their foot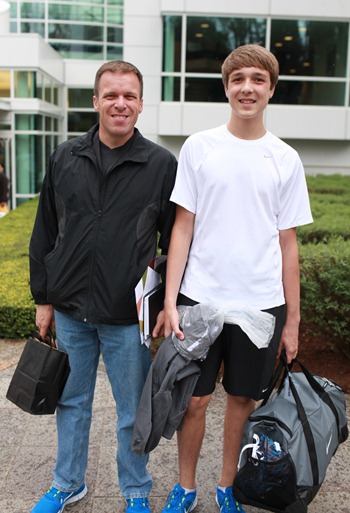 forward, the heel tends to strike the ground first.  This causes shock waves to travel up the leg and affect the knees.  Over time, people become prone to knee injury, and end up quitting running.   Knowing about this propensity, I've been trying to change my form so I can continue running as long as possible.
Heading out with the Nike Free Run shoes, I was amazed to find that they naturally made my feet land right.  The heel to toe drop is much lower than my normal running shoes and so that troublesome heel doesn't get in the way when I'm trying to land mid-foot.  I didn't have to consciously adjust my step because the shoes allowed me to do it right.
As I progressed through my run, I noticed that the shoes felt very secure on my feet but not constricted.  Because of the Flex Groove design in the soles, the shoes twisted and turned to accommodate the movement of my feet as I navigated the various curbs, turns, and other obstacles.  I was able to feel the ground with these shoes and intuitively adjust my step when needed.  I love running but these shoes made me love it more.  They look great too.  I look forward to many more miles in these shoes.
*****
When speaking to Joshua (age 15) about the shoes he was a little less wordy. He did mention that he loved to run in them, they felt almost like he had nothing on and that they are incredibly comfortable to wear on a daily basis as well. He just went for a 5 mile run last night in them and said his feet felt great with the small exception of some rubbing on one of his toes (we should have requested a 1/2 size bigger for him). Because he does wear them on a daily basis, his one wish is for more neutral colors so that he didn't feel like he needed to match his clothes to his shoes. Fortunately, Joshua was able to design a custom pair of Nike Free Run 3 iD shoes that should be here any day!
You can read more about their experiences that day here.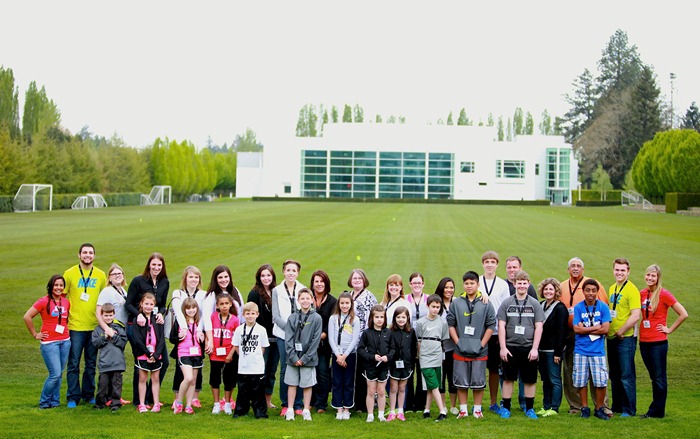 A huge THANK YOU to NIKE for allowing my guys to have a shared experience they will never forget!
Kids Nike FREE Run: If your feet flex, shouldn't your shoes flex too? Must-have flexibility for young feet.
Disclosure: Compensation was provided by Nike via Glam Media.  The opinions expressed herein are those of the author and are not indicative of the opinions or positions of Nike