Nickelodeon Winx Club – Magical Fairy Party for Nintendo DS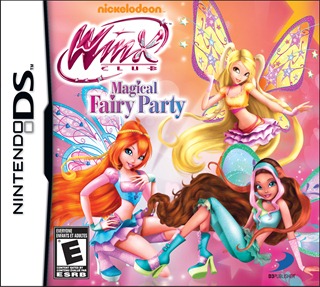 Based on the upcoming Nickelodeon show this fall, players will embrace the magic within and discover their inner fairy in Winx Club™: Magical Fairy Party.  Winx Club captures an enchanting story and features mini-games filled with fairies, fashion, friendship (and pets) that fans love.
Kids will get to star in the new game and design their own special fairy, interact with their favorite show characters like Bloom and Stella, and enroll in the enchanting Alfea School.  Fans will perform spells, and plan unforgettable events, that include a wondrous ball by designing cakes, creating posters and more!
KEY FEATURES:
Based on the Fantasy Adventure Show – Nickelodeon's upcoming brand new Winx Club modern fantasy adventure show will take the fairies of Alfea School on magical quests, and showcase a new art style with CGI episodes, releasing this fall.
Fairy Favorites Unite – Bloom, along with her five fashion-forward fairy friends (Stella, Aisha, Flora, Musa, and Tecna), are all members of the Winx Club.  Through a series of mini-games, each hosted by a different fairy, players will learn and perform magic.
Fashion, Magic, Friendship! – Kids can create and customize their own fairy and select from over 120 fashion items such as hairstyles, outfits, wings and pets in fun customizable colors.
Join Alfea School – After creating a beautiful fairy, kids will join the magical school as a new student and become part of the exclusive Winx Club, where they will have to team up to stop the mischievous Twix witches from spoiling their fun!
Plan a Beautiful Fairy Ball – Join the events committee to help set up seasonally themed parties like Spring Fling, Halloween, Winter Wonderland, and a wondrous end-of-year ball.  Decorate posters, create centerpieces and beautify cakes to bring the parties to life.
Winx Club is so much fun!  Both of my girls, ages 5 & 10 enjoy video games where you can dress up the characters, change room themes, and decorate.  The Winx Club Magical Fairy Party game is exactly that.  From the very beginning, my girls can get creative and dress up their fairy.  As the game progresses, they unlock more outfits, colors, etc. to be able to get more and more creative.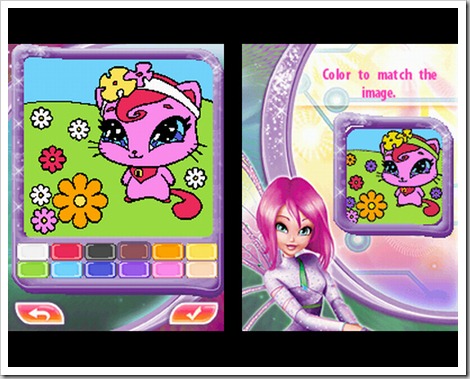 Michaela, my 10 year old played the game first.  She had no trouble figuring it out and said it was pretty fun, but thought it was maybe a little easy for her.  She finished the entire game in a couple days.  Then, Mikenah, age 5, played.  She liked it more and found it a little challenging but not so much that she couldn't play on her own.  Mikenah is an excellent reader for her age, and could read most of the words.  Beginning readers would have trouble reading, but the good news is that the game is easy to figure out even without reading the words.  Most of the mini games/puzzles have picture instructions, so it's easy to figure out.
Basically, there are various puzzles or games in each level that you have to solve.  The better you do, the more things it unlocks.  Once you finish the level, the Winx Club Fairies have a party.
This game is rated "E" for everyone, even though both girls liked the game, I would say it's mainly for ages 6-9.
BUY IT:
You can purchase Winx Club – Magical Fairy Party at Amazon.com
Disclosure of Material Connection: I received one or more of the products or services mentioned above for free in the hope that I would mention it on my blog. I only recommend products or services I use personally and believe will be good for my readers. I am disclosing this in accordance with the Federal Trade Commission's 16 CFR, Part 255: "Guides Concerning the Use of Endorsements and Testimonials in Advertising." The opinions expressed in this post are entirely my own. Your experience with the product may differ from mine. The sponsor is responsible for prize fulfillment and will be shipping the winner(s) their prize(s). For more information read my disclosure policy.