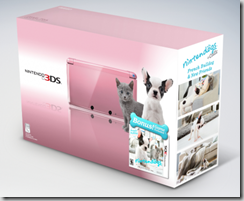 NEW Nintendo 3DS PINK Bundles…
If you are like me, you still have a people left on your list to shop for.
Here's a heads up for a great value Nintendo is offering this holiday!
 
On Sunday, Dec. 4, Nintendo launched new bundles featuring a PINK Nintendo 3DS™ portable system and either the nintendogs™ + cats: French Bulldog and New Friends or nintendogs + cats: Toy Poodle and New Friends software. 
 
The limited-edition bundles will be available at a suggested retail price of $169.99 in the U.S. – the same price as the standard Nintendo 3DS system.
I know my Emma would be thrilled to receive one!