New From HIT Entertainment Barney and Angelina Ballerina DVDs
Samples provided. All opinions are my own.
Just in time for your holiday shopping, 4 new DVDs from HIT Entertainment's lovable Angelina Ballerina, Thomas & Friends and Barney.
Angelina Ballerina : Twirling Tales

Angelina and her friends stay on their toes in these twirling, whirling tales of friendship and fun!  There are sweet surprises in store when Angelina and her friends must "dance like a cake" for Vicky's cake-themed dance day. It is the big Spring Fling too, but how will Angelina and her friends fit all their favorite types of music and dance into the grand finale? Angelina's parents even get into the swing of things with their very own new dance routine. The stage is set for an absolutely, positively, amazing time!

Episodes:
·      "Angelina's Dance Like a Cake Day"
·      "Angelina's Noisy, Messy Lunchtime"
·      "Angelina and the Musical Plant"
·      "Angelina and Her Parents' Dance Lessons"
·      "Angelina's Mother's Day"

DVD BONUS FEATURES
·      "A Dance A Day" Dance Club
·      "1, 2, 3, 4, 5" Karaoke Music Video
·      "Swing Thing" Karaoke Music Video

Barney Perfectly Purple

With a splash of purple and some help from his friends, Barney always finds ways to have a Tee-riffic time together. Barney and his friends plan a perfectly purple party for a friend, and with some special Barney magic, it becomes a purple party surprise for everyone!  When Baby Bop, BJ and Riff reveal their inner artists in the park, they learn the most special art comes from the heart!  When Riff's drumsticks go missing, Barney turns the search into an exploration of the colorful world around them. With parties, festivals, adventures and more, Barney and his friends show how colors make the world a beautiful place!

Episodes include:
·      "A Perfectly Purple Day"
·      "Arts"
·      "Neighborhood"

DVD BONUS FEATURES
·      Animal Sounds Match Game
·      Barney's Color Train Read-Along
·      "Clean Up, Clean Up" Karaoke Music Video

Barney 3-Movie Pack

Barney: The Land of Make Believe
Join the adventure with Barney, BJ™ and Baby Bop™ as they discover anything can happen in The Land of Make Believe! When a lost, young princess from a storybook magically appears, Barney and his friends set out on a quest to help her find her way home. Along the way, they swim with dolphins, see a beautiful mermaid and even meet a magician! Come along for a story as big as your imagination!

Barney: Let's Make Music
It's time for a musical adventure at Barney's Fantasy Fair! When a little girl named Melanie dreams of playing her violin in a talent show, Barney, BJ and Baby Bop help her realize her dreams with the help of a new dino friend, Riff™, who knows how to find music everywhere! Riff shows the friends all about music and sounds as they sing favorite songs, play games and ride amazing rides! They also discover that some dreams are even bigger than they imagined. So head to the fair, join the fun and let's make music together!

Barney: Night Before Christmas – The Movie
It's a memorable Christmas Eve as Barney, BJ and Baby Bop take their friends on a musical journey to the North Pole and bring them face to face with Santa Claus!  The excitement builds as Santa gives his guests a once-in-a-lifetime tour of his brightly decorated home.  The children discover his antique music box, see amazing displays of his favorite toys and climb aboard his train for an incredible ride.  When Mrs. Claus notices that the elves need help finishing up last minute Christmas chores, she escorts the group to Santa's Toy Factory.  Join BJ, Baby Bop and the children as they wait patiently to hear the sound of sleigh bells and share in the most magical night of the year with Barney!

Thomas & Friends 3 Movie Pack

Thomas & Friends: Blue Mountain Mystery – The Movie
When trouble strikes at Blue Mountain Quarry, Thomas is sent to help. There he discovers a little green engine hiding in the tunnels. Thomas is determined to get to the bottom of the mystery but discovering the truth is harder than he imagined! Will he be able to help his friend or will the little engine be sent away from Sodor forever? Find out in Thomas' most mysterious adventure yet, a movie the whole family will love!

Thomas & Friends: Day of the Diesels – The Movie
See the Steamies and the Diesels face off in this action-packed movie adventure! There's a fire on Sodor and two new firefighting engines – Flynn and Belle – arrive to help Thomas and Percy save the day! When Thomas starts spending all of his time with Sodor's newest heroes, Percy is drawn to the Dieselworks, where he is made to feel special by the master of mischief himself, Diesel 10! But Percy doesn't know that he is part of Diesel 10's master plan to take over the Steamworks.

Thomas & Friends: Misty Island Rescue – The Movie
The engines are hard at work to build a new Search and Rescue Center. When Thomas helps a friend in need, he is rewarded with an exciting trip to the mainland.  Along the way, he gets lost at sea and finds himself on the mysterious Misty Island, where he meets new friends Bash, Dash and Ferdinand. Together they discover the secrets of Misty Island and help Thomas find his way home.  Will Sir Topham Hatt's search party ever find Thomas? Find out in this action-packed movie adventure the whole family will enjoy!
WIN IT:
ONE OurKidsMom reader is going to win all 4 titles on DVD!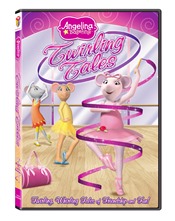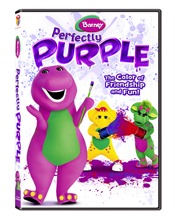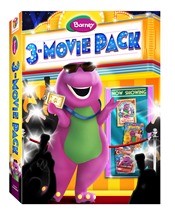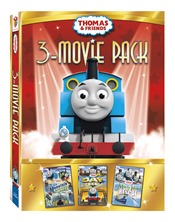 This giveaway ended at 11:59 PM EST on November 23, 2013.
Disclosure of Material Connection: I received one or more of the products or services mentioned above for free in the hope that I would mention it on my blog. I only recommend products or services I use personally and believe will be good for my readers. I am disclosing this in accordance with the Federal Trade Commission's 16 CFR, Part 255: "Guides Concerning the Use of Endorsements and Testimonials in Advertising." The opinions expressed in this post are entirely my own. Your experience with the product may differ from mine. The sponsor is responsible for prize fulfillment and will be shipping the winner(s) their prize(s). For more information read my disclosure policy.