This post brought to you by Netflix. All opinions are my own.
As we get older, milestones are few and far between. Landing your dream job, getting married, having a baby.
But kids, on the other hand, have a lot worth celebrating. From bringing home your first pet to going to your first high school dance, frame-worthy moments go far beyond the baby book.
In recognition of "mini milestones," we've compiled a list of movies and TV episodes that highlight a variety of these achievements. Whatever "firsts" your family is celebrating this fall, Netflix can relate.

New Sibling: The Hive: S01E01, Babee's Room
Losing Your First Tooth: Super WHY: S01E10, The Story of the Tooth Fairy
Getting Glasses: Arthur: S15E09, Through the Looking Glasses
First Sleepover: Bratz Kidz: Sleep-over Adventure
First Trick-or-Treat: Julius Jr.: S01E06, Dressed for Spook-cess
First Pet: Beethoven
First Move: The Croods
First Big Game: D2: The Mighty Ducks

First Spelling Bee: Akeelah and the Bee
First Dance: Kickin' It: S01E20, The Wrath of Swan
First Break-Up: Good Luck Charlie: S01E20, Girl Bite Dog
First Road Trip: Diners, Drive-ins and Dives

First Kiss: Wizards of Waverly Place: S01E02, First Kiss
First Job: Good Burger
First Time Babysitting: The Baby-Sitters Club
First Concert: Taylor Swift: The Journey to Fearless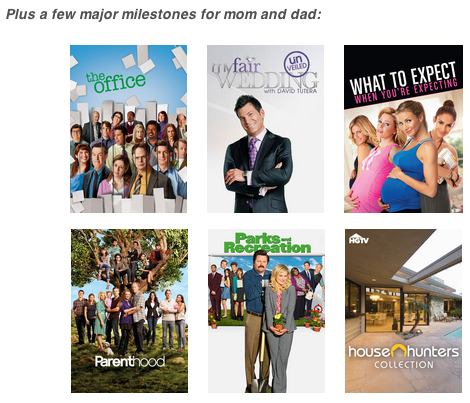 New Job: The Office
Getting Married: My Fair Wedding with David Tutera
Having a Baby: What to Expect When You're Expecting
Life as a Parent: Parenthood
Running for Office: Parks & Recreation
Buying a Home: House Hunters
Do you have any special shows that make you think of a "first" or milestone?