Sample received. All opinions are my own.
This is one of the rare occasions that one of my older children has stepped up to help me review a product! This particular review was written by my oldest daughter, Kaytlin.
While most kids can't wait to get out from under their parents' roof and live on their own, I stayed in the comfort of my childhood home and attended community college until I was 21. By then, I had taken all the classes I possibly could take locally and it was time for me to fly the coop to a University a little over an hour away to finish off my bachelors degree. As a poor college student living off of a part-time, minimum wage job, many friends and family members graciously gifted me their hand-me-downs to get me started in my new apartment. Most everything in my apartment from my couch to my measuring cups was either handed down or purchased second hand – including my mattress. While I was incredibly grateful, the mattress I brought to college with me was handed down not only once, but twice. I was the THIRD owner of this mattress. Now, I thought I slept pretty well on this mattress, but looking back I realize I didn't know any better. Sleep is just so important part of our overall health and you should be taking care of your body. At first, I stumbled upon a few Nectar mattress reviews. It's always great to do your own research before buying a bed and make sure to read multiple reviews, not just one to get a better idea.
It's been 5 years, I graduated a little over 2 years ago and I was fortunate to be offered a full time job straight out of college. Since then I have been working on building savings, paying off student loans and slowly but surely replacing my old hand-me-downs with new "specially curated by me" items. As much as I appreciate all my things, they aren't exactly what I would have picked out for myself. This month I am almost tripling my space by moving from a one bedroom apartment to a three bedroom house. My old bed was a queen, and now that I have a full master bedroom I figured now would be the perfect time to upgrade and get a brand new king sized mattress.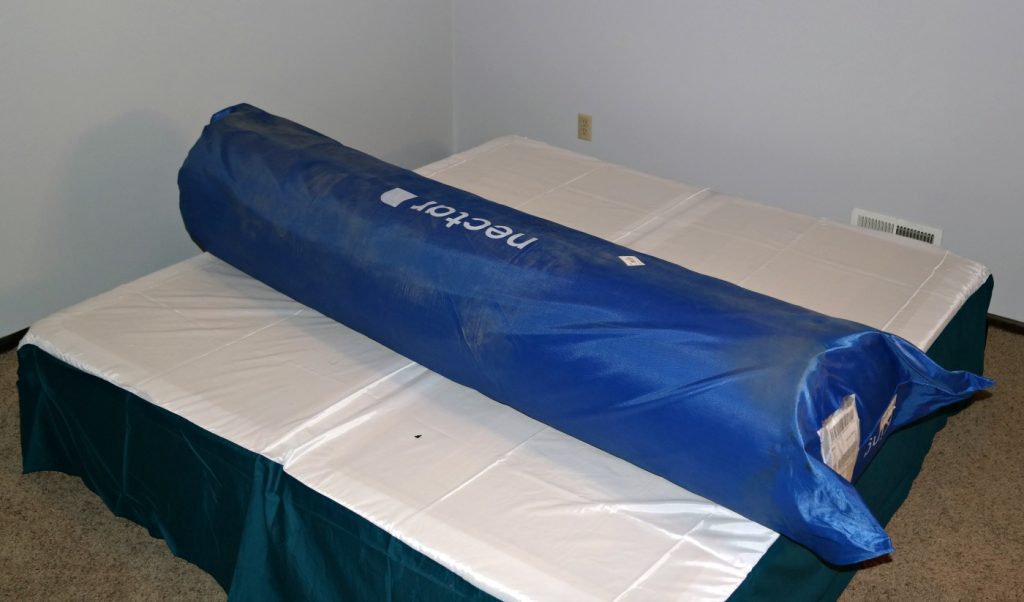 To my excitement, NECTAR was kind enough to send a mattress for my review!
I had expected it to be a hefty package … it's a king sized mattress after all. But I thought I'd be able to manipulate it into the bedroom on my own. Not gonna lie, handling this 100+ pound package definitely took two people!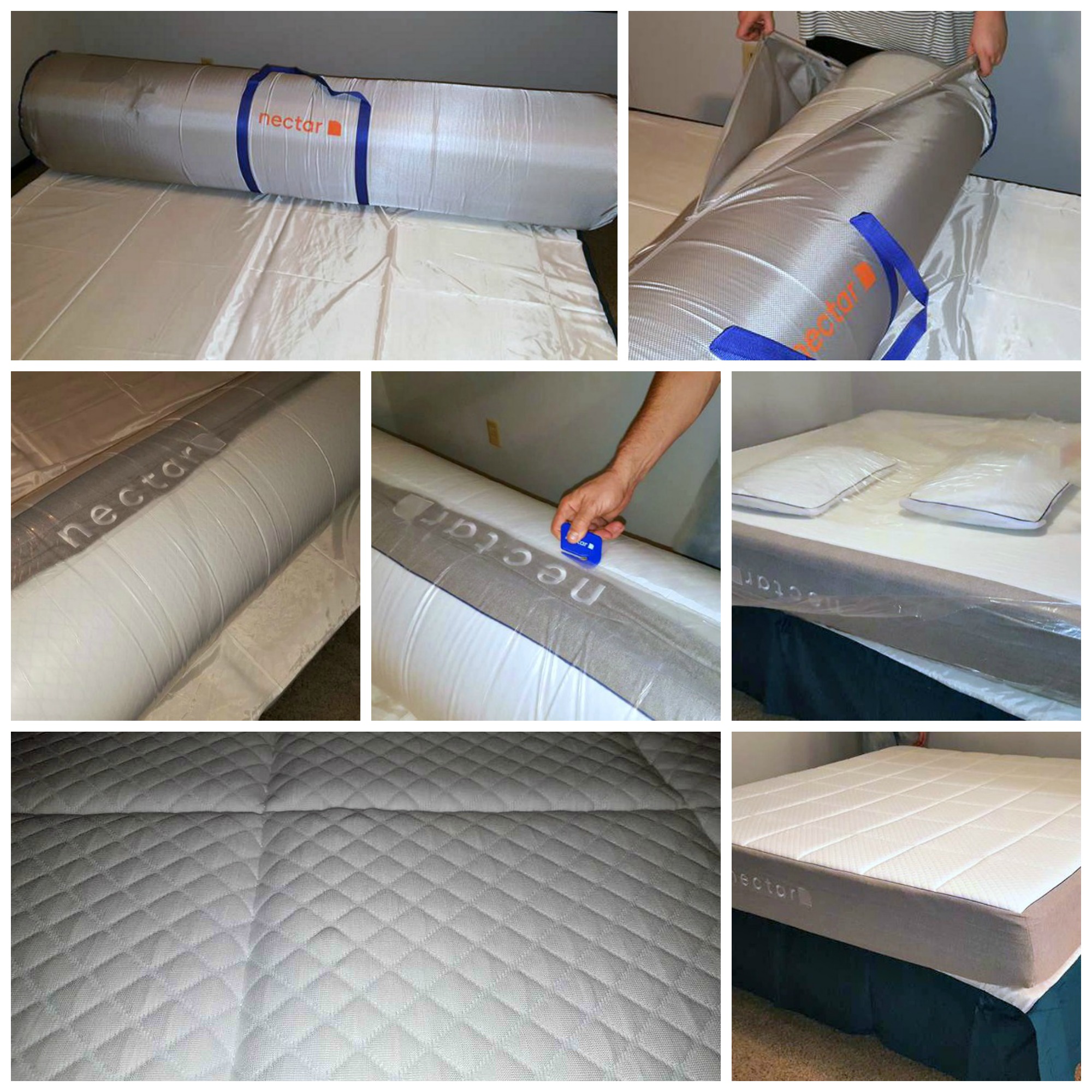 I had watched a few "bed in a box" mattress install videos so I had an idea of how it was going to go, but I was very impressed with just how easy it was to go from bag to a full bed! It literally took us 4 minutes from the time we unzipped the bag until we had a fully functional mattress. The time would have been even shorter, but we somehow managed to open the mattress upside down. That wasn't a huge issue, we had to removed the plastic under it anyway and one simple flip and we were in business.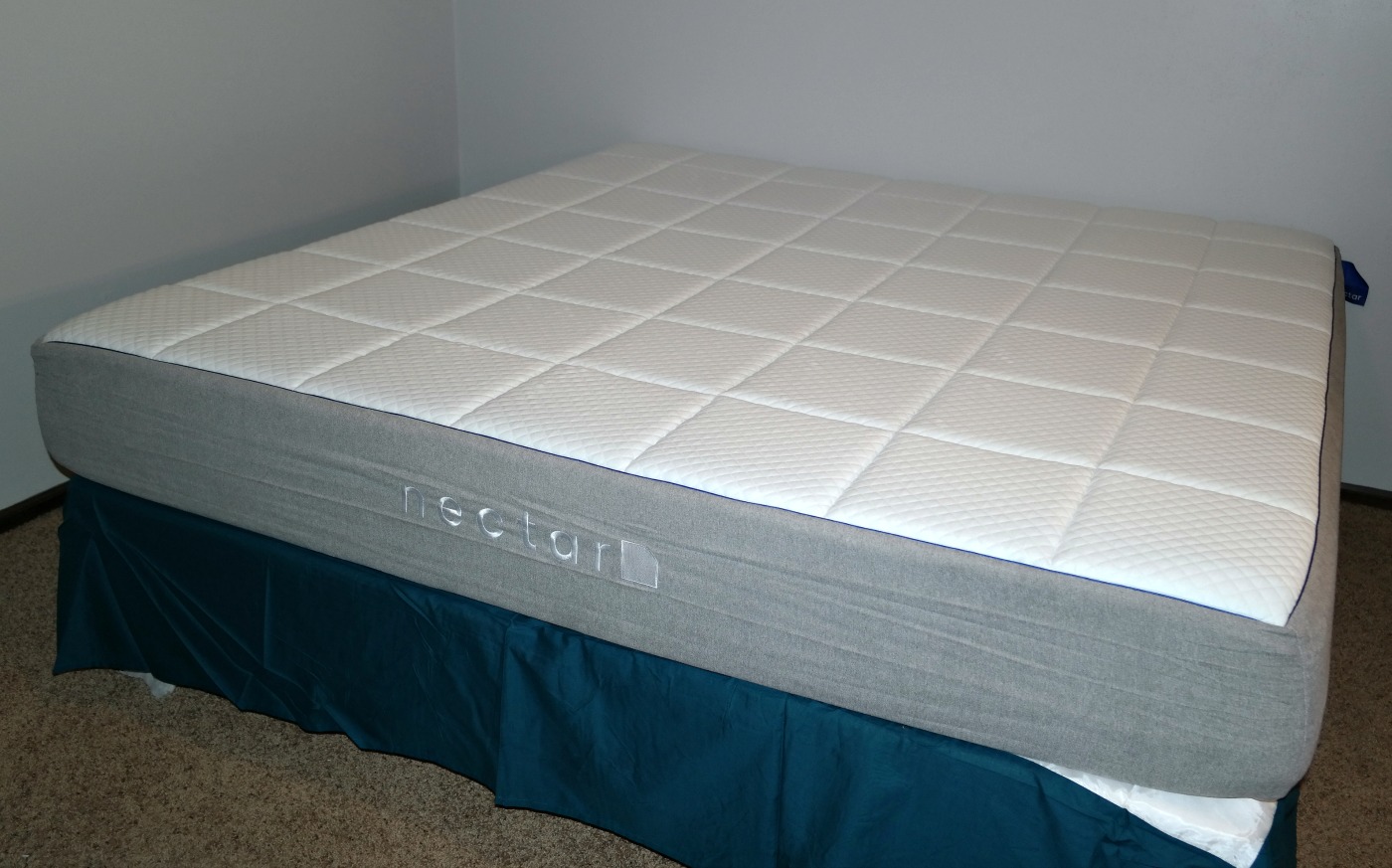 The photo above is the mattress just 4 minutes from opening the plastic. I was amazed how quickly it set up!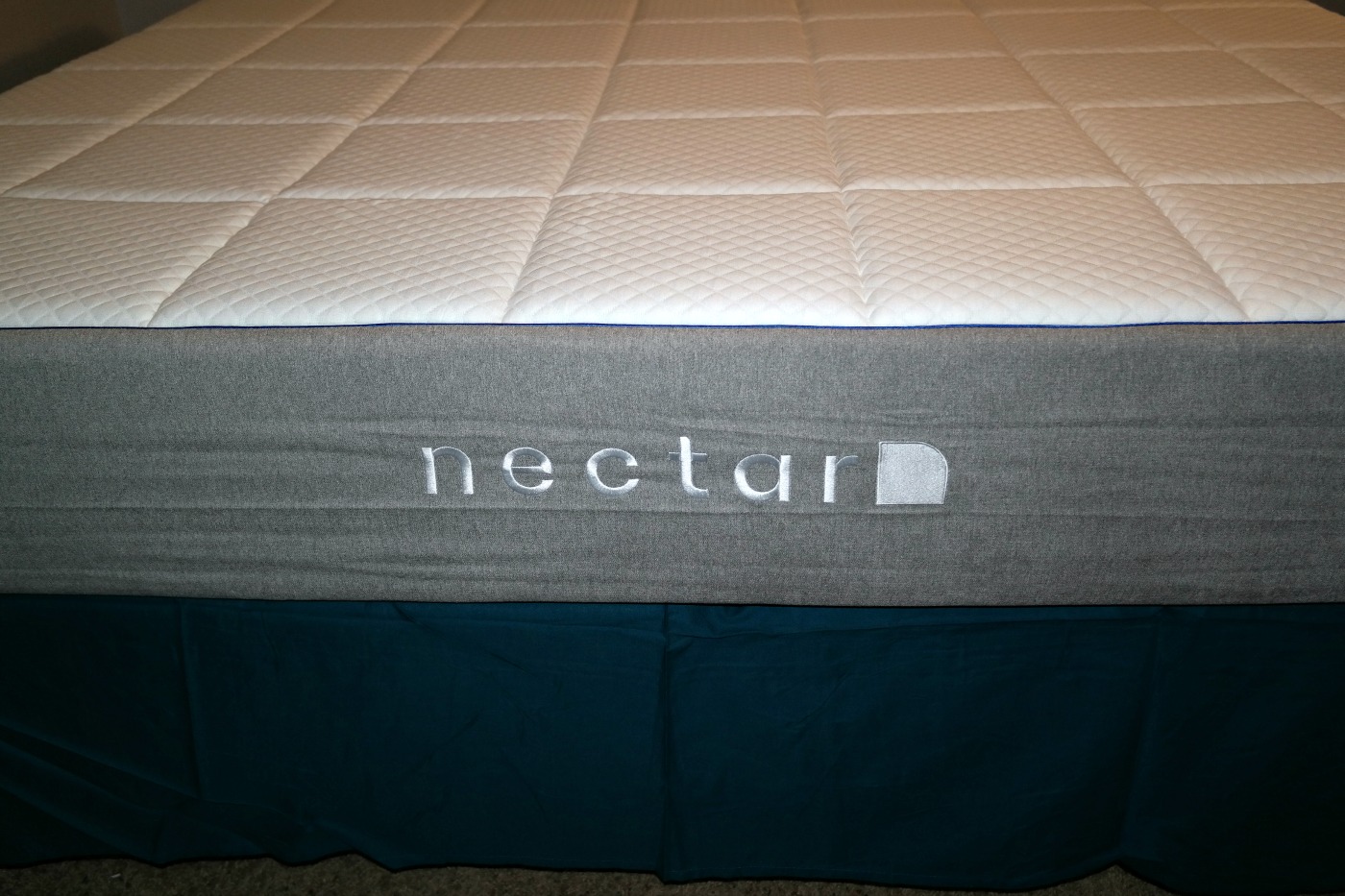 Of course I couldn't wait to lay down! I immediately noticed NECTAR's Tencel cover and how very soft and inviting it was. I could tell it was made of a premium cotton. The site also mentions the cover's breathability and moisture absorption capabilities.

So enough about the install, right? Let's get down to how it felt to sleep on this baby!
My parents have a memory foam mattress in my old bedroom for me to use when I come home for a visit. I'm not gonna lie, I do not like it. It's rather firm and the only comfortable sleeping position for me on that mattress is on my back. This isn't a good situation for a stomach sleeper.

I was rather reluctant about the NECTAR because it's also memory foam. Fortunately NECTAR offers a 365 night home trial, no risk at all and they will take care of removing it if you decide to send it back!
My first few nights on the NECTAR didn't have me sold. To be honest, my old mattress had a "give" to it when I sat/layed down on it, the NECTAR really doesn't have that effect to it. It also isn't like plopping down onto a concrete slab like the mattress at my mom's house either lol.
The adjustment period wasn't long for me at all! After sleeping on the NECTAR for a very short time, I do have to say I wake up a lot easier than I used to. I still wake up a couple times at night to re-adjust/get in a new position, but I feel more rested than on my old mattress … and it's really growing on me.
For the other stomach sleepers reading this, I haven't had any aches or pains sleeping in my favorite position on the NECTAR! I've slept on my side, stomach and back … all very comfortably!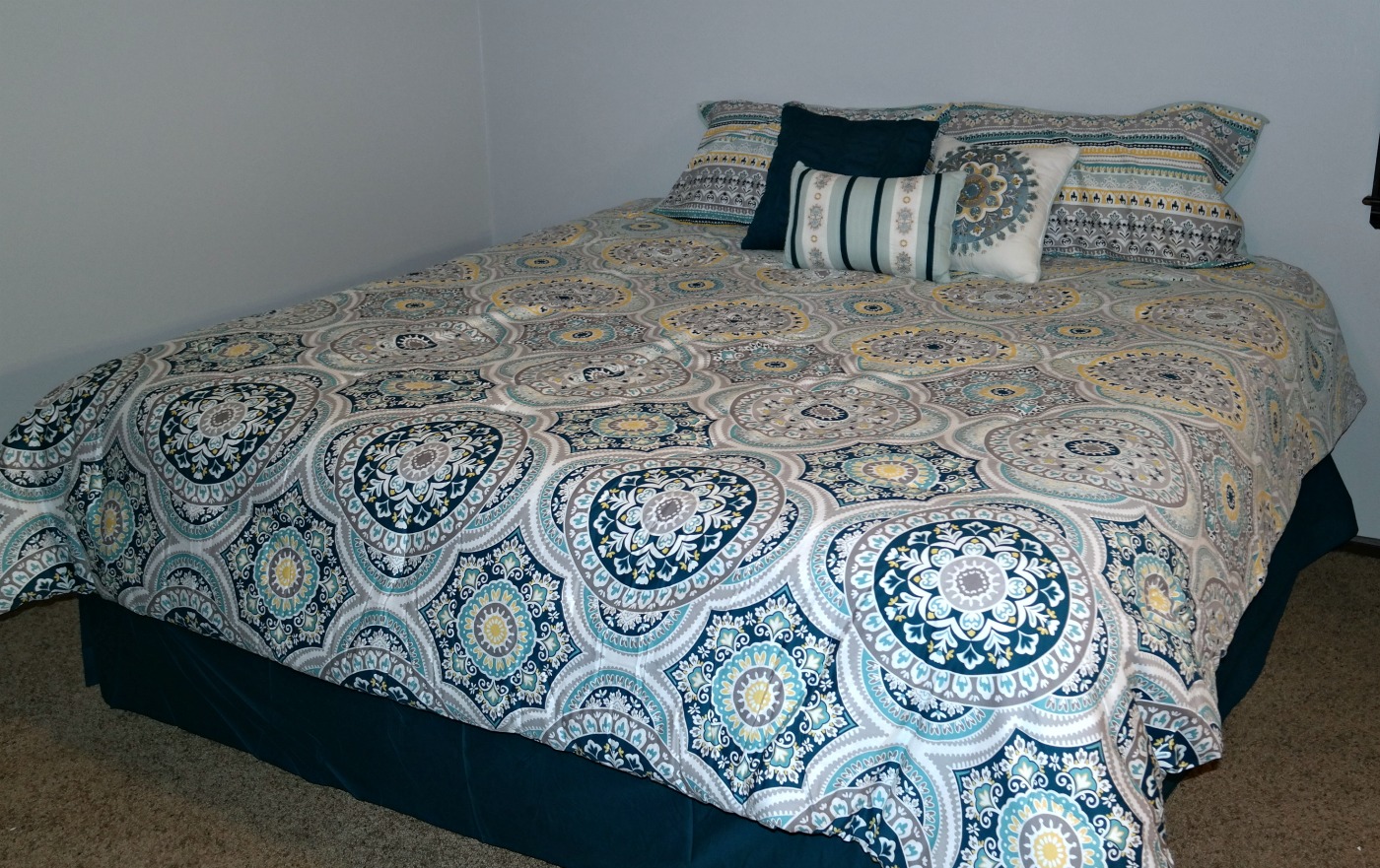 I am very pleased with my NECTAR mattress and will be recommending it to anyone looking for a new mattress! Along with it you must also know 
where to try a nectar mattress
 before purchasing.
Interested in the install? Check out the video below. It's kind of cool to hear the hiss of the air rushing into the mattress. I cut out the part of us flipping it right side up, so the actual time it took was only 2-3 minutes! Insane!
Connect with Nectar:
NECTAR wants to hear from you!
NECTAR Sleep, was launched less than one year ago, and has surpassed 100,000 customers! To celebrate, NECTAR is calling on customers to share the love with a social media campaign. To participate, NECTAR is asking customers and fans to share a video or photo testimonial with the world on their personal YouTube, Facebook, Twitter and/or Instagram account, including #MyNECTARMattress in their post.
In the mood for a good laugh and want to learn a little more about NECTAR? Check out this video!
WIN IT:
ONE lucky OurKidsMom reader is going to win a NECTAR mattress… their choice of size!!

a Rafflecopter giveaway
Rules:You do not have to be a blogger to enter/win. An email address is required to enter. Must be 18+ years old to win. The winner will be chosen randomly through Rafflecopter and contacted via email. A reply to the winning email is required within 48 hours before a new winner is chosen. One person entering per household please. US ONLY please. 
This giveaway ends at 11:59 PM EST on May 25, 2018.