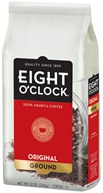 Coffee language can be so confusing. When my daughter sends me to the drive thru to pick up her favorite beverage I am always overwhelmed with the verbiage… it can confuse you and almost make you cry! Vocabulary lessons in school didn't include words like macchiato, latte, or frappe—so most of us are at a disadvantage when attempting to order a coffee treat just because we don't know what all those terms mean.
In honor of National Coffee Day on September 29th, Eight O'Clock Coffee, America's Original Gourmet Coffee, is demystifying coffee jargon—and explaining how to make a great-tasting specialty coffee drink at home, no fancy machines needed. Behold, your guide to creating a café coffee experience right in your own kitchen, courtesy of Eight O'Clock Coffee!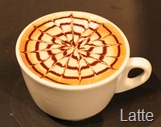 Latte– Traditionally, this is made using espresso and foamed milk. The milk to coffee ratio is 3:1.
Make It At Home! Use a strong coffee, like Eight O'Clock Coffee's Dark Italian Roast, and brew regularly. Pour some milk into a saucepan and place over medium heat. Whisk milk as it heats to make it frothy. Pour some of the coffee into a mug, add some hot liquid milk and spoon the foamed milk on top.
Café Mocha– This is simply a latte with some type of chocolate flavor added in.
Make It At Home! Prepare using the latte instructions. Before adding the coffee and milk, pour 2/3 cup of hot chocolate mix into the bottom of the mug, add coffee and milk and stir until the mix has dissolved.
Café au Lait– Similar to a latte, but usually uses strong brewed coffee instead of espresso and has a 1:1 ratio of coffee to milk.
Make It At Home! Brew Eight O'Clock Coffee's Dark Italian Roast, steam the milk and add equal parts milk (add this first) and coffee to your mug.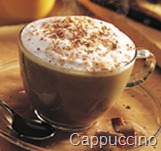 Cappuccino– Usually made with equal parts espresso, steamed milk and frothed milk.
Make It At Home! Follow the same instructions as the latte, but pour equal parts coffee and steamed milk into the mug and top with frothed milk. It's great with cinnamon or chocolate sprinkled on.
Macchiato– A traditional macchiato is a shot of espresso with a bit of milk foam. We usually think of the caramel macchiato, which is very popular at coffee shops in the US.
Make It At Home! Make a tasty caramel macchiato using Eight O'Clock Coffee Dark Italian Roast. Heat milk in a saucepan and whisk until frothy, add a few pumps of vanilla syrup to your cup of coffee, top with milk froth and drizzle with caramel syrup.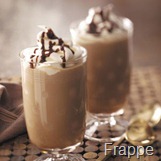 Frappe– A frappe is a cold blended coffee drink with chilled coffee, sugar, milk or cream and ice blended together.
Make It At Home! All you need is 6-8 ounces of cold coffee (we like Eight O'Clock Coffee Original Blend), 2 Tbsp milk, 3/4 cup crushed or cubed ice and sugar to taste. Combine ingredients in a blender. You can also add 2 Tbsp of your favorite syrup—caramel, chocolate, vanilla—some people even add ice cream to make it thicker. The possibilities are endless, so get creative!
Pumpkin Coffee– Virtually every coffee shop has some kind of limited-time-only pumpkin coffee, a delicious fall flavor.
Make It At Home! Brew your own pumpkin coffee this fall or any other time of year you feel a craving coming on. Use 2 tsp of pumpkin spice for every 3 Tbsp of Eight O'Clock Coffee Original Blend. Combine the pumpkin spice with the coffee grounds and brew. Sweeten to your desire.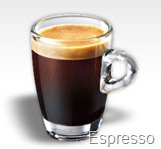 Espresso– A concentrated coffee brewed by forcing a small amount of nearly boiling water under pressure through finely ground coffee beans.
Make It At Home!  Espresso machines are typically very expensive, but you can come close to the real deal with your regular coffee pot. Choose a dark roast, like Eight O'Clock Coffee's Dark Italian Roast, and grind the beans as finely as possible. Double the coffee filter, and pack down the coffee grounds into the filter (use 1 tbsp for every 1/4 cup of espresso). It's a great option that replicates the strong, bold flavor espresso and cappuccino aficionados love.
Disclosure of Material Connection: I received one or more of the products or services mentioned above for free in the hope that I would mention it on my blog. I only recommend products or services I use personally and believe will be good for my readers. I am disclosing this in accordance with the Federal Trade Commission's 16 CFR, Part 255: "Guides Concerning the Use of Endorsements and Testimonials in Advertising." The opinions expressed in this post are entirely my own. Your experience with the product may differ from mine. The sponsor is responsible for prize fulfillment and will be shipping the winner(s) their prize(s). For more information read my disclosure policy.