My Twinn creates one-of-a-kind personalized dolls designed to look like children ages 3-12. A handcrafted My Twinn doll makes the perfect gift – a cuddly companion today and a cherished keepsake in the years to come. Our artisans create each doll using the finest quality vinyl for faces and limbs and a soft, fully poseable body for playability. Matching girl and doll clothing, stylish accessories and unique furniture enhance the My Twinn experience.
My Emma loves to play with dolls, so when we were asked if she would like to review a My Twinn doll that looked almost identical to her I excitedly said "Yes!".
The My Twinn customizing process has recently been overhauled, making the ordering process even easier. You first start with picking skin color, eye color and hair color.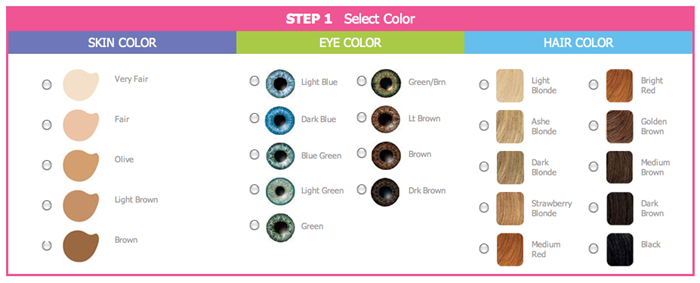 Then you move on to hair length, texture and style. Having the examples next to each choice made the ordering process easier. One persons perception of fair skin can vary from another… having color swatches to compare to your child helps ensure a happy child in the end.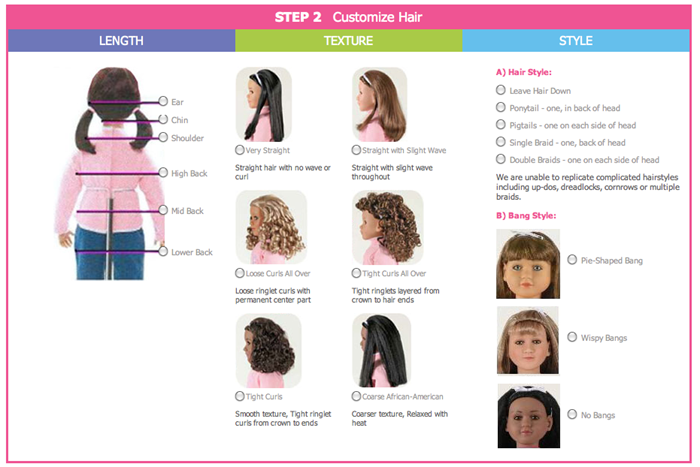 The rest of the ordering process consists of choosing clothing, freckles/birthmarks/moles if wanted, ear rings if wanted, and sending them 3 photos of the child. Then it's up to the skilled artisans to hand paint the eyebrows, cheeks, lips, freckles and birthmarks to replicate each child's likeness in striking detail.
Here are two of the photos I sent in. I specifically asked Emma not to smile in the first one so that they could see the unique shape of her lips.
Our doll arrived in a nice big box secured in with delicate white ribbons. You could tell she was packed with love and attention. Here she is…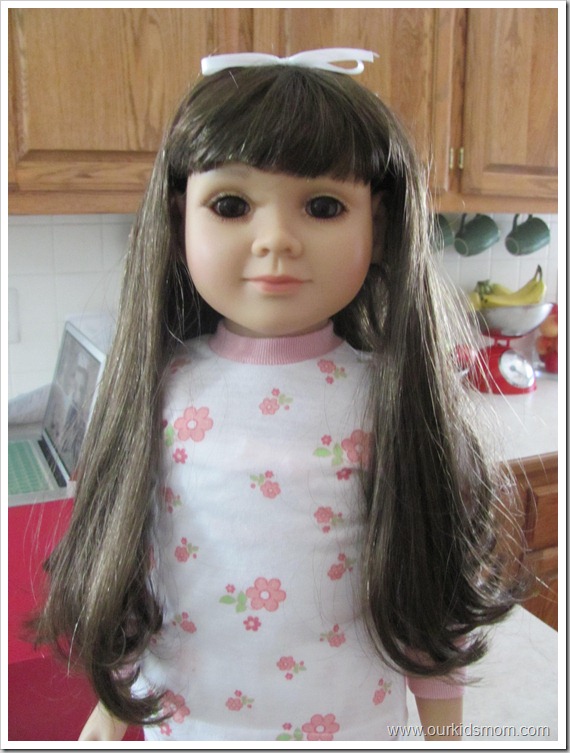 At first I was a little unsure of the likeness compared to Emma. Emma's hair has a bit more light brown throughout. After thinking about it though, I'm sure it is extremely difficult to replicate hair… especially children's hair. They tend to have 2-3 different tones throughout. The length, cut and style were dead on for Emma.
The dolls eyes were just a tad darker than Emma's, but the color choice below it was a little too light. I chose the darker side because Emma's eyes can be so dark that it's hard to see the pupils on some days. They did get her tiny nose almost perfect and the face shape was pretty close, too. I had wished, and still do a little, that they had made the dolls lips more like Emma's. I think they are a little thin, but not enough to send her back.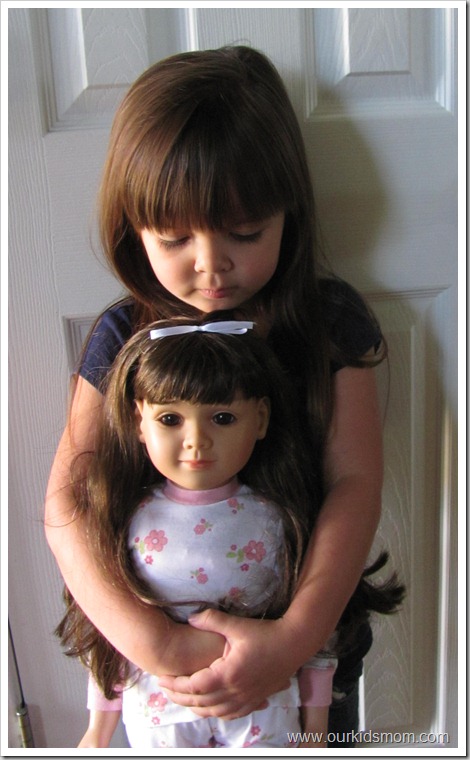 As you can see, Emma adores her doll and has brought her everywhere. Her long hair has gotten a little tangled, so we chose to put it up in a pony tail to help Emma control it a little more. I may consider a Downy Dunk (look it up on YouTube 🙂 if it gets more tangled, but it's still manageable and to be expected with hair that long.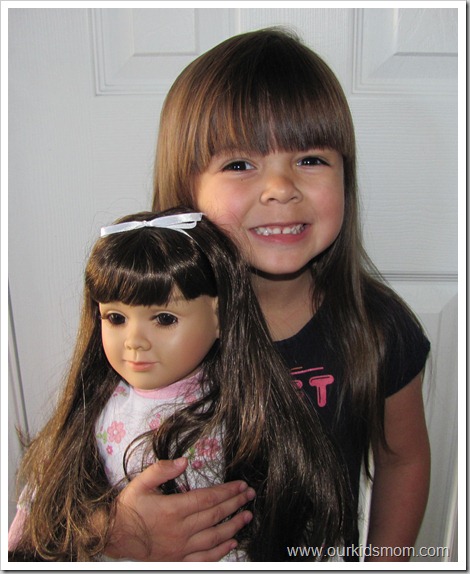 Having an identical likeness doll is a special keepsake for mom and daughter alike. Emma has a special place for her doll to sit when not being played with and has asked for matching clothes so they can look even more alike.
The dolls are exquisitely made… very high quality workmanship, and will last long enough to pass on to her daughters in the future. Having a soft but pose able body makes the doll even more fun to play with (and makes her feel a bit more real).
The price tag of $149.00 at first glance looks a little hefty. Once you see the doll and feel the quality… and then see the look of joy on your little girls face… it's totally worth it. Emma's doll is not just a toy, it's an heirloom now.
BUY IT:
You can purchase a My Twinn Doll for $149.00
Connect with My Twinn:
[tweetbox width=500 height=50 label=Retweet! content ="My Twinn Personalized/Customized Look a Like Doll Review @ourkidsmom %u"]
Disclaimer: I received a My Twinn doll from My Twinn through Child's Play Communications for review purposes only. All opinions are 100% my own.