This post is in partnership with Lionsgate.

A dark force threatens Ponyville, and the Mane 6 – Twilight Sparkle, Applejack, Rainbow Dash, Pinkie Pie, Fluttershy, and Rarity – embark on an unforgettable journey beyond Equestria where they meet new friends and exciting challenges on a quest to use the magic of friendship to save their home.
The film has an all-star voice cast including Emily Blunt, Kristin Chenoweth, Liev Schreiber, Michael Peña, Sia, Taye Diggs, Uzo Aduba and Zoe Saldana. The movie features original music and songs performed by Sia, Diggs, Saldana, Chenoweth and Blunt.
Directed by: Jayson Thiessen
Screenplay by: Meghan McCarthy, Rita Hsiao, Michael Vogel
Story by: Meghan McCarthy, Joe Ballarini
Based on: The Television Series Created by Lauren Faust
Produced by: Brian Goldner, Stephen Davis, Marcia Gwendolyn Jones, Haven Alexander
On October 6, it's time to friend up!
Watch the trailer for #MyLittlePonyMovie & join the littlest ponies on a BIG screen adventure.
Visit all the MY LITTLE PONY: THE MOVIE websites
The Pony Creator
An incredibly fun new feature:
The Pony Creator
has just launched! Join the world of Equestria by personalizing your own shareable pony.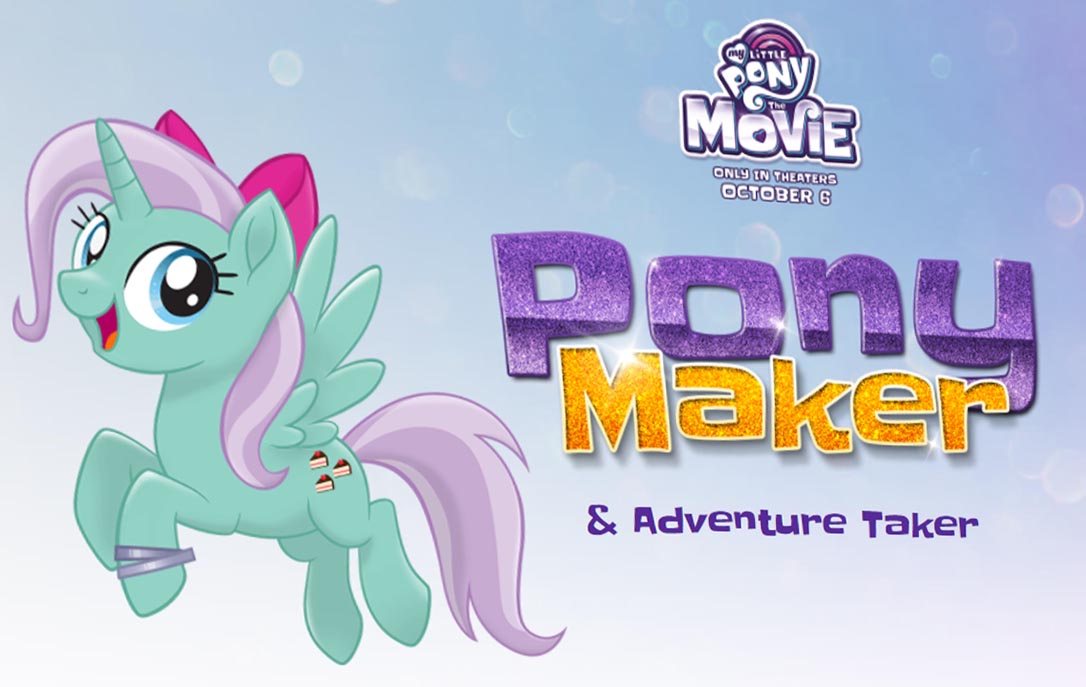 Modify the look of the pony: Body, color, eyes, mane, features and accessories. Next comes a Mad Libs-style quiz to determine your pony name. There are dozens of first and last name options, for thousands of possible combinations such as "Little Luck," "Celebration Pop," and "Rose Honeysuckle."  Finally, select and customize a cutie mark. Best of all, once you're done there are some hilarious share options!