My Job Chart is the free, easy to use, online chore chart and reward system for teaching, organizing and motivating your kids to Save, Share and Spend responsibly.

My Job Chart makes it easy for parents to assign chores and more motivating and meaningful for children to fulfill them.

My Job Chart facilitates fun, engaging, hands-on learning for kids on the ABCs of prosperity including saving, sharing and spending.

My Job Chart gives parents the satisfaction of seeing their kids gain the foundation skills of a strong work ethic and financial responsibility.

My Job Chart takes the struggle out of instilling a strong work ethic in kids.
It was so easy to set up, too! I made an "account" for Emma to sign in to. It is pretty simple for her to recognize… she just has to click on her name and type in the easy password we decided on. I then went in to assign chores for her to complete. There is a decent sized list of typical chores and a "make your own" section below it. You choose when (am/pm) and what days as well as point values for each chore.
Once you have your chores chosen you can then chose rewards for them to save up for. They offer an Amazon retail section as well as a Family Rewards section. I decided that, for now, Emma would enjoy family type rewards and started making her list. Motivators for Emma are things like going out to eat with one of us alone, going to the park, getting ice cream when nobody else is having any, making cookies etc.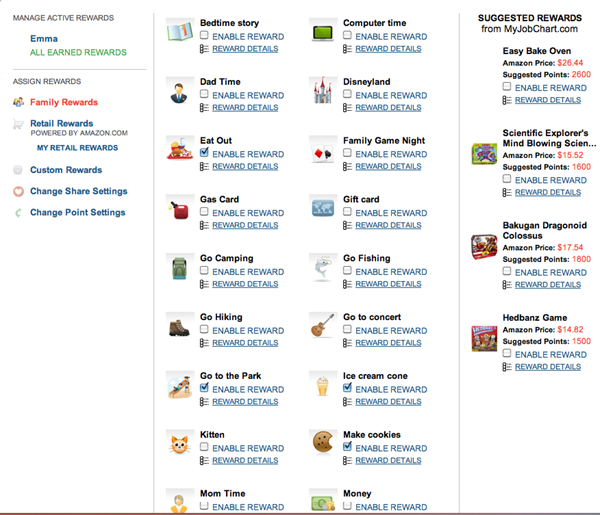 That was the end of setup! It took hardly any time at all and then it was time for Emma to sign in to check out her online chore list. I decided to start with some jobs that she is already doing, mostly self help skills, and set up rewards for her to save up for. This will give her a sense of responsibility and feeling "grown up".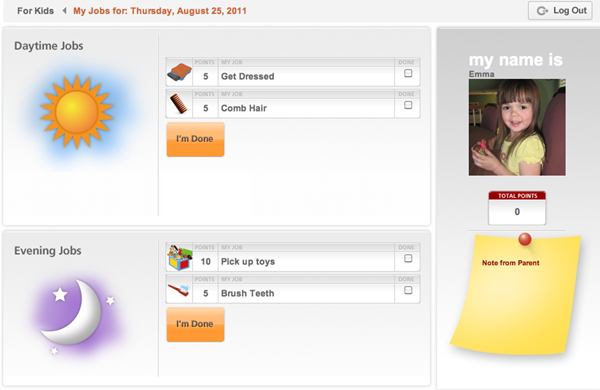 Connect with My Job Chart:
This post brought to you by My Job Chart. All opinions are 100% my own.