The Pfizer Pediatric Platform products and information have been provided by Pfizer Consumer Healthcare. All opinions are my own.
If you've ever had a child with a sniffle in the afternoon turn into a child with a fever, cough and headache at night, you understand what it means when I say Sick just got real.™. Being a parent can be so challenging, but having a plan for those times when something small turns into something bigger is the best way you can care for your child. This post is inspired by our sponsor, but includes many of our personal home remedies and ideas to help save the day if Sick just got real.™ for your family.
Sick just got real.™: 7 Must Haves For Sick Kids
Easy to read thermometer. Sometimes it is hard to tell if your kids have just a low-grade fever or more. Illness brings sweats and chills, and their skin can feel so much hotter than normal; it can alarm you fast. An easy to read thermometer is a must have. Forehead thermometers have become a wonderful addition to our first aid kit since they don't require your child to be awake to check his/her temperature. This can help him/her rest easier, and soothe a parent's fears.
Fever reducer. When a fever happens it can also come with pain, headaches and the inability to rest easily. A quality fever reducer like Infants' Advil® is a great choice. It will not only help to lower his/her temperature fast, it will help alleviate pain and discomfort to allow them to rest easier and heal faster.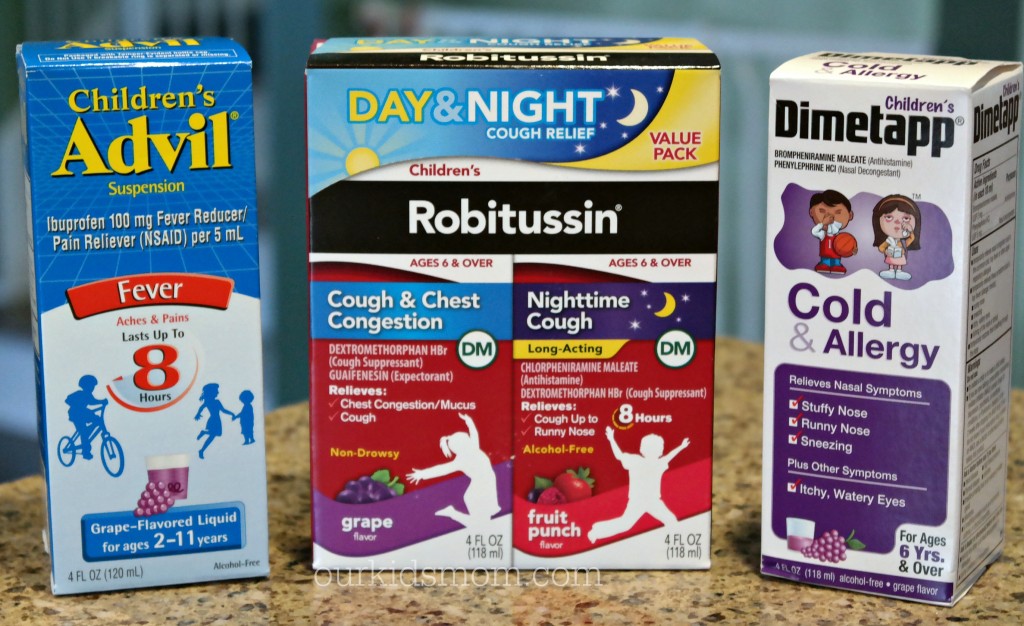 Symptom soother. Coughs and stuffy noses can keep your children from falling asleep and getting much needed rest. Keeping things like Children's Robitussin® DM Day/Night Pack (Children's Robitussin® Cough & Chest Congestion and Children's Robitussin® Nighttime Cough) for coughs or Children's Dimetapp® Cold & Allergy for other nasal symptoms on hand is a great idea. Make sure to read the packages for proper doses as some of these items are not recommended for younger children under age 6.
Kids comfort items. A special blanket, stuffed animal, pillow or even simply a favorite movie can bring comfort if Sick just got real.™ and kids aren't feeling their best. Make sure to have these ready and accessible so your child can find the comfort he/she needs.
Frozen treats and juice. Whether it is an upset tummy or a sore throat that has them down, having frozen ice pops or juice on hand is always a good idea. These items can keep them stay hydrated and be soothing to sore throats. Ginger Ale or electrolyte solutions are also great to have on hand for upset tummies.
Bone broth or broth based soups. It's been said time and again that chicken soup is one of the best healing foods, and it all goes back to that hearty bone broth. Make your own or keep some in your pantry to provide your child with something hot and healthy to sip while recuperating.
Antibacterial wipes. Whether you buy ready-made or make your own using natural cleansers, antibacterial wipes will make it easy to quickly clean-up and to wipe off surfaces around your child where germs may exist. Keeping the rest of the family healthy is also important, so fast clean-up is helpful, and wipes make it easy to manage, while still tending to your sick little one.
Sick just got real.™ These must-haves for sick kids will help you be prepared no matter how fast that cold or flu hits your home.
WIN IT:
ONE OurKidsMom reader is going to win a Pfizer gift pack!
This includes: 1 bottle of Children's Advil ®, Children's Robitussin®, Children's Dimetapp ® and a $25 Visa gift card
a Rafflecopter giveaway
Rules:You do not have to be a blogger to enter/win. An email address is required to enter. The winner will be chosen randomly through Rafflecopter and contacted via email. A reply to the winning email is required within 48 hours before a new winner is chosen. One person entering per household please. US ONLY please.
This giveaway ends at 11:59 PM EST on March 25, 2016.