Munchkin Steam Guard Electric Sterilizer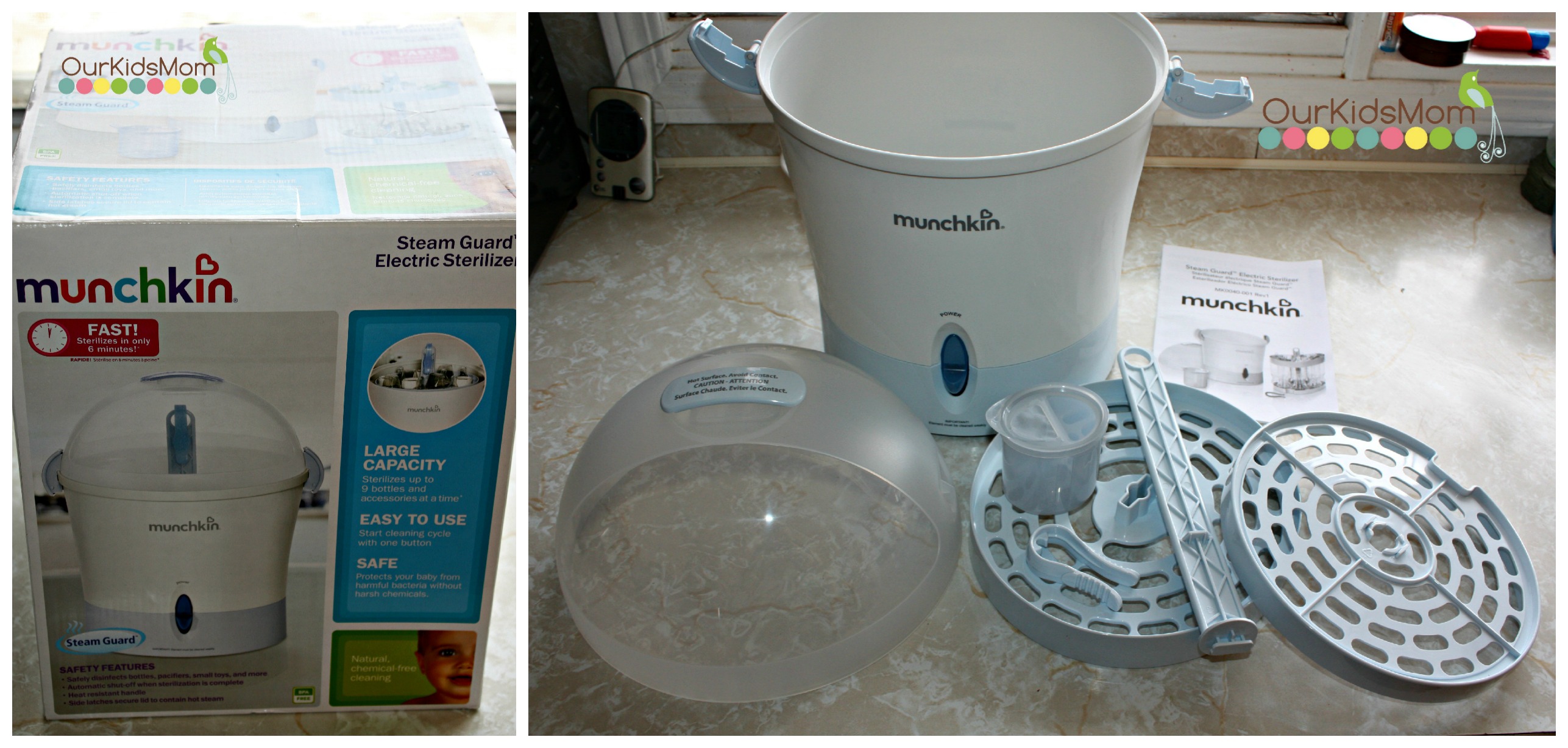 Munchkin has a great supply of baby products to help us moms out with making life with a baby easier. That's why I was tickled when Munchkin sent me a Steam Guard Electric Sterilizer to review (free of charge, all opinions are 100% my own). I so wish I had this with my first child. Breast Feeding didn't work out well with him and at 6 weeks I had to put him on formula. The constant washing and cleaning was a lot of work but I had to make sure that I had everything ready for the next day. Of course, the biggest concern was making sure they were cleaned properly and sterilized before the next feedings. I was thrilled to pull the Steam Guard Electric Sterilizer out and start trying it out. There isn't much to it… the steamer it self, your bottle rack, tongs, and a measuring cup.

The instructions were very easy to understand and straight forward. Use the measuring cup to pour in 4 oz of water onto the heat element in the bottom of the steamer, place your bottles and accessories on the try and set the tray in the steamer. Next, put the lid on, lock it, and press the power button. The whole sterilizing process only takes 6 minutes… amazingly fast. The bottle rack can hold up to 9 bottles and accessories at a time. The rack slides up and down to customize the perfect snug fit for any bottles that you may be using, tall or short.

A couple things I noticed that I like about the sterilizer are: 1. The measuring cup has a little screen on the pour spout to help filter the water as you pour it into the sterilizer. 2. The steam vent is placed at the back of the sterilizer lid to prevent burning yourself when the steamer is on. 3. The lid has locks on the sides so little hands can't open the lid while it's turned on. 4. The racks are a great size to hold a good amount of bottles but you can also do small loads like sanitizing soothers. 5. It is FAST… only taking 6 minutes to sterilize your bottles and accessories. 6. Tongs are included to remove your objects to prevent you from burning your fingers.
The Munchkin Steam Guard Electric Sterilizer is a very well thought out product. It's not high tech or crazy hard to figure out. It's simple, easy to use, and fast… allowing us to have more free time to spend with our babies.
Connect with Munchkin:
BUY IT:
You can purchase the Munchkin Steam Guard Electric Sterilizer at Amazon.com
Disclosure of Material Connection: I received one or more of the products or services mentioned above for free in the hope that I would mention it on my blog. I only recommend products or services I use personally and believe will be good for my readers. I am disclosing this in accordance with the Federal Trade Commission's 16 CFR, Part 255: "Guides Concerning the Use of Endorsements and Testimonials in Advertising." The opinions expressed in this post are entirely my own. Your experience with the product may differ from mine.  The sponsor is responsible for prize fulfillment and will be shipping the winner(s) their prize(s). This post may contain affiliate links. For more information read my disclosure policy.